Program: #97-14 Air Date: Apr 07, 1997
NOTE: We were joined in this program by Fr. Jerome Weber, early music critic for Fanfare magazine. Many of these recordings were out-of-print when the program was aired.
Preservation of this program is made possible by a generous grant in honor of Dr. Alejandro Planchart.
I. Johannes Ockeghem: Missa Caput (Capella Cordina/Alejandro Planchart). Lyrichord LLST 7213.
Here is the official biography of the great Venezuelan early music scholar; Professor Planchart died April 28, 2019:  
Alejandro Enrique Planchart is Emeritus Professor of Music at the University of California. He was born in Caracas in 1935 and pursued studies in piano, philosophy, and literature in his native city. Later he studied composition, piano, and harpsichord at Yale University (B.Mus. 1958, M.Mus. 1960). After four years working as a composer, conductor, and arranger in New York and New Haven, he entered Harvard to study music history (Ph.D. 1971) while continuing his work as a composer and conductor. In 1963 he founded an early music ensemble, Cappella Cordina. This ensemble became the de facto collegium musicum at Yale for about twelve years and later one of the ensembles of the collegium musicum at UCSB, which remained in operation until 2002. He taught music theory and history at Yale (1967-75) and the University of Victoria (1975-76). He was visiting professor at Brandeis (1982-83) and Harvard (1989-90). From 1976 to his retirement in 2002 he was in the faculty at UC Santa Barbara, where he taught music history (middle ages, classical era, 20th century), and occasionally counterpoint and composition in the music department and Latin paleography in the history department. In addition he conducted the combined collegia at UC Santa Barbara, which included a medieval ensemble, a motet choir, and a Baroque and Classical orchestra, which gave a combined total of six or seven different programs each year covering a repertory that went from pre-Gregorian chant to the music of Haydn and Mozart. He was also an occasional performer and conductor in concerts of the Ensemble for Contemporary Music. He has lectured widely in the United States, Europe, and Latin America and published over a hundred works including symphonies, songs, solo and chamber music, articles and books on Latin plainsong, the music of Guillaume Du Fay and other Renaissance topics, as well as Latin American music and aspects of 20th century music. With the Cappella Cordina he issued a pioneering series of recordings of medieval and Renaissance music. He received a Morse Faculty Fellowship from Yale University in 1973 and was a Guggenheim fellow in 1987-88. His book The Repertory of Tropes at Winchesterwon the Gustave Arlt award in the Humanities from the Council of Graduate Schools in the United States in 1979. In 2006 he received the Howard M. Brown Award from Early Music America for lifetime contribution to the field of early music, and in 2009 he received the Arion Prize from the Cambridge Society for Early Music for his work on Guillaume Du Fay.
In 2013 he was awarded the medal of the city of Tours (Loire) and the Centre d'Etudes Superieurs de la Renaissance, for his work in the performance and history of French music of the Renaissance.
II.  Johannes Ockeghem: Missa ma Maitresse Missa Au travail suis (Pomerium Musices/Alexander Blachly). Nonesuch H-71336
From the New York Times, 1992:  Five hundred years of exploration stand between 20th-century ears and Antoine Busnoys. What we have learned ought to expedite our path to the past but often seems to block it. Indeed, listening to Pomerium Musices sing works by Busnoys and Johannes Ockeghem at Corpus Christi Church in Morningside Heights on Sunday afternoon was as disorienting as it was pleasing. Both 15th-century music and our own make use of the tonal center -- the home from which sounds go out in search of adventure and to which they return to rest -- but the dynamics of this operation have changed.
The older music floats in an orbit all its own. For no matter how often we encounter the early Renaissance today, it behaves strangely to ears enriched (or perhaps infected) by the abrupt homeward pull of the dominant seventh chord. The harmonic resolutions of Busnoys and Ockeghem are rounder; they touch ground more lightly. Listening to them is, for a contemporary earthling, like negotiating the gravity of the moon.
Ockeghem, Busnoys's friend and possibly his teacher, was used here as a means of comparison. His "Alma redemptoris mater" began the afternoon; his "Ave Maria" was sung after intermission. The Busnoys items included two masses, "Anthoni usque limina," "In hydraulis" (a tribute to Ockeghem) and the "Victime pascali."
Alexander Blachly, who conducted this beautifully groomed chorus of 13 voices and also wrote the the program note, sees in the two men's mutual respect a 15th-century version of Haydn and Mozart. Mr. Blachly does not say which is which, but it is interesting to stretch the comparison a little beyond his original intentions. Ockeghem would be my Mozart, for his love of dark colors, for the continuous exposition of new musical ideas and for a body of music that instead of accumulating weight through imitation and repetition, moves with sinuous horizontal flow.
Busnoys's upper-register brilliance is possibly Haydnesque, but the overt, calculated drama is certainly not. "Anthoni usque limina" is punctuated by a chiming, repeating vocal expletive; one imitative phrase piles upon the other. In the "Missa O crux lignum triumphale," held notes are suspended prominently across the intertwining contrapuntal textures. The Creed becomes, in Mr. Blachly's interpretation at least, a powerful crescendo of faith. Its tactics are almost flamboyant. In these pieces, Pomerium Musices stresses clarity and intonation over radiant choral sound. The timbres appear in primary colors. Seduction gives way to rational persuasion.
III. Ockeghem: The Motets (Cappella Nova/Richard Taruskin). Musical Heritage Society 4179.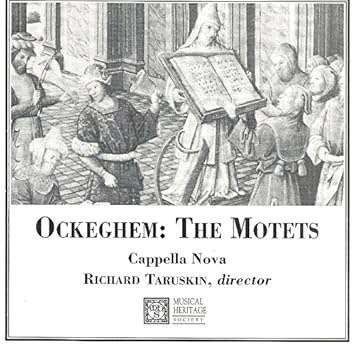 Antoine Busnois
Motet: In hydraulis
Johannes Ockeghem:
Motet: Alma Redemptoris
Motet: Intemerata Dei
Motet: Salve Regina I
Motet: Salve Regina II
Motet: Ave Maria
Motet: Caeleste beneficium
Motet: Gaude Maria
IV. Johannes Ockeghem: The Motets to the Virgin (Prague Madrigal Singers/Miroslav Venhoda). Musical Heritage Society 1306.
 
Salve Regina I (4:46) --
Intemerata Dei mater (5:26) --
Gaude Maria virgo (10:06) --
Alma Redemptoris mater (4:05) --
Ave Maria (2:28) --
Salve Regina II (7:28) --
Instrumental motet: Ut heremita solus (8:21).
V.  & VII. Musiciens à la Cour de Bourgogne (Ensemble Guillaume de Machaut/Guy Robert). Disques Alvarez 811.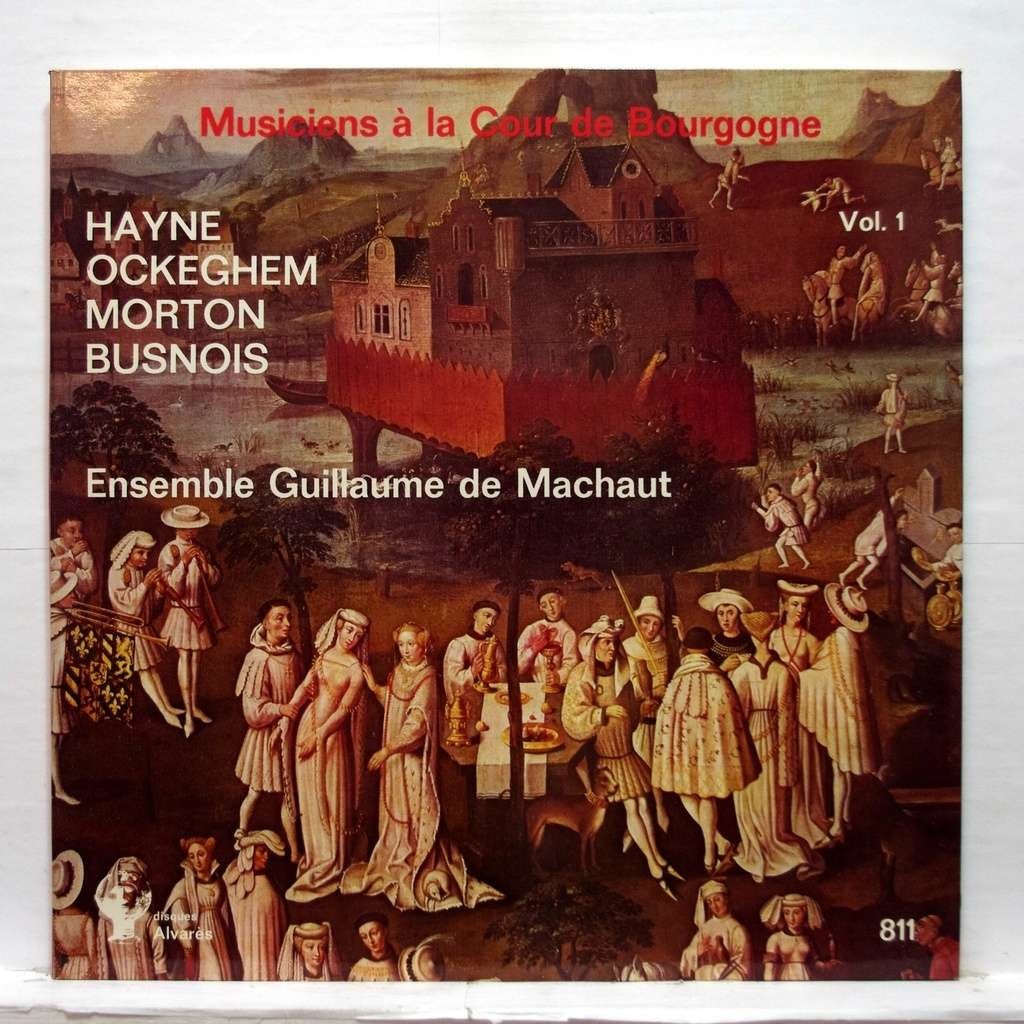 VI. Okeghem (sic): Three Motets (ensemble/Roger Blanchard). Originally, Club Français du Disque, reissued as Music Guild MS-134.
VIII.  Johannes Ockeghem: Missa pro defunctis (Pro Cantione Antiqua/Bruno Turner). Archiv 2533.146 (NOTE: was reissued as a CD).
From Gramophone on the CD reissue including another Turner recording: This represents very good value for money. In the black disc versions each work took up one-and-a-half sides; so the Compact Disc, in addition to its technical advantages, has almost 70 minutes of music. It also couples Ockeghem's most renowned work, the earliest surviving polyphonic Requiem Mass, with one of Josquin's most successful works, the Mass chosen to open the very first printed volume of Mass music in 1502.
The Josquin is surely among the finest recorded performances Pro Cantione Antiqua have ever made. Everything is lucid, sung with energy and passion but without interfering with the music, which is allowed to unfold miraculously. Their performance of the Ockeghem Requiem, on the other hand, never satisfied me in the past: there was something about the thickness of the vocal and instrumental sound that made it soporific. But it is astonishing what the transfer has achieved in making that sound more transparent; and a slight new emphasis on the higher partials seems to me to make the whole performance infinitely more persuasive. It should be mentioned that most of the Ockeghem is doubled by with wind players of the Hamburger Blaserkreis fur alte Musik; but once again in the transfer their effect seems more to enhance the sound.
For some reason the original sleeve-notes by Bruno Turner and Jeremy Noble—who edited the works for the recordings—have now been replaced by entirely new material. But there is plenty of reading matter here; and full texts are included.'
Composer Info
Johannes Ockeghem, Antoine Busnois,  Josquin Desprez
CD Info
Lyrichord LLST 7213, Nonesuch H-71336, Musical Heritage Society 4179, Musical Heritage Society 1306, Disques Alvarez 811, Music Guild MS-134, Archiv 2533.146