Program: #20-46 Air Date: Nov 02, 2020
Madrigals of Love and Affliction, love songs for Isabella d'Este, and secret love messages.
I. Dialogo D'Amore: Frottolas for Isabella d'Este  (Ensemble L'Amorosa Caccia). Brilliant Classics CD 95759.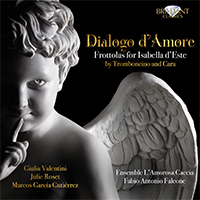 The Italian frottola is an important predecessor to the madrigal and is a secular piece made up of three to four voices with instrumental accompaniment. Translating as 'a lie' or 'a childish deceit', frottolas are often simple, with repetitive melodies and homophonic textures. The frottola was immensely popular among the upper classes, in stark contrast to the other highly ornate and complex music of the Renaissance. This set sheds light on the fascinating genre.
Although little is known about the composers, their music survives thanks to Ottaviano Petrucci, a prominent Venetian publisher who printed 11 anthologies of frottolas during his lifetime. The frottola emerged at the same time as Renaissance humanism, and the diversity of the genre explores the human experience, with encounters between the sublime and homespun realities and the mingling of classes and cultures. In the musical texts we find a curious melting pot of themes, ranging from popular chansons of love and nature, to proverbs and classical antiquity.
Tromboncino is probably the most famous composer of frottolas, and he wrote 176 in total. He led a life fraught with criminal activity and most infamously murdered his wife, Antonia, after accusing her of adultery. He was never convicted, however, because the acting regent of Mantua, Isabella d'Este (to whom his frottolas are dedicated), was his patron and very fond of him. As for his music, Su, su leva, alza leciglia has an upbeat nature and features a clear harmonic progression in the accompaniment, foreshadowing what would later develop into Baroque era functional harmony. Meanwhile Zephyro spira e il bel tempo rimena, based on Petrarca's poem about the Greek god of the west wind, is programmatic in its yearning melody and the ceaseless drive in its contrapuntal instrumental interludes.
This genre is often overlooked by early music researchers in favour of the era's more sophisticated music, yet neither its historical, sociological or philosophical significance should be underestimated, as the frottola represents an encounter between high and low art forms in a space outside of the strict constraints of religion.
The Frottola (literally a lie, a childish deceit) was a popular secular song in Italy in the late 15th and early 16th century, enjoying an immense popularity. For 3 or 4 voices, the uppermost containing the melody. The rhyme schemes of the texts have their basis in the 14th century Ballata.
The Frottola has a strong popular origin, featuring direct, naturalistic and explicit texts, homophonic textures and clear, repetitive rhythms. This culture in which high and low are somehow equivalent and permeate each other, is especially found in Mantua, a city which played a large part in the development of the Frottola genres.
The Italian ensemble L'Amorosa Caccia is specialized in the performance of secular music from the Italian Renaissance. On this new recording two sopranos and one baritone are backed up by a rich instrumental ensemble, featuring recorders, cornet, dulcian, shawm, pipes, tabor, gambas and lute, Fabio Antonio Falcone leads the ensemble from the virginal.
Giulia Valentini, soprano
Julie Roset, soprano
Marcos García Gutiérrez, baritone
Ensemble l'Amorosa Caccia
Fabio Antonio Falcone, clavicytherium, virginal & direction
 Johannes Lulinus Venetus:
1.Occhi mei lassi, acompagnate il core 03:08
Anonymous:
2.Amor che fai sì altero? 03:00
Joannes Gallus (1525 - 1587):
3.Chiare, fresche e dolci aque 04:12
Marchetto Cara (1470 - 1525):
4.Cangia sperar, mia voglia 02:33
5.Improvisation 00:21
Anonymous:
6.La Delfina 01:52
7.Gazollo 01:12
8.La moretta 00:43
Niccolò Patavino (1478 - 1556):
9.Un cavalier di Spagna 02:14
Bartolomeo Tromboncino (1470 - 1535):
10.Facto son per affanni ombra sì oscura 04:33
11.Amor! che vuoi? 09:21
Marchetto Cara:
12.Tante volte, sì, sì, sì 02:33
Bartolomeo Tromboncino:
13.Aqua, aqua; aiuto! 03:25
14.Su, su, leva, alza le ciglia 04:48
15.Che Vol.dir che così sete 04:34
Marchetto Cara:
16.Per dolor mi bagno il viso.05:51
17I.mprovisation (2).00:51
Bartolomeo Tromboncino:
18.Zephyro spira e il bel tempo rimena 04:35
Marchetto Cara:
19.Cangia sperar, mia voglia 02:20
Johannes Lulinus Venetus:
20.Fuga ognun amor protervo 02:25
II. Ossesso: Italian Madrigals about Love and Affliction (Ratas del viejo Mundo/Floris de Rycker). Ramée CD RAM 1808.
Jealousy, tenderness, loneliness and longing, desire, unattainability, sensuality, frustration, love, lust and loss in all their configurations come together in OSSESSO. The old masters allow us no escape from the painfully vivid portrayals of their experiences. Tromboncino and Gesualdo exemplify the extremes of which obsessiveness is capable, in their music as in their lives; in this sense, they are precursors to Phil Spector, Sid Vicious, or Bertrand Cantat. This release is a selection of absolutely touching madrigals about love and affliction that represent the kaleidoscope of feelings and emotions of their composers, be it in the late Middle Ages or in the Renaissance, interspersed with some instrumental pieces. 
III. Segreti Accenti: Italian Renaissance Music (Cantar alla Viola). Quartz CD QTZ 2125.
This CD is dedicated to one of the most esteemed musical practices of the Renaissance: the art of accompanying the voice with the viola da gamba. Cantare alla viola (singing with a viol) is the name for this practice which was quite common at the time.
The art of this practice lies in the ability of the "viola" player to arrange and play madrigals to accompany one single voice, as a lutenist or vihuela player commonly does. Cantar alla Viola has careful selected some of the finest pieces of the Italian Renaissance in order to illustrate the intimate and skillful musical practice of Cantare alla viola. The pieces vary from the subtle and transparent trecento 2-voice ballades of Magister Piero and Andrea da Firenze played on the viella, to the exquisite and virtuous madrigals for one soprano by Luzzascho Luzasschi, accompanied by the viola da gamba. The Renaissance villanelle and 3-voice madrigals by Luca Marenzio and Costanzo Festa, are adapted for the polyphonic playing of two different bowed vihuelas. Solo pieces have been added to the disc to show the instrumental practice on a bowed vihuela through arrangements of lute and keyboard pieces by composers such as Marco Antonio Cavazzoni or Francesco da Milano.
Luzzascho Luzzaschi: Aura soave (3.52)
Luca Marenzio: Amor tien il suo regno (4.11)
Costanzo Festa: Se mai vedet amanti (2.26)
Crecquillon – L. Venegas de Henestrosa: Mort Ma Prive par sa Cruèlle (3.19)
Andrea da Firenze: Amor, I´mi lamento (2.47)
Luca Marenzio: Lasso non è cor mio (4.41)
Sylvestro Ganassi: Io vorrei dio d'Amore (2.18)
Luca Marenzio: Con la fronte fiorita (2.42)
Luca Marenzio: Al primo vostro sguardo (3.30)
Luca Marenzio: Dicemi la mia stella (2.31)
Marco Antonio Cavazzoni: Ricercare Tono II (3.59)
Magister Piero: Ogni diletto (3.14)
Costanzo Festa: Altro non eil mi amor (3.15)
Luzzascho Luzzaschi: O primavera (3.25)
Luca Marenzio: Alma che fai (2.24)
Luca Marenzio: Le rose fronde e fiori (2.30)
Luca Marenzio: Ahime che col fuggire (2.47)
Francesco da Milano: Ricercare VII (2.05)
Magister Piero: Chavalcando con un giovine accorto (3.35)
Costanzo Festa: Madonnio mi consumo et pel grave dolor (2.57)
Luzzascho Luzzaschi: Chio non t'ami (4.18)
Composer Info
Johannes Lulinus Venetus, Joannes Gallus (1525 - 1587), Marchetto Cara (1470 - 1525), Niccolò Patavino (1478 - 1556), Bartolomeo Tromboncino (1470 - 1535), Adrian Willaert (1490-1562), Jacopo da Bologna (1340-1360), Donato da Cascia, Jacques Arcadelt (1507-1568), Guglielmo Ebreo da Pesaro ( 1420-1484), Alonso Mudarra (1515-1580), Vincenzo Galilei (1520-1591), Philippe de Monte (1521-1603), Francesco da Milano (1497-1543), Hubert Waelrant (1516-1595), Joan Ambrosio Dalza, Carlo Gesualdo (1561-1613), Bartolomeo Tromboncino (1470-1535), Michelagnolo Galilei (1575-1631), Giaches De Wert (1535-1596), Orlandus Lassus (1532-1594), Luzzascho Luzzaschi, Luca Marenzio, Costanzo Festa, Crecquillon – L. Venegas de Henestrosa, Andrea da Firenze, Sylvestro Ganassi, Marco Antonio Cavazzoni, Magister Piero.
CD Info
Brilliant Classics CD 95759, Ramée CD RAM 1808, Quartz CD QTZ 2125.