Program: #18-38, Air Date: 09/10/18
Recent recordings of sacred works of Samuel Scheidt, Samuel Capricornus, and the lute master Esias Reusner.
I. Samuel Capricornus: The Jubilus Bernhardi Collection (The Bach Choir of Holy Trinity/Acronym/Donald Meineke). Olde Focus CD FCR911.
Baroque string ensemble ACRONYM is dedicated to giving modern premieres of the wild instrumental music of the seventeenth century. Playing with "...consummate style, grace, and unity of spirit" (The New York Times), the group formed in 2012 to create the first recording of the Alphabet Sonatas of Johann Pezel. ACRONYM's following disc, sonatas by Antonio Bertali, was released in 2014 to critical acclaim; Alex Ross selected it as a CD Pick, and Early Music America Magazine wrote "the idiomatic performances and spacious recording by these young musicians are absolutely first rate. This is a disc … belonging in everyone's collection." For this album, ACRONYM teams up with Cantor Donald Meineke and his Bach Choir of Holy Trinity (an ensemble known for a half-century of riveting early music performances in New York City) for the first recording of Samuel Capricornus's monumental Jubilus Bernhardi.     
From Early Music Magazine: This splendid recording of an unjustly under-recorded collection by first class musicians deserves to be widely known, and I hope that Brian Clark, who writes the brief note that accompanies the two CDs, can advertise the edition he made widely. This is beautiful music, and eminently performable.
The music first: Samuel Capricornus died at the age of 37 in 1665, so is more than a generation younger than Heinrich Schütz, who clearly thought well of him, writing after receiving his Opus Musicum  "your remarkable works have been passed on to me and they fill me with delight. Go on serving God and his Church in this fashion." Capricornus was the son of a Lutheran pastor who had sought security for his Lutheran beliefs in what is now the Czech Republic. Having worked at the Imperial Chapel in Vienna under the Italians Giovanni Valentini and Antonio Bertali – rather a different cultural and religious milieu from home – Capricornus was appointed Kapellmeister to the Court in Stuttgart in 1657. These 24 motets from 1660 form a sequence scored for five voices (SSATB), and 5-part viol consort with continuo. In spite of the same scoring for each motet, the Jubilus Bernhardi  motets have a great variety of expressive content and a rich and characterful style of word setting. For all their underlying motet style – they are genuinely German/Bohemian versions of the seconda prattica. They have echoes of Monteverdi's Selva Morale  as well as links to the emerging German school represented by Tunder and Kuhnau. In some sense, they occupy the same territory as the Gibbons and Tomkins verse anthems in England, alternating passages for one or more voices and instruments with full sections.
That is at any rate how they are performed by the ten singers of the Bach Choir of Holy Trinity, the Evangelical Lutheran church in New York that specialises in Bach and his Lutheran forerunners under the direction of the Cantor, Donald Meineke, with five viol players (and a continuo consisting of theorbo and keyboard) from ACRONYM. The performances are in the same league as those of Vox Luminis, and use the same vocal forces. The Sopranos are excellent: clean, clear and well-blended, and the Hautes-Contres, the Tenors and even the Basses have the same verbal dexterity. Only occasionally was I conscious of a slightly bleating tenor sound, and the bass line is coloured by a real, plummy bass with a wonderful range which is of a distinctively different timbre. But this is a class act by an ensemble of young-sounding voices and they have released recent videos on Youtube which provide the score as the visual accompaniment. From that it becomes clear that they are performing at A=440, though no details of this or the temperament at which the keyboard is tuned or the makers or provenance of the instruments is given in the extremely slender notes on the attractive card case; the liner notes themselves have nothing but the text and an English translation of Bernard of Clairvaux's verses.
I find the music captivating in its variety, and exciting for the way in which the rhythms of the texts are captured, not just in the episodes for solo voices but in the more homophonic sections – those that are doubled by ripienists.
I have not heard any Capricornus before, but this is music that ranks in individuality with Monteverdi and Schütz, providing a fascinating insight into the musical links between Italy and Germany. Some of his works are available in facsimile from IMSLP, and range from sonatas in 8 parts to small-scale motets: Paratum cor meum  is for two treble and one bass voice, a cornetto and continuo marked for organ. Vocal works and instrumental pieces alike are imaginatively scored, the discs are well-engineered and I urge you to listen to as much as you can as soon as possible, and absorb this fascinating sound-world.
| | | |
| --- | --- | --- |
| 01  | Jesu dulcis memoria | 4:55 |
| 02 | Jesu, spes pœnitentibus | 4:25 |
| 03 | Jesu, dulcedo Cordium | 4:47 |
| 04 | Jesum quaeram in lectulo | 3:06 |
| 05 | Cum Maria diluculo | 5:16 |
| 06 | Jesu, Rex admirabilis | 4:31 |
| 07 | Mane nobiscum Domine | 4:36 |
| 08 | Amor Jesu, dulcissimus | 4:38 |
| 09 | Jesum omnes agnoscite | 3:58 |
| 10 | Jesus, auctor clementiae | 5:17 |
| 11 | Jesu, mi bone, sentiam | 3:18 |
| 12 | Tua, Jesu, dilectio | 4:42 |
| 13 | Jesu, decus Angelicum | 5:49 |
| 14 | Amor tuus continuus | 4:38 |
| 15 | Jesu, summa benignitas | 5:09 |
| 16 | O Jesu, mi dulcissime | 6:06 |
| 17 | Jesus cum sic diligitur | 4:53 |
| 18 | O beatum incendium | 3:56 |
| 19 | Jesu, flos matris Virginis | 4:45 |
| 20 | Jesu, sole serenior | 4:27 |
| 21 | Mi dilecte revertere | 5:00 |
| 22 | Coeli cives, occurrite | 4:02 |
| 23 | Rex virtutum | 3:30 |
| 24 | Jesus in pace imperat | 4:15 |
II. Esaias Reusner: Lute Music (Toyohiko Satoh, lute). Carpe Diem CD 16310.
This new solo album of world-renowned Japanese lute master Toyohiko Satoh  features music by the German baroque composer and lutenist Esaias Reusner (1639-1679), who published two volumes of compositions for solo lute. The pieces of this CD are taken from "Neue Lautenfrüchte". 
Reusner's style is as interesting as it is special and unusual, compared to works of his contemporaries. His pieces are mostly short, sober and pragmatic, showing a very clear and unostentatious attitude. 
Toyohiko Satoh links this approach to the eastern idea of meditation and appreciation of imperfection (Wabi-Sabi). He delivers an outstanding interpretation far from trying to be virtuosic or impressive, but instead staying totally true to himself, letting the music unfold by itself. Reusner's music becomes a quiet musical meditation that transcends time and space.
From producer Jonas Neiderstadt: These days we are about to release the third, and most probably final solo CD of lutenist Toyohiko Satoh on Carpe Diem Records, featuring music of Esaias Reusner (1639-1679). For me, this is a milestone, maybe one of the most important albums that I have produced so far for maybe not so obvious reasons. What could be so vital, or even exciting, about a simple solo baroque lute recording? Don't they all sound the same, somehow, with this soft instrument that has almost no dynamics, is never perfectly in tune, is so difficult to play in the first place? I guess it depends on how deep you decide to go inside a macroscopic sound world.
Toyohiko is a musician of considerable experience and knowledge, having spent the last 50 years playing the lute, and also teaching it at the conservatory of Den Haag in the Netherlands. When he moved back to Japan after retiring from his teaching position, he started exploring traditional Japanese arts, especially chado, the tea ceremony. If you have ever witnessed a chado ceremony, you might have noticed how calm and concentrated the atmosphere was, how complicated and difficult the ceremony is, paying utmost attention to the most minute details. If you look at it superficially, it quickly becomes boring, motionless, overly difficult. All this stress just to have a cup of tea? If you see the macroscopic world that lies within, there might be no question anymore: only being present, without time.
When we arrived at the recording location, a concert hall in the middle of nowhere in the mountains of south Japan, surrounded by wild forest and volcanic hot springs, we both unpacked our equipment and instrument, rather solitary, without talking more than necessary. I put up the electronics while Toyohiko started tuning and playing the lute, going through some of the pieces we were to record during the next days. I put up the microphone stand in front of him in what I thought to be an approximately fitting position, let it stand there, still a bit crooked and provisional, and went over to the control room to check if there was any sound coming in. When I put on my headphones and listened, the sound was perfect. No need to change anything. Instead, I had a sound more close to my ideal of a lute sound than ever before. No mind involved.
What does it take to make a great recording? I feel it is a lot about not making it. I spent a lot of time trying to make the best possible recordings, spending hours on soundcheck, learning the theory behind, comparing, improving, changing things. The moment I let go of everything, a simple perfect result emerges on its own. It was there all the time, obviously, just I would usually not let it exist.
Two or three days before a recording, Toyohiko stops practising, stops playing at all. When we record, we usually do two or three takes of a piece. It is not about achieving perfection. Perfection is already there, all the time. When a note sounds, obviously it is perfect. When we call it imperfect, is that due to the angle from which we look at it? Maybe calling a sound imperfect is a very superficial way of looking at it.
Esaias Reusner was a rare and peculiar figure in his time. Almost no information on his life survived, and he himself only survived for a mere 40 years. He published two books of solo lute music and nothing else. The first book is full of complicated, virtuosic pieces, almost impossible to play but highly imposing. The second book (written 9 years after the first) is just the opposite: The pieces are short, pragmatic, sober. They definitely do not try to impress, they are not at all virtuosic, they are of no use for putting up a big show. If you look at them superficially, they are very boring. What happens if you look not superficially?
When we needed a cover picture, I wanted a very Japanese theme, for some reason, but we also needed Toyohiko to be on the cover. We went for a painting instead of a photograph partly because we could not think of a good photographer. We thought it would seem neat to ask a traditional artist from Japan to make a traditional Japanese painting. I asked Carsten Dietz from Germany. Carsten is an electronic technician. In the evenings, he makes Japanese paintings. He made a perfect picture for us.
I almost feel we're a family of people who in the right time and place just allowed very beautiful things to appear out of thin air (The Japanese say 無, nothingness): Toyohiko, Esaias, Carsten and my humble self. Four wanderers standing in a magic forest, self-absorbed, watching light leaves fly through a gentle summer breeze, for a short moment not interfering as the moment is so beautiful it luckily stops us from damaging it too much. I realize right now how thankful I am for this unexpected present. Who gave it to us, and why, and what is it for, and why would that matter after all? When I listen to the music, there might be no question anymore.
III. Samuel Scheidt: Cantiones Sacrae (Athesinus Consort Berlin/Klaus-Marrtin Bresgott). Carus CD 83.488.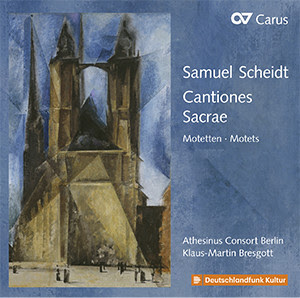 In our time, the composer Samuel Scheidt (1587–1654) from Halle is regarded as one of the most significant composers of the 17th century. Nevertheless, many of his works are less well known at present than those of his famous contemporaries Johann Hermann Schein and Heinrich Schütz – quite unjustly so, as is demonstrated by this recording featuring the Athesinus Consort Berlin directed by Klaus-Martin Bresgott. The numerous motets from Scheidt's collection Cantiones Sacrae – many of which are here recorded for the first time on CD – are complemented by the contemporary composition Die Stimme meines Freundes [The voice of my friend], a motet on texts from the Song of Songs and the Proverbs of Solomon by Frank Schwemmer (*1961).
Composer Info
Samuel Capricornus, Esaias Reusner (1639-1679), Samuel Scheidt (1587–1654), Frank Schwemmer
CD Info
CD FCR911, Carpe Diem CD 16310, Carus CD 83.488.