Program: #14-32 Air Date: Aug 04, 2014
We have dedicated more hours to music by Lassus than any other composer—this first complete recording of the 1577 teaching publication of the 24 two-part vocal and instrumental works is a signal achievement.
NOTE: All of the music on this program is from the recording Orlando di Lasso—Cantiones Duarum Vocale on the Tactus label, featuring the Gruppo Vocale Armoniosoincanto and dulcian soloists Paolo Tognon and Vlaudio Verh. It is distributed by Naxos. For more information:
http://www.naxos.com/catalogue/item.asp?item_code=TC531202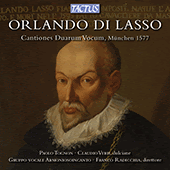 From Mark Sealey:
If Orlando di Lasso (Roland de Lassus) is as versatile, was as revered and if his music will endure no matter what as is, was and will be the case then unusual arrangements of his music are valid, stimulating and worthy of our attention. After all, Bach's music has been arranged in a hundred different ways that he could hardly have imagined. So the present recording from Italian company Tactus may seem a little off-beat. Yet it contains an interesting and useful addition to the repertoire.
It consists of 24 bicinia; that is, compositions for two unaccompanied voices or instruments aimed to teach polyphonic composition. Originating in the first half of the sixteenth century, the genre is no mere hack to train young(er) musicians in theory; rather, it skillfully exposes the delights and possibilities and varieties of intersection of melody and harmony with counterpoint. By paring to a minimum the melodic lines, and by laying bare textures and timbres in favor of polyphonic principles, this collection of music by Lassus, written in the later part of his career, in fact shows his invention as much as his technique. Both, of course, are magnificent.
Although there would appear to be little or no attempt to "recreate" the original context of a vocal performance rich in color and texture, the instruments chosen for this recital two dulcians, precursors of the bassoon have affinities with the voice which are more than incidental; and are indeed evident on this CD. Paolo Tognon and Claudio Verh use (combinations of) all four registers: soprano, alto, tenor and bass. This not only illustrates the range of contrapuntal options for which quasi-vocal writing of the period aimed; but the choice of instrument also ensures that the listener is presented with variety and variation throughout the two dozen short (none is longer than two and a half minutes) numbers. At he same time, repeated listening genuinely builds up an understanding of the genre and its place in musical composition, almost, perhaps as cumulative engagement with the Goldberg (or even Diabelli) Variations does.
Of the collection performed here, exactly half the pieces are to a sacred Latin text; half are without any words. This, of course, explains the other purpose of the bicinia: to allow singers and performers to become familiar with the principles of such heavily polyphonic music while actually performing it, mostly at court. The music on this CD is not a series of exercises to little or no other point. Indeed, several of the melodies to be heard will be familiar ones. And carry a pleasing musical message.
The choice of dulcian in what is technically a series of world première recordings is neither incidental nor whimsical. Not only was the Chorist-Fagott a favorite low register instrument used to accompany choral polyphony until the seventeenth century, the dulcian was chosen for this recording precisely because it so closely parallels the human voice… it has warmth, flexibility, a sound produced by breath; it can be listened to proximally as well as carry, sounds well in combination with other such instruments; it has a range corresponding to the span of high and low human voices and perhaps most significantly the dulcian has the subtlety of expression, nuance and delicacy needed to suggest what only words otherwise can.
The two players on this CD, are both accomplished specialists in their field, with their instrument and as exponents of musical exploration in the period. They are also superb technicians, and ones well able to advocate this perhaps at first blush unconventional arrangement without drawing attention to anything other than the music in its own right. The result is worth persevering with, especially bearing in mind the similarities between dulcian and voice.
The acoustic has been created and captured perfectly for this enterprise. It's slightly reverberant to give the dulcians context; yet it's close enough to concentrate the ear on the melodic lines. The booklet that comes with the CD gives the background, brief biographies of the players and describes the five twentieth and twenty-first century copies of original soprano, alto, tenor and two bass dulcians used. No, this is perhaps not how we expect to hear Lassus now; but it's a fresh and invigorating way to do so with music that's enjoyable and pleasing in every way.
Novae aliquot et ante hac non ita usitatae cantiones suavissimae, "Cantiones duum vocum"
1. No. 1. Beatus vir qui in sapientia morabitur 00:01:28
2. No. 18. — 00:02:06
3. No. 12. Sicut rosa inter spinas 00:01:35
4. No. 15. — 00:01:45
5. No. 16. — 00:01:45
6. No. 19. — 00:02:10
7. No. 4. Iustus cor suum tradet ad vigilandum 00:01:16
8. No. 14. — 00:01:48
9. No. 8. Sancti mei qui in isto seculo 00:01:21
10. No. 10. Serve bone et fidelis 00:01:24
11. No. 11. Fulgebunt iusti sicut lilium 00:01:25
12. No. 5. Expectatio iustorum laetitia 00:01:11
13. No. 23. — 00:02:19
14. No. 13. — 00:01:46
15. No. 22. — 00:02:19
16. No. 2. Beatus homo qui invenit sapientiam 00:01:35
17. No. 17. — 00:01:53
18. No. 24. — 00:01:45
19. No. 3. Oculus non vidit, nec auris audivit 00:01:12
20. No. 6. Qui sequitur me, non ambulat in tenebris 00:01:20
21. No. 9. Qui vult venire post me 00:01:37
22. No. 21. — 00:02:01
23. No. 7. Iusti tulerunt spolia impiorum 00:01:14
24. No. 20. — 00:02:14
Show Details Novae aliquot et ante hac non ita usitatae cantiones suavissimae, "Cantiones duum vocum"
25. No. 1. Beatus vir qui in sapientia morabitur 00:01:30
26. No. 2. Beatus homo qui invenit sapientiam 00:01:40
27. No. 3. Oculus non vidit, nec auris audivit 00:01:30
28. No. 4. Iustus cor suum tradet ad vigilandum 00:01:37
29. No. 5. Expectatio iustorum laetitia 00:01:36
30. No. 6. Qui sequitur me, non ambulat in tenebris 00:01:34
31. No. 7. Iusti tulerunt spolia impiorum 00:01:36
32. No. 8. Sancti mei qui in isto seculo 00:01:52
33. No. 9. Qui vult venire post me 00:01:56
34. No. 10. Serve bone et fidelis 00:01:39
35. No. 11. Fulgebunt iusti sicut lilium 00:01:23
36. No. 12. Sicut rosa inter spinas 00:01:33
Composer Info
Orlando di Lasso