Program: #18-39 Air Date: Sep 17, 2018
Three instrumental releases, including Fretwork's most recent recording (John Jenkins Consort works continued), late William Byrd keyboard works, and Purcell's Fantazias.
I. John Jenkins: Complete Four-Part Music (Fretwork). Signum CD SIGCD528.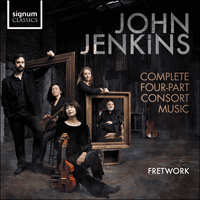 Amateur viol players throughout the world love playing the consort music of John Jenkins, probably more than any other English composer of the great golden era of music for multiple viols, that ranges from William Cornyshe in 1520 through to Henry Purcell in 1680. And the reason why is not hard to fathom: a rare melodic gift is married to an exceptionally deep understanding of harmony and modulation; effortless counterpoint gives each part an equal voice in the musical conversation; and a virtuoso viol player's knowledge of what is possible, works well and is effective on each of the consort's viol sizes.
He was an unusual composer in many ways. Though he did attain a court position in later life for the most part he spent his time in the country, employed by various noble families at their large houses—teaching them, entertaining them and writing copious quantities of music for these amateur viol players. There was the Derham family of West Derham, Norfolk, and the L'Estrange family at Hunstanton. These two Royalist families were friends and Jenkins probably moved freely between them as the occasion required; he was apparently never officially attached to any household, for his pupil Roger North wrote: 'I never heard that he articled with any gentleman where he resided, but accepted what they gave him.'
We can guess that they must have been quite advanced players in that much of the music was highly virtuosic in the division style, where slow-moving lines are decorated by 'dividing' the longer notes into ever shorter ones. However, the consort style was mostly concerned with more melodic, mellifluous lines and Jenkins wrote a large body of such music for four, five and six viols.
The music for four viols comprises seventeen fantasies and two pavans, and calls for one treble viol, two tenors and one bass viol. Jenkins was a very long-lived man, and it's difficult to date his music, though the consensus amongst scholars suggests that this consort music was composed in the earlier part of his life. He was born in the reign of Elizabeth I in 1592 in Maidstone, Kent; and he died in the reign of Charles II in Kimberley, Norfolk in 1678, making him an unusual 86 years when he died.
He was ten years senior to William Lawes, with whose music his is often compared; but a greater contrast in life, character and style could not be imagined. Lawes's life was short, ended violently and was closely connected to the Court and London; whereas Jenkins's long life ended peacefully, and he stayed away from the Court and the capital. And perhaps we can sense this in their very different styles of music: while Lawes 'broke somewhat the rules of music' in his flair and passion, Jenkins mellifluous style was concerned with a smooth perfection, for the most part eschewing drama. The two composers probably knew each other, as both were employed as composers for James Shirley's prestigious masque mounted by the Inns of Court to demonstrate loyalty to the crown, The Triumph of Peace (performed 1634).
His father was a carpenter, and could well have made the seven viols and violins that were listed at this death. He lived through the great period of viol making in England, and we find examples of viols made by John Rose, Henry Jaye, Henry Smith and Richard Meares—among many others—still surviving. Instruments by these makers, made for the nobility who played them in their country houses, were prized by players throughout Europe for a century and more to come.
Thomas Mace in 1676 speaks of a 'chest' of viols, comprising six viols, two of each size; but the term also refers to an actual item of furniture which contained these viols, their bows, spare strings, rosin, music—in short, all the paraphernalia associated with playing music.
Jenkins lived with the North family in Kirtling, Cambridgeshire from 1660 until 1668. This was a prominent political family that had risen during James I's reign, but which had always had a strong musical tradition. There were six sons, all of them musical, in particular Francis, who was to become Lord Keeper of the Great Seal, and Roger, who left us extensive writings on music, and an intimate and sympathetic portrait of Jenkins as friend and mentor:
In this time Mr John Jenkins began to be famous, and his compositions much sought after. He was once carried to play on the viol before Kings Charles I, which he did in his voluntary way, with wonderful agility, and odd humours, as (for instance) touching the great strings with his thumb, while the rest were employed in another way. And when he had done the King said he did wonders on an inconsiderable instrument. But this gentleman made himself more famous for his compositions of all sorts. There were more consorts of his composing went about among the performers in his time than all the rest of his contemporaries, till he got almost the monopoly of consort music. He lived to a great age, and had composed so much that he knew not half of what he had done. A Spanish Don sent over to the late Sir P. Lely the leaves of one part of a 3 part consort of his, with a desire to procure the rest, costa che costa [at any cost]; for his music had got abroad and was more esteemed there than at home. I showed him the papers, but he could tell nothing of them, when or where they were made, or might be found, only he knew they were his own.
Mr Jenkins was a very gentle and well bred gentleman and was always not only welcome, but greatly valued by the families wherever he had taught and convers't. He was constantly complaisant in everything desired of him, and wherever he went Mirth and Solace (as the song hath it) attended him. After his whole profession was driven from the Court, he past his time mostly in the country at Gentlemen's houses, and then he composed numerous consorts and in his effete age was no less acceptable, where he chose to reside, than when he was in his vigour, and at last laid his old bones at Kimberly in Norfolk, leaving an old friend a competent legacy to be remembered by.
The patriarch of the North family, Roger's grandfather, Lord North also had something to say about the composer, whom he had invited into his house, in a letter to Henry Loosemore:
Art and Air come seldom from under a Gown; yet are you not ignorant, how I have appeared taken with what hath proceeded from Mr. Cranford, whom I knew, a sober, plain-looking man: his pieces mixed with Majesty, Gravity, Honey-dew Spirit and Variety. I find less strange from Mr. Jenkins, whose infinite flowing vein, in all kinds I have much admired, as been delighted in: but his Fashion promises no less; Spirit, Garb and Air, shine in his first appearance.
Jenkins is buried in the nave of St. Peter's Church, Kimberley, Norfolk, with this inscription:
Under this stone Rare Jenkins lie
The Master of the Musick Art
Whome from ye Earth the God on High
Call'd upto Him to bear his part
Ag'd eighty six October twenty sev'n
In Anno sev'nty eight he went to Heav'n
CD2
II. William Byrd: Late Music for the Virginals (Aapo Häkkinen). Alba CD ABCD 405.
From Early Music Review: Two decades ago, when Davitt Moroney's boxed set of Byrd's complete keyboard music was released, there was the worry that it might have the effect of stalling many or indeed any further recordings of this repertory. Thankfully it had the opposite effect, and there has been a steady succession of recordings featuring aspects of Byrd's output for harpsichord, virginals and organ. One such in 2000 was Music for the Virginals, a fine cross section of Byrd's oeuvre  played by Aapo Hakkinen (Alba ABCD 148). After what does not seem like as many as seventeen years, he has followed this up with a selection of pieces identified as coming from the later period of Byrd's career.
It is another judicious combination of reassuringly familiar pieces plus others less well known, all of them of course outstanding compositions. So beside the pavan and galliard sets dedicated to Sir William Petre, 1575-1637 (sic: the later version in Parthenia  from 1612/13, not the version dedicated to "Mr:" Petre in My Lady Nevell's Book, 1591) and to the now currently fashionable Lord Salisbury (aka Robert Cecil, the King's Secretary at the time of the Gunpowder Plot) which is also in Parthenia, we have the fine pair in d from the Fitzwilliam Virginal Book (BK 52), plus the arrangements, paired in one source, of Dowland's Lachrymae  and James Harding's Galliard, and the delightful Galliard (BK 77) from Will Forster's Virginal Book, which could be paired with the Pavan BK 76 (not included here) though they are not placed adjacently by Forster… who is shortly to be identified for the first time, in a forthcoming article by the arch genealogical sleuth John Harley, possibly early next year. Forster is also the source of a setting of Dowland's If my complaints  which has now been admitted into the Byrd canon not only for its quality but also because an inferior setting in the same source is attributed to Byrd, probably in mistake for this one. Meanwhile Fitzwilliam is also the source of the usually neglected third setting of Monsieur's Alman  which setting was recognised only relatively recently. There are major sets of variations in the great John come kiss me now  and the less flamboyant Go from my window  alongside the amazing ground The bells  (the ringers at our parish church are practising as I type this) and the now famous Fancy for My Lady Nevell.
The disc concludes with Gibbons's pavan and galliard also dedicated to Salisbury aka Cecil; no explanation is given for their inclusion on a disc the title of which specifies Byrd. While these fine pieces are in principle always welcome, it is a shame that the opportunity was not taken to include two more pieces by Byrd himself, perhaps even from his peripheral repertory which I mention below.
All the performances are straight out of the top drawer. Hakkinen's greatest virtue is in his metrical flexibility, not adhering rigidly to the metronome, but never losing his rhythmic or structural grip when responding to the ebb and flow which Byrd builds into his music. This is an ideal recording for anyone test-driving Byrd's music for the first time, or for any aficionado of Byrd seeking some different slants on how his work is interpreted. This is supposed to be a critical review so, besides my reservation about the inclusion of music by Gibbons, I will scrape up one gripe: many of the recordings of Byrd's keyboard music since Moroney's have made for themselves a niche by including at least one piece which does not appear in Moroney's monumental and comprehensive set – usually a contemporary arrangement for keyboard of a song or consort piece by Byrd. Hakkinen did this on his previous disc, including a contemporary arrangement of Lulla Lullaby. This time he commendably includes the recently accepted If my complaint s but Moroney had already done so in his box. Nevertheless this illustrates the lengths to which this reviewer has to go in order to find anything about which to complain: if my complaints are this trivial, it confirms that Aapo Hakkinen's disc is simply outstanding.
 William Byrd:

1

Praeludium MB 1

  0:52

FIABA 1700094

 Pavan & Galliard Sir William Petre MB 3 :

2

Pavan

  5:07

FIABA 1700095

3

Gallard

  2:05

FIABA 1700096

 Pavan & Galliard MB 52:

4

Pavan

  4:49

FIABA 1700097

 John come kiss me now MB 81:

5

 

  5:23

FIABA 1700098

 Fantasia MB 25:

6

 

  5:37

FIABA 1700099

 Callimo casturame MB 35:

7

 

  2:04

FIABA 1700100

 Galliard MB 77:

8

 

  1:02

FIABA 1700101

 Lachryame Pavan MB 54 & Harding's Galliard MB 55:

9

Pavan

  6:15

FIABA 1700102

10

Galliard

  2:54

FIABA 1700103

 Monsieur's Alman MB 44:

11

 

  2:37

FIABA 1700104

 The Bells MB 38:

12

 

  5:40

FIABA 1700105

 Pavan & Galliard's The Earl of Salisbury MB 15:

13

Pavan

  1:45

FIABA 1700106

14

Galliard

  1:11

FIABA 1700107

15

Galliard II

  2:10

FIABA 1700108

 if my complaints MB 113:

16

 

  3:02

FIABA 1700109

 Go from my window MB 79:

17

 

  4:38

FIABA 1700110

 Orlando Gibbons:

Pavan MB 18 & Galliard MB 19 Lord Salisbury:

18

Pavan

  6:10

FIABA 1700111

19

Galliard

  2:29

 
III. Purcell: Fantazias & In nomines (Sit Fast). Eloquentia CD EL 1549. 
From Early Music Review: There are many recordings of these pieces from which one can choose. All six of those that I have heard to date are excellent in their own way: techniques more than adequate to the demands on the players, well-thought out renditions, lovingly played. What sets this one apart is the intensity generated by restraint – every choice dictated by the music itself.
Sit Fast play with exquisite poise, no exaggerated mannerisms, few added ornaments and only a very occasional use of vibrato. They vary the tempo within sections, following Purcell's directions ('Quick', 'Drag') despite his writing the tempo changes into the note values. This is particularly effective in Fantazia 6 with its very chromatic 'Slow' which they take very slowly but with beautifully controlled soft playing, as, within the space of 17 bars, it migrates from C major through B flat minor to a cadence in F major, rapidly building an intensity of melancholy for which the poignant sound of the consort of viols is so appropriate.
The balance favours the bass viol, perhaps because the player, Josh Cheetham, is a strong player anyway, but not to the extent of masking the tenors in the 4-part pieces. The treble viol (Atushi Sakaï) displays controlled restraint, which lets the intensity of the inner parts through the texture, always unexpected, making you sit up and pay attention. Purcell's youthful imagination seems to respond to an inner 'dare' – to question what might be possible, then pushes boundaries of chromaticism and dissonance as far as he can and then further. No wonder Handel found his music so striking.
The disc opens with a completion of the unfinished 4-part fantazia no 13, and then plays the rest in the order in which they occur in the autograph manuscript – the sole surviving source for these amazing works. The last of the 4-part fantazias, composed on 31st August 1680, despite, presumably, the heat of the summer, is on the surface, the most restrained. Its stately opening, the parts enter in normal polyphonic succession, no abrupt changes of tempo, just cunningly disguised morphing from flat to sharp keys and back again, no macho youthful showing off, just a subtle and sublimely expressive taming of the harmonic questions he had be asking all along.
Then we come to the coup de grace – the Fantazie Upon one note – did he have someone in mind for this, an incompetent but eager Royal perhaps? Or is it another 'dare?' Whatever the impetus, a masterpiece resulted. That leaves the two In Nomine settings, in six and seven parts respectively, leaving this listener at a loss for words – an advantage in a reviewer, no doubt. Highly recommended, even if you already have Fretwork and Phantasm and all.
— Henry Purcell, Sit Fast, 1:30
— Henry Purcell, Sit Fast, 3:40
— Henry Purcell, Sit Fast, 3:53
— Henry Purcell, Sit Fast, 3:11
— Henry Purcell, Sit Fast, 4:41
— Henry Purcell, Sit Fast, 5:39
— Henry Purcell, Sit Fast, 5:05
— Henry Purcell, Sit Fast, 5:32
— Henry Purcell, Sit Fast, 5:05
— Henry Purcell, Sit Fast, 5:25
— Henry Purcell, Sit Fast, 5:04
— Henry Purcell, Sit Fast, 4:06
— Henry Purcell, Sit Fast, 4:04
— Henry Purcell, Sit Fast, 3:28
— Henry Purcell, Sit Fast, 2:29
— Henry Purcell, Sit Fast, 3:45
Composer Info
John Jenkins, William Byrd, Dowland, James Harding, Orlando Gibbons, Henry Purcell
CD Info
CD SIGCD528, CD ABCD 405, CD EL 1549