Program: #20-13 Air Date: Mar 16, 2020
Alessandro Grandi, Giovanni Legrenzi, Giovanni Paolo Colonna.
I. Legrenzi: Canto & Basso (Ensemble Zenit). Brilliant Classics CD  95006.
• Giovanni Legrenzi (1626-1690) was an Italian composer of opera, vocal and instrumental music. He held several important posts as court musician and Maestro di Cappella in Ferrara, Mantua, Bologna and finally Venice, where he was appointed first at the Ospedale dei Mendicanti then at the prestigious San Marco.
• This new recording presents Sonatas and Motets for solo voices (alto and tenor) played by organ, cornetto and baroque trombone. The use of these brass instruments is in the tradition of Castello, Cima and Fontana. In addition we hear works by contemporaries Merula, Battiferri, Pollarola and Colonna. The use of the brass instruments lends a special festive character to these highly attractive, melodious compositions.
• Played by Ensemble Zenit, specialized in this particular repertoire, and alto Isabella di Pietro and tenor Roberto Rilievi. The booklet notes are written by an Italian musicologist
Giovanni Legrenzi (1626 - 1690):
1. Sonata la foscari à 2, Op. 2 03:09
Tarquinio Merula (1595 - 1665):
2. Canzon di Tarquinio Merula 05:04
Giovanni Legrenzi:
3. Acclamationi divote, Op. 10: X. Plaudite vocibus 05:57
4. Hodie collentatur coeli à 2 06:12
Luigi Battiferri (1600 - 1682):
5. Ricercari a quattro, a cinque, e a sei, Op. 3: I. Ricercare Sesto. Con due sogetti .04:01
Giovanni Legrenzi:
6. 18 Sonatas, Op. 2: IX. La colloreta' à 2 02:59
7. Mottetti a 2 voci: IV. Ave regina coelorum à 2 04:42
Giovanni Paolo Colonna (1637 - 1695):
8. 18 Sonate da organo di varii autori: VII. Del colonna di Bologna 04:33
Giovanni Legrenzi:
9. Acclamationi divote, Op. 10: XI. Suspiro domine 07:49
10. 18 Sonatas, Op. 2: VII. La donata' à 2 04:07
Carlo Francesco Pollarolo (1653 - 1723):
11. 18 Sonate da organo di varii autori: II. Pollaroli di Venezia 02:57
Giovanni Legrenzi:
12. Harmonia d'affetti devoti, Op. 3: XI. Albescite flores à 4 06:15
II. Alessandro Grandi: Celesti Fiori—Motetti (Accademia d'Arcadia/UtFaSol Ensemble/Alessandra Rossi Lürig). Arcana CD A464.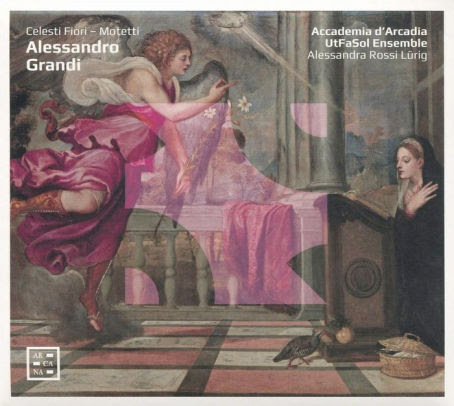 From Early Music Review: During his lifetime, the Venetian Alessandro Grandi was regarded as the equal of Monteverdi and his influence on the motet was profound. The works recorded here illustrate the dramatic concertato style in which he composed and indicate an original creative genius at work. Blending voices and continuo with cornetti and sackbuts, these performances illustrate how he animates the texts he is setting with rapidly changing bursts of expressive musical ideas, but is also capable of more sustained expressions of passion. The singing and playing here is generally suitably passionate too, with very effective detailed ornamentation subtly applied where appropriate. I have some reservations about the soprano voices which both have more vibrato than is comfortable. Annoyingly they seem able to minimise this at will, but too often they don't, leaving them sounding unsettlingly wobbly compared to the cornetti and, indeed, the gentlemen. The 15 motets recorded here range from simple two-voice dialogues to larger-scale pieces culminating in a handsome eight-part setting of Nisi Dominus. The recorded sound is best in the smaller-scale works and is a bit crowded in the larger pieces, where surely more use could have been made of the acoustic in the Basilica Palatina di Santa Barbara in Mantua. This CD with Alessandra Rossi Lürig's detailed and informative programme notes makes a strong case for exploring further Grandi's sacred music, which has survived in large quantities but of which only a small portion has made it into modern editions. 
| | | |
| --- | --- | --- |
| 1 | O Quam Tu Pulchra Es | 3:21 |
| 2 | Plorabo | 6:21 |
| 3 | Lilia | 2:27 |
| 4 | In Semita | 2:49 |
| 5 | O Bone Jesu | 3:03 |
| 6 | Date Nomini Ejus | 5:14 |
| 7 | Heu Mihi | 4:48 |
| 8 | Salvum Fac | 3:49 |
| 9 | Bone Jesu Verbum Patris | 5:31 |
| 10 | Domine Ne In Furore Tuo | 3:56 |
| 11 | Surge Propera | 3:45 |
| 12 | Factum Est Silentium | 3:16 |
| 13 | Vidi Spetiosam | 3:07 |
| 14 | Veniat Dilectus Meus | 4:26 |
| 15 | Nisi Dominus | 6:46 |
III. Giovanni Paolo Colonna: Psalmi ad Vesperas (1694).  (Houston Chamber Choir & Orch./Robert Simpson). MSR CD MS 1437.
Experience the splendor of late 17th-century sacred music in northern Italy. Giovanni Paolo Colonna's monumental Vespers were composed in 1694 for a grand festival at the Basilica of St. Petronio in Bologna. This dramatic piece was hidden away for centuries in the archives of Westminster Abbey and the Central Library of Zürich, and has only recently come to light. The Houston Chamber Choir's performance of the work in the fall of 2011 was the first in modern times.
Houston Chamber Choir gratefully acknowledges the Web Library of Seventeenth-Century Music, Alexander Silbiger, General Editor, for the modern edition of Colonna's Psalmi ad Vesperas, edited by Pyrros Bamichas. www.sscm-wlscm.org
The Latin texts are taken from the Liber usualis (edited by the Benedictines of Solesmes, Tournai, 1953); translations are taken from the Saint Andrew Daily Missal (edited by Dom Gaspar Lefebvre, O.S.B., of the Abbey of St.-André, Bruges, 1954). Both are provided in the modern edition by Pyrros Bamichas.
From Fanfare: 
The name Giovanni Paolo Colonna is one of those in the world of music which ought to be known but isn't… The works presented here, however, are clear indications of how modern a composer Colonna was… As for the performance itself, conductor Robert Simpson has created an appropriate and tasteful sound world. The tempos are nicely contrasting in the sections, the continuo drives the motion forward, and the textures are all well-defined. The choral singing of the Houston Chamber Chorus is right on pitch, with a full and expansive sound, adding considerable depth to the music. The soloists are all extremely capable, with sopranos Melissa Givens and Kelli Shircliffe floating with a clear and brilliant tone in their parts. Bass Matthew Treviño is nicely resonant, and his use of vibrato only heightens the gravitas of his lines. Both Ryland Angel's rich countertenor and Eduardo Tercero also blend nicely, and one would wish that the composer would have made more use of them... This is one recording that Baroque music lovers will need to have in their collection."
2  Dixit Dominus [Psalm 109]
3  Confitebor tibi Domine [Psalm 110]
4  Beatus vir [Psalm 111]
5  Laudate Dominum omnes gentes [Psalm 116]
6  Nisi Dominus [Psalm 126]
7  Magnificat anima mea Dominum [Canticle of tRhe Blessed Virgin, Luke 1:46-55]
Composer Info
Giovanni Legrenzi (1626-1690), Tarquinio Merula (1595 - 1665), Luigi Battiferri (1600 - 1682), Giovanni Paolo Colonna (1637 - 1695), Carlo Francesco Pollarolo (1653 - 1723), Venetian Alessandro Grandi, Giovanni Paolo Colonna
CD Info
Brilliant Classics CD  95006, Arcana CD A464, MSR CD MS 1437.