Program: #18-01 Air Date: Dec 25, 2017
Musical thoughts and reflections on the year passed (and the one to come).
I. The Royal Rorantists: Musica Sacra of the Wawel Cathedral (The Royal Rotantists Ensemble/Andrzej Bialko, o./Stanislaw Galonski). Dux CD DUX 1334.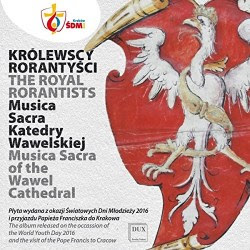 From MusicWeb.com: This is a rather strange disc, but is not without interest. It was released to coincide with World Youth Day 2016 in Cracow, attended by Pope Francis and about 3 million young Catholics.
This commemorative CD looks at the musical tradition of the Wawel cathedral, notably the Rorantist tradition. The original Rorantists were created by King Sigismund in 1540 and remained active at the Wawel Cathedral for over 300 years. Sigismund's idea was that the singers would each day perform a Rorate Caeli Mass in the royal chapel – a variant on the practice of chantry masses. Before the reforms of the Second Vatican Council, Rorate Masses were said everywhere on Saturdays and throughout Lent. Even today, Rorate Masses play an important part in Eastern European and especially Polish Catholic culture. The name 'Rorate' comes from the opening of the Introit Psalm 'Rorate coeli desuper et nubes pluant justum' (roughly 'Drop down dew, O heavens, from above and let the clouds rain on the just'). The Rorantists themselves were priest singers and composers. Comparatively little is known of individual composers as may be noted from the paucity of accurate dates above.
The works here reflect the tradition very well, in some fine performances, though solo work sometimes wobbles. The modern Royal Rorantists have eight voices, four tenors and two each of baritone and bass. The choral pieces are a capella and, in general, brisk, which is the traditional way with Gregorian chant and its successors. The Gregorian version of the Rorate is perhaps more floridly decorated than listeners might expect, but recognisably the most common tune. The sequence of pieces, mostly polyphonic, roughly follows the order of the Mass, with Kyrie, Gloria, Sanctus and Agnus Dei in proper order. Nevertheless, some pieces would never appear in the same Mass, (such as funeral pieces in a Mass with a Gloria) but provide a varied programme when heard here.
Interspersed with the choral pieces are organ works by Jan of Lublin, well-played by Andrzej Białko at the Basilica Na Skałce in Cracow. The Basilica is something of a national Pantheon for Poles. Szymanowski is one of the many distinguished figures buried here. The instrument is well-captured and the music enjoyable while adding little to the history of organ composition.
An oddity is the longest piece on the disc, a welcome given to the Cappella Cracoviensis at the Vatican in 1981 by Pope St John Paul II. His voice has a rare beauty, but at eleven minutes it is difficult to imagine listeners wishing to hear too often a speech in strongly accented Italian, with hesitations in reading, with a more fluent interpolated section in Polish. Even the Vatican website provides no translation of the Polish, while the opening and closing sections are available, for some reason, only in Spanish. As far as I can tell there are no profound insights in the speech. Take that away and we are left with less than 50 minutes of music. Including the speech makes sense in the context of this CD as a souvenir but not for repeated listening.
The final piece, 'Gaudete, mater Polonia' by Wincenty z Kielczy (Vincent of Kielcz) is interesting. It was once the anthem of Poland and is the oldest piece of Polish music by a composer whose name is known. It was probably first performed at the canonisation, in Cracow, of the martyr, St Stanisław. Here it is performed in Klonowski's well-known arrangement in four parts, .
A weakness of the presentation is a lack of texts. The Latin texts are readily available and will be familiar to older Catholics or those familiar with the Latin texts of the Mass. The text of 'Gaude, mater Polonia' is also on Wikipedia.
Michael Wilkinson
Track Listing
Pope St JOHN PAUL II (1920-2005)
The Word of the Holy Father John Paul II [11.33]
Gregorian Chant
Rorate Caeli [5.09]
Marcin PALIGON (16th-17th c.)
Rorate Caeli [3.15]
JAN z Lublina (1540)
Kyrie Fons Bonitatis [0.57]
Christe [1.39]
Ultimum Kyrie [1.23]
Krzysztof BOREK (d. after 1566)
Kyrie & Gloria (Missa Te Deum Laudamus) [5.31]
JAN z Lublina
Pattrem Sollemne [1.23]
Krzysztof BOREK
Credo (Missa Te Deum laudamus) [4.58]
JAN z Lublina
Date Siceram Moerentibus [3.05]
Krzysztof BOREK
Sanctus [2.16]
JAN z Lublina
Tantum Ergo Sacraementum [2.47]
Bartłomiej PĘKIEL (d.1670)
Benedictus (Missa pulcherrima) [2.46]
Tomasz SZADEK (?1550-1612)
Agnus Dei (Officium in melodiam motetae Pisneme) [3.14]
JAN z Lublina
Non mortui laudabunt te Domine [1.01]
De profundis clamavi [1.30]
Grzegorz Gerwazy GORCZYCKI (1665/67 -1734)
Sepulto Domino [2.35]
JAN z Lublina
Salve Regina [1.04]
WINCENTY z Kielczy (13th c.)
Gaude Mater Polonia (arr. Teofil Klonowski) [3.23]
II. Schein/Bernhard/Zachow—Chorales Masses & Sacred Concertos (Rheinische Kantorei/Hermann Max). M D & G CD 602 0169-2.
Five hundred years ago the Reformation occasioned an upsurge in the production of church music, and even today Luther's powerful sacred hymns continue to be mainstays in Lutheran religious services.
The Lutheran chorale masses recorded by Hermann Max with his Rheinische Kantorei on vinyl more than thirty years ago represent a special form within these parallel ?or shared ? relational worlds. Even then the MDG sound engineers used the latest digital technology for the recording - which means that this welcome new edition could be transferred to CD without a hitch.
Along with the chorale masses by Christoph Bernhard, Friedrich Wilhelm Zachow, and Johann Caspar Ferdinand Fischer, Hermann Max presents three works that were highly modern during their times: "Sacred Concertos" by Johann Hermann Schein on the same hymns. The virtuosic cooperation and opposition between the vocal and instrumental parts was an import from Italy and the latest rage there during Schein's lifetime.
.
From Audiophile Audition: Five hundred years ago the Reformation triggered an upsurge in the production of church music, and even today Martin Luther's sacred hymns continue to be mainstays in Lutheran religious services. This disc has a lovely collection of masses and concertos from a variety of composers of the period, roughly between the 16th and early 18th century works are performed by the Rheinische Kantorei, Hermann Max, conductor. The music on offer in this collection is hauntingly beautiful and well performed. None are mainstays of the popular classical canon, but that doesn't make them any less compelling.
The recording is apparently a re-master, and dates from 1985. I can assure our readers that the recording is not compromised by age. As DG has demonstrated many times, there is a tremendous effort in the recording and production of their product, and the recording here is exemplary. The sound of the chorale and instruments are well positioned in a reverberant space. I thought the sound opened up nicely when my processor expanded it to 5.1 channels using Dolby Pro Logic.
It's nice to have this disc for the holiday season, and its gentle melodies should put anyone in a reverent mood.
Schein: Christ, unser Herr, zum Jordan kam: Sacred Concerto
Bernhard: Missa Brevis
Schein: Christ lag in Todesbanden: Sacred Concerto
Zachow: Missa super Chorale 'Christ lag in Todesbanden'
Schein: Nun komm der Heiden Heiland: Sacred Concerto
Fischer, J K F: Missa in contrapuncto
III. The Glory of Byzantium (Byzantine Choir of Greece/Melodi Choir/Divina/Lycourgos Angelopoulos). Jade CD M2-36161.
Lycourgos Angelopoulos, head of the Byzantine Chorus of Greece, is considered to be an expert in Byzantine music, as he aims to preserve its authentic tradition through both an aesthetic and historically accurate musical process.
Divna Ljubojevic was born in Belgrade in 1970. She studied at the Mokranjac Musical School and graduated from the Novi Sad Musical Academy. She practiced religious singing with the choir of Vavedenje monastery, where she was trained by the sisters who held her to the unique style derived from Karlovatz singing, and faithfully cherished traditional Russian singing.
In 1991 she created the Melodi Choir, composed of 10 singers. The repertoire focuses on works belonging to Orthodox sacred music, from the oldest monadic or polyphonic Byzantine, Serbian, Bulgarian and Russian pieces, to contemporary works.
This album is a tribute to the splendors of Byzantine music, source of the oldest Christian traditions. This is one of the greatest recordings of Byzantine music that exists in the world; a true and internationally recognized masterpiece. This CD has been conceived as a subtle dialogue between two outstanding artists representative of this renowned repertoire: a legend and an up-and-comer.
The legend is Lycourgos Angelopoulos, head of the Byzantine Chorus of Greece. He is the world's foremost specialist of Byzantine music. During its 28 years of activity, the Chorus has participated in more than a thousand concerts, liturgies and other shows – including several nights of vigil at the Mount Sinai Monastery. The Chorus performs in Europe, the Middle East, Asia and the United States.
The new star is Divna Ljubojevic—a Serbian cantor with the Melodi Choir. With two albums, this Serbian singer has earned a reputation as an exceptional interpreter of the Orthodox repertoire. Her voice, flawless and crystal-like, moves instantaneously. The performance then, alternates between traditional "Greek" style Byzantine chant and "Russian" style Serbian chant.
1. Hail, Mary
Byzantine Chant
2. Sticheron of the Verspers of the Dormition
Byzantine Chant
3. Hail Mary
Byzantine Chant
4. The Great Supplicatory Kanon
Byzantine Chant
5. It Is An Honor To Call Thee Blessed, O Mother of God
Byzantine Chant
6. Three Stichera for the Vespers of the Annunciation
Byzantine Chant
7. It Is An Honor To Call Thee Blessed, O Mother of God
Byzantine Chant
8. Then He Shall Speak To Them In His Anger
Byzantine Chant
9. Cheroubikon
Byzantine Chant
10. Bless The Lord
Byzantine Chant
11. Bless The Lord, O My Soul
Byzantine Chant
12. Today The Virgin
Byzantine Chant
13. Credo
Byzantine Chant
14. Glory To God
Byzantine Chant
15. Pater Noster
Byzantine Chant
16. Our Savior Has Visited Us From On High
Byzantine Chant
17. The Magi, Kings of Persia
Byzantine Chant
18. All the Angels in Heaven
Byzantine Chant
19. Prayers of Blessing
Byzantine Chant
IV. Russian Medieval Chant (Deisus/Sergey Krivobokov). Chandos Chaconne CD CHAN 0678.
From Classics Today: One of the axioms that pertains to the arts is, everything's not for everybody–and the music on this disc certainly validates that principle. During the big chant craze of the 1990s, we heard that special form of sacred music rendered in all shapes and sizes and languages, drawn from nearly every religious tradition, and performed by almost every professional, community, and church group. There even were recordings of Russian chant–but nothing quite like what you hear on this program, identified as Russian Medieval Chant. Sung by the deepest, most resonant voices ever to challenge a microphone–in a kind of uninflected drone style that resounds and reverberates and penetrates with a power beyond what can be explained by the physics of sound–these 14 selections leave no question as to the music's profoundly spiritual purpose. Nevertheless, an entire disc of this monochromatic singing–even with the harmony that's added in several of the later chants–wears heavily on the ear. However, the 14 members of the Deisus choir–a group that was founded in 1977–are experienced professionals devoted to this music, and the solemn sincerity with which they deliver these often long chants is admirable if not particularly suited to a relaxing listening session. If you're a researcher, a chant fan, or are just plain curious about hearing various styles of Russian liturgical song–from znamennïy to demestvennïy–sung by authentic practitioners, then you'll find credible examples here to satisfy your desire.
>Russian Orthodox Chant : Rejoice, Joachim and Anna. . . the Nativity of the Theotokos at Little Vespers, Stanzas, in tone II
>Russian Orthodox Chant : As a previously barren land
>Russian Orthodox Chant : Maidenhood alien to mothers
>Russian Orthodox Chant : On this important day
>Russian Orthodox Chant : Radiant is this joyful day
>Russian Orthodox Chant : This day the congregations of the faithful
>Russian Orthodox Chant : The Angels, seeing the entrance of the most pure Maiden
>Russian Orthodox Chant : This day to the church comes the most immaculate Maiden
>Russian Orthodox Chant : Let the heavens be joyful
>Russian Orthodox Chant : Like the icon given life by God
>Russian Orthodox Chant : We exclaim to you with the voice of the Archangel
>Russian Orthodox Chant : So that the mystery might be revealed
>Russian Orthodox Chant : When, O Virgin Maid
>Russian Orthodox Chant : On your immortal assumption
V. Croce—Motetti & Sacrae Cantiones (Voces Suaves/Concerto Scirocco/Goilia Genini). Arcana CD A439.
Venice, July 1603: Giovanni Croce, known as 'il Chiozzotto', a priest at the church of Santa Maria Formosa, was appointed maestro di cappella of St Mark's basilica, one of the most prestigious posts in the musical world of the time.
A controversial biography, many aspects of which have not yet been elucidated, and a musical output of excellent quality constitute the appeal of this composer born in Chioggia, who is still overshadowed today by his famous successors. Yet Giovanni Croce proves to be an extraordinary figure, halfway between the conservative Venetian school of Gioseffo Zarlino and the modernism of Claudio Monteverdi. He makes masterly use of double chorus and of such special devices as echo effects, while maintaining a fine transparency in his counterpoint that links him with classical polyphony.
Two exceptional young Swiss ensembles, the vocal group Voces Suaves (which has won several prizes for its first two recordings) and the instrumental ensemble Concerto Scirocco, combine here in the magnificent surroundings of the palatine basilica of Santa Barbara in Mantua, where they have the advantage of the outstanding Antegnati organ built in 1565, to honour Giovanni Croce and his contemporaries and introduce us to other aspects of the glorious musical activity at St Mark's.
From The Guardian: The Italian composer-priest Giovanni Croce (1557-1609), who influenced English composers such as John Dowland and Thomas Morley, sang at St Mark's, Venice as a boy soprano and became maestro di cappella there a few years before Monteverdi. Fluid, grand and immediate, Croce's music may not quite match the Gabrielis or Monteverdi for invention, but it has all the splendour and spatial awareness of the best Venetian music of the period. Concerto Scirocco and Voces Suaves recorded the album in Santa Barbara, Mantua, making full use of its double choir lofts, lively acoustic and splendid Renaissance organ. With its detailed notes and texts, it will give any Croce novice all they need.
Giovanni Croce (1557 - 1609):
1. Omnes gentes 2:55
Giovanni Picchi (1571 - 1643):
2. Canzon Decimaquarta 3:45
Giovanni Croce:
3. Anima mea liquefacta est 3:00
4. Percussit Saul mille 2:11
Vincenzo Bell'haver (1540 - 1587):
5. Toccata 3:23
Giovanni Croce:
6. Egredimini et videte 2:41
Giovanni Gabrieli (1557 - 1612):
7. Canzon III a 4, Ch. 188 1:57
Giovanni Croce:
8. Ornaverunt faciem templi 2:47
Andrea Gabrieli (1553 - 1585):
9. Canzon ariosa 3:00
Giovanni Croce:
10. Ave virgo 2:48
Giovanni Gabrieli:
11. Canzon Terza 2:50
Giovanni Croce:
12. Virgo decus nemorum 3:15
Gioseffo Guami (1542 - 1611):
13. Canzon Settimadecima 2:46
Giovanni Croce:
14. Hodie completi sunt 2:35
Claudio Merulo (1533 - 1604):
15. Toccata Terza 4:52
Giovanni Croce:
16. Quaeramus cum pastoribus 7:25
Composer Info
Pope St JOHN PAUL II (1920-2005), Marcin PALIGON (16th-17th c.), Krzysztof BOREK (d. after 1566), JAN z Lublina, Bartłomiej PĘKIEL (d.1670), Tomasz SZADEK (?1550-1612), Grzegorz Gerwazy GORCZYCKI (1665/67 -1734), WINCENTY z Kielczy (13th c.), Johann Hermann Schein, Christoph Bernhard, Friedrich Wilhelm Zachow, Johann Caspar Ferdinand Fischer, Giovanni Croce (1557 - 1609), Giovanni Picchi (1571 - 1643), Vincenzo Bell'haver (1540 - 1587), Giovanni Gabrieli (1557 - 1612), Andrea Gabrieli (1553 - 1585), Gioseffo Guami (1542 - 1611), Claudio Merulo (1533 - 1604)
CD Info
CD DUX 1334, M D & G CD 602 0169-2, Jade CD M2-36161, CD CHAN 0678, . Arcana CD A439