Program: #94-08 Air Date: Feb 21, 1994
NOTE: These performances from the Holland Festival of Early Music at Utrecht 1993 are by The Hilliard Ensemble, who join as as guests for the program. These broadcasts are are supported in part by Radio Nederland and the  Royal Netherlands Embassy in Washington, D.C.
Preservation of this program is made possible by a generous grant in honor of Prof. Eugene Leahy.
Machaut: Messe de Notre Dame. This recording was made on September 3, 1993 in the St. Catherine's Church in Utrecht.
A review of the Hilliard Ensemble disc of the Machaut Mass de Notre Dame from Amazon: 
The Mediaeval Frenchman Guillaume de Machaut is one of those composers who shaped the course of musical history most significantly. He wrote some of the earliest known polyphonic pieces of vocal music, as well as writing astonishing poetry for his own semi-sacred songs or 'lais.' On this disc, the Hilliard Ensemble present three of his most representative works, all well worth exploring.
The "Messe de Nostre Dame" (not specifically written for performance in the Paris Cathedral of that name) is a stunning piece with which to open the programme. The impeccably clear-toned voices of the Hilliards etch out Machaut's austere lines with blazing intensity, revelling in the strangely dissonant cadences and dexterous interplay of parts that are the hallmarks of his polyphony. The performers use a quaint form of pronunciation for the Latin, one that (supposedly) re-creates the Mediaeval French flavour with which the listeners of seven centuries ago would have been familiar. This work alone is worth the price of the disc: it makes for rewarding and memorable listening.
The "Lai de la Fonteine" is a simpler work, yet strangely harder to grasp on first hearing. Machaut sets his own text here: a complicated and extensive hymn in praise of the Virgin Mary, using endless metaphors and subtle imagery to create an advanced form of poetry around which music is woven. The music itself is quite simple, doing seemingly little more than to carry the poetry for the listener: much of it is monophonic, with verses being shared amongst three singers who come together for polyphonic sections every so often. The work is best heard complete; much is lost in sampling it although the tracks are conveniently divided to give the listener a choice in the matter. Machaut was clearly a mysterious person - religious yet close to the secular; it shows through in such works as this 'lai.'
The disc closes with a final example of rich-blooded polyphony, again using just three voices, and moreover a sample of Machaut's extraordinary genius. "Ma fin est mon commencement" sets a poem that is crafted as a sort of palindrome (indeed, the second phrase is "et mon commencement est ma fin" - "My end is my beginning and my beginning is my end"). The music is equally well crafted to counterpart the words - three voices, winding their way through repetitive and yet fluid lines as if through some sort of musical jigsaw puzzle. It is a delightful end to a wonderful programme. If you're looking for a sample of Machaut but can only afford one disc, then this has to be the one. Mediaeval music is rarely so well displayed as it is here!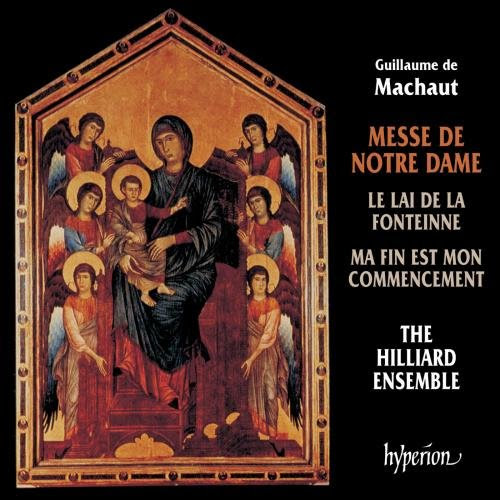 The remainder of the program is dedicated to the CD release of the recording Cipriano de Rore: Le Vergine. It has bee re-released as Harmonia Mundi CD 190 1107.
Le Vergine
 
 1.  
Stanza prima: Vergine bella 
[3:22] 
 2.  
Stanza seconda: Vergine saggia 
[3:38] 
 3.  
Stanza terza: Vergine pura 
[3:34] 
 4.  
Stanza quarta: Vergine santa 
[3:29] 
 5.  
Stanza quinta: Vergine sol'al mondo 
[3:32] 
 6.  
Stanza sesta: Vergine chiara 
[3:31] 
 7.  
Stanza septima: Vergine, quante lagrimae 
[2:40] 
 8.  
Stanza ottava: Vergine, tal e terra 
[3:35] 
 9.  
Stanza nona: Vergine, in cui ho 
[3:20] 
 10.  
Stanza decima: Vergine humana 
[3:18] 
 11.  
Stanza ultima: Il di s'apressa 
[2:42] 
 
Madrigaux à quatre voix
 
 12.  
Musica dulci sono 
[2:33] 
 13.  
Anchor che col partire (texte: Alfonso d'Avalos, Marquis del Vasto) 
[2:16] 
 14.  
Crudele, acerba, inesorabil morte (texte: Francesco Petrarca) 
[2:27] 
Composer Info
Guillaume de Machaut
CD Info
Harmonia Mundi CD 190 1107.