Program: #16-22 Air Date: May 23, 2016
Two of the finest ensembles in early music, Discantus and Alla Francesca share their latest; plus a program recorded live at Périogord.
NOTE: All of the music on this program features music from French ensembles specializing in medieval music.
I. Un chemin d'étoiles (Discantus/Brigitte Lesne). Bayard Music CD 308 447.2.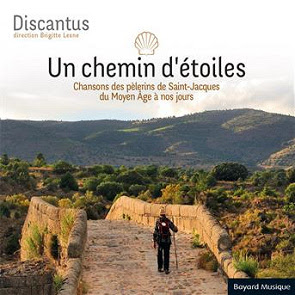 A walk in the footsteps of the pilgrims, where the Middle Ages (codex Calixtinus, Llibre Vermell of Montserrat) meet with French traditional songs of pilgrims from the Renaissance to our times.
Honouring the apostle Jacques and the Virgin Mary, men and women come from all over Europe to Compostela. The Liber Sancti Jacobi (or Codex Calixtinus, copied at 12th century) would accompany the pilgrim's joy at the end of their journey. It groups a rich directory of liturgical chants dedicated to the apostle. On the tracks of these tireless walkers, the singers of Discantus also lead the audience up to Montserrat's monastery – that keeps noted songs dedicated to the Virgin in the famous Llibre Vermell, so that the pilgrims can " sing and dance devoutly " during their evenings - and suggest pursuing this musical journey on a few centuries: E sus eia! 
| | | |
| --- | --- | --- |
| | | |
| | Vous qui allés à Sainct Jacques | |
| | Quand nous partîmes de France | |
| | Pour avoir mon Dieu propice | |
| | C'est de cinquante pèlerins | |
| | | |
| | N'allez pas à Saint-Jacques | |
| | | |
| | Ay Santiago, padron sabido | |
| | | |
| | | |
| | | |
| | Gratulantes celebremus festum | |
| | | |
| | Laudemus virginem splendens ceptigera | |
| | | |
| | | |
|   |   |   |
II. Juifs et Trouvères: Jewish Songs of the 13th Century in Old French and Hebrew (Alla Francesca/Brigitte Lesne). Buda Musique CD 860261.
This 12th installment in the Collection Musical Heritage of the Jews of France is dedicated to the religious and festival songs of the Jewish communities living in Northern France in the second half of the 13th century. During this troubled time spanning the burning of the Talmud to the great expulsion of 1306; Jews shared much of their daily life and language with the Christians, as well as a common taste in literature, monuments, the sounds of cities and fairs, their joie-de-vivre and popular music.
 Shalfu tzarim
Roi de poer
El-givat ha-levona
Por autrui movrai mon chant
l'autrier par un matinet ; Au nouveau tens
Las, las, las, que ferai
Ne puis ma grant joie celer
Les anfanz des avot
Par grant franchise
A une ajornee ; Quant je oi chanter l'aloete
Deror yiqra
Mout sont il a mechief mis
Lai des puceles
Uri liqr'a ti yafah
La nuit de Pesah (Leil shimurim).
III. Le Livre Vermeil de Montserrat (la camera delle lacrime/Bruno Bonhoure). Paraty CD 414125.
The Livre Vermeil de Montserrat is to medieval music what St John Passion is to the Baroque. In a real tribute to Catalonia, the programme also includes, from the venerable codex Montserrat, a refined interpretation of "Song of the Sibylle" and ends with the popular estampa " Els Segadors" a modernised version of which has become the national anthem of Catalonia. The eight artists from La Camera delle Lacrime enjoyed a live session recorded by France Musique at the festival Sinfonia en Périgord to create this programme with the label Paraty. The original instrumentarium, including using an Argentinian drum called Bombo leguëro, offers a new reading of these devotional songs where the interpretations are resolutely popular and festive. This exaltation of the pilgrim, who finally reaches the end of his journey to the monastery of Montserrat, is expressed by the talented young Dordogne choir. Performances of this repertoire in central France have conquered a wide audience, with hundreds of amateur singers on stage to embody the voices of pilgrims alongside professional artists. Artistic directors Bruno Bonhoure (vocals and musical direction) and Khai Luong-dong (design and staging) offer music lovers an enthusiastic and bold version of this essential Medieval heritage.
1. Le chant de la Sibylle
2. O Virgo splendens
3. Polorum regina
4. Cuncti simus concanentes
5. Imperayritz de la ciutat joyosa - Verges ses par
6. Stella splendens in monte
CD Info
CD 308 447.2, CD 860261, CD 414125.