Program: #22-22 Air Date: May 30, 2022
Two recent releases feature the choir of Notre Dame, creating music associated with the great cathedral since the fire; plus late medieval chant from Limoges and Northern European capitals.
I. Notre Dame: Cathédrale d'Émotions (Maîtrise Notre Dame de Paris/Yves Castagnet). Warner Classics CD 190295187993. 
The world is looking forward to seeing Paris's Notre-Dame restored to its familiar physical glory. In the meantime, the musical joys of the great cathedral can be experienced with the singers of its choir school, Maîtrise Notre-Dame de Paris. Backed by more than 800 years of choral tradition, the Maîtrise offers training and performance opportunities to talented children, teenagers and adults. On Cathédrale d'émotions they and the professional singers of the Ensemble vocal de Notre-Dame de Paris perform music that spans the entire history of the cathedral, including works premiered at Notre-Dame in the 21st century.
Morten Lauridsen (b. 1943)
O Magnum Mysterium
Medieval Round: Notre Dame School
Circa canit Michael
Trad. Carol, Arr. John Rutter (b. 1945)
I Saw Three Ships
William Mathias (1934-1992)
A Babe Is Born
Gustav Holst (1874-1934)
Christmas Day - A choral fantasy on old carols
Philippe Hersant (b. 1948)
Psaume 121 - from Vepres de la Vierge Marie
Gautier De Coincy (1177/8-1236)
Chanson: Hui matin a l'ajournee from Les Miracles de Nostre-Dame (Soissons Manuscript, 14th century, BNF, nouv. acq. fr. 24541)
Anonymous
Organum a3: Benedicamus Domino (Florence Manuscript, 13th century, I-FI MS Pluteus 29.1)
Plainchant
Responsory for the Office of the Crown of Thorns: Occidentem illustrat oriens (Sens Breviary, 13th century, BNF, lat. 1028)
II. Pȃques à Notre Dame  
(Maîtrise Notre Dame de Paris/Yves Castagnet). Warner Classics CD 190296397882.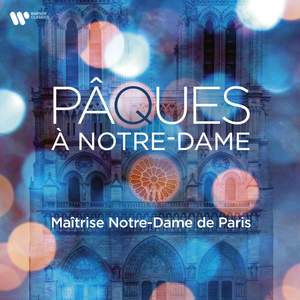 Pâques à Notre-Dame is an album of choral music for Easter, performed by members of the Maîtrise Notre-Dame de Paris, which offers training and performance opportunities to talented children, teenagers and adults. Spanning six centuries and the musical cultures of France, Italy and Germany, the album includes the last polyphonic work to be performed at Notre-Dame before fire devastated the great cathedral amidst preparations for Easter in 2019. The conductor is Henri Chalet, director of the Maîtrise, and the organist is Yves Castagnet, who also composed three of the works on the programme, recorded in the basilica of Sainte-Clotilde, another major church in Paris. As Henri Chalet says: "We know that Notre-Dame will rise again."
Claudio Monteverdi (1567 - 1643):
Monteverdi: Adoramus te  04:24
Yves Castagnet (b. 1964):
2. Castagnet: Guéris nos cœurs, Seigneur Jésus 03:56
3. Castagnet: Messe brève: I. Kyrie 01:58
4. Castagnet: Messe brève: II. Gloria 03:53
5. Castagnet: Messe brève: III. Sanctus 02:02
6. Castagnet: Messe brève: IV. Agnus Dei 02:21
Antonio Lotti (1667 - 1740):
7. Lotti: Crucifixus a 8 03:23
Jean-Charles Gandrille (b. 1982):
8. Gandrille: Stabat Mater 05:26
Maurice Duruflé (1902 - 1966):
9. Duruflé: 4 Motets sur des thèmes grégoriens, Op. 10: No. 1, Ubi caritas 02:30
10. Duruflé: 4 Motets sur des thèmes grégoriens, Op. 10: No. 4, Tantum ergo 02:58
Anonymous:
11. Anonymous / Transcr. Revert: O filii et filiæ 01:54
Yves Castagnet:
12. Castagnet: J'ai vu l'eau vive 03:22
Hans Leo Hassler (1564 - 1612):
13. Hassler: Missa VIII Octo vocum: I. Kyrie 03:11
14. Hassler: Missa VIII Octo vocum: IV. Sanctus 02:20
15. Hassler: Missa VIII Octo vocum: VI. Agnus Dei 02:21
Lise Borel (b. 1993):
16. Borel: Regina caeli 04:33
Anonymous:
17. Anonymous / Transcr. Revert: Victimae paschali laudes 02:37
César Franck (1822 - 1890):
18. Franck: Dextera Domini, FWV 65 10:27
III. Vox Clara
(Schola Cantorum Riga/Gunnar Panis & Ieva Nimane). LMIC/Skani CD 085.
From Planet Hugill: The Schola Cantorum Riga was founded over twenty year ago, exploring Gregorian chant and other early music repertoires from the oldest manuscripts as well as performing contemporary composers such as Rihards Dubra. The group was founded by Guntars Prānis, who is still artistic director, and Pranis' research interests include the sacred music tradition of Riga in the context of various local practices and this feeds into the group's latest disc. Vox Clara on the Skani label features Schola Cantorum Riga and Guntars Prānis in late medieval chant from Riga, Hamburg, Lund (in Southern Sweden) and Limoges. The group is joined by Ansis Klucis (percussion), Ieva Nimane (recorders, bagpipes, kokle - a Latvian plucked string instrument belonging to the box zither family) whilst Pranis plays the hurdy gurdy.
The music comes from a 5th century Liber Hymnarius, a 12th century antiphonary from the Monastery of St Maur-des-Fosses, the 12th century Codex Saint Martial de Limoges, the 13th century Fontevrault Gradual (Limoges), the 14th century Hamburg Antiphonary, 14th century Codex di Perugia, 14th century Codex Engelburg, the 15th century Missale Rigense, and the Liber Scole Virginis, a medieval collection of Marian music in Lund. A wide variety of sources, but the focus is on the Northern Medieval cities of Hamburg, Riga and Lund, interwoven with some of the rich tradition of early polyphony from Limoges.
But these are no ordinary performances, as the line-up for the disc suggests. The performers are interested in the interweaving of the sacred with the local musical traditions, something that probably happened rather a lot. And they take the written manuscripts simply as the starting point. The use of hurdy-gurdy and bagpipes are documented in Latvian traditional music, and some of the performances include these as well as the early Latvian language and elements of Latvian traditional singing. The idea being to create a programme as it might have sounded in Medieval Riga. In his booklet note, Pranis points out that whilst the chant melodies would have been common to different establishments, each centre would have had its own way of singing them. A manuscript can only take us so far.
The 14th century Missale Rigense, now in the Academic Library of the University of Latvia
The chant on the disc is varied, certainly not a liturgical reconstruction, but a thread running through it is the theme of Christmas. There are two paraliturgical pieces, a Florentine lauda from the 14th century and a 15th century Sephardic song from Spain, but the sense of the wider musical landscape imbues many of the liturgical pieces. Some are sung quite straight, whilst other have a lively accompaniment from the drone of the hurdy-gurdy to percussion and more. The use of instruments in medieval music is a difficult one, we know it happened and we know the church authorities did not approve, and many commentators cite the repeated church decrees forbidding instruments as a demonstration that is continued to happen if the church needed to continue to legislate against it!
There is no 'one size fits all', the music moves freely between the colourful Medieval song of Res est admirabilis (a conductus from Limoges), sung with a nice swing, drone and drum, to the more sober early polyphony of Vox Clara. Some of the more sober items, feature instruments playing the chant too such as the imaginative reconstruction of the Benedicamus from the Codex Perugia with recorder and drone. The use of bagpipes in Ingrediente Domino (a responsorium from the Monastery of St Maur-des-Fosse) is very striking, and rendered all the more so as the chant is sung beautifully straight. The Latin is generally sung with the singers' native Latvian accent.
The result is to give this music, drawn quite widely from sources across Europe, a distinctly Latvian accent. The disc is often at its most engaging when the singers veer furthest from pure chant and enter with a will into something with a more popular accent. There is some fine solo singing on the disc and some profoundly haunting harmony on the falsobordone Miserere Mei. When singing pure chant, the singers create a beautiful unified line, admirably flexible but perhaps owing a little too much to Solesmes. Whilst they are very free with the notes, I could have wished for a little more experimentation in vocal tone, a little more roughness.
Being the nerd that I am, I would have liked to know a little more about the individual sources of the music, but the booklet includes full texts and translations (Latin, English, Latvian) as well as basic details for each manuscript.
We can never know quite how Medieval chant was sung, and inevitably each major centre would have its own particular accent. This imaginative disc tries to take us to Medieval Riga and find out the sort of thing the monks might have been singing there.
Res est admirabilis / conductus
Vox clara / hymnus
Benedicamus
Ingrediente Domino / responsorium
Kyrie eleison ymas
Miserere mei / cantus falsobordone
Unicornis captivatur / conductus
Uterus hodie / versus
Veni Sancte Spiritus / antiphona
Plangas cum lacrimis / hymnus
Quasi stella matutina / antiphona
Alleluya alto re di gloria / lauda
Respondemos / cantus
Gaude Maria / sequentia
Schola Cantorum Riga (Jānis Kursevs, Rudolfs Bertins, Jānis Moors, Mārtins Moors, Kaspars Milasevics, Dainis Geidmanis)
Guntars Prānis (director, hurdy-gurdy)
Ansis Klucis (percussion)
Ieva Nimane (recorders, bagpipes, kokle)
Recorded at Great Amber (Lielais dzintars) Concert Hall, Liepāja, 10-14 August 2020
Composer Info
Morten Lauridsen (b. 1943), John Rutter (b. 1945), William Mathias (1934-1992), Gustav Holst (1874-1934), Philippe Hersant (b. 1948), Gautier De Coincy (1177/8-1236), Claudio Monteverdi (1567 - 1643), Yves Castagnet (b. 1964), Antonio Lotti (1667 - 1740), Jean-Charles Gandrille (b. 1982), Maurice Duruflé (1902 - 1966), Hans Leo Hassler (1564 - 1612), Lise Borel (b. 1993), César Franck (1822 - 1890)
CD Info
Warner Classics CD 190295187993, Warner Classics CD 190296397882, LMIC/Skani CD 085