Program: #19-34 Air Date: Aug 12, 2019
We recently rediscovered one of our old programs that featured a recording Pomerium made 42 years ago; happily, the ensemble continues, and director Alexander Blachly joins us to share two of their more recent projects.
NOTE: all of the music on this program features the Pomerium ensemble directed by our guest, Alexander Blachly. For more information: http://pomerium.us/
I. Orlande de Lassus: Motets & Magnificat Olde Hall Recordings CD OHR 001.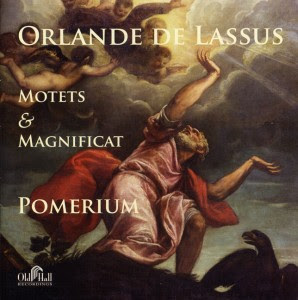 A selection of five- and six-voice motets by the most prolific and honored composer of the sixteenth century, including such famous works as Tristis est anima mea, Timor et tremor, Cum essem parvulus, and Descendit sicut pluvia. The Magnificat super Ancor che col partire rounds out this selection of colorful and dynamic works recorded in Ascension Roman Catholic Church in New York. This is the first CD on Pomerium's own new label, Old Hall Recordings.
Commentary on the Program by Alexander Blachly
            Though he was born in the Low Countries and spent his entire adult career in Bavaria, Orlande de Lassus, who often signed his name Orlando di Lasso, was spiritually an Italian. (He lived in Italy from the age of 12 until he was 23). It is by recognizing the composer's identification with Italy's self-proclaimed renovatio (or rinascimento) that we will best understand him. His was the age that recovered and revived the heritage of antiquity—an historical fact that had far-ranging consequences for all the arts in the Renaissance. Though polyphonic music was unknown to the ancient Greeks and Romans, the music of Lassus and other like-minded composers shares many of the aesthetic ideals of the other arts in the age of "rebirth." Already in the 14th century, inspired by the achievement of the Latin authors, the Italian humanist Petrarch wrote poems in the vernacular that imitated Virgil and Ovid in their emphasis on eloquence and "good style." Lassus demonstrates "good style" in his music by his technical mastery, and his eloquence was often praised by his contemporaries. "Whose soul—be it ever so raw and barbaric—is not transported, is not, as if imperceptibly, drawn out of his body by the melodious sound of his music?" asks the printer on the title page of the anthology Thrésor de musique d'Orlande de Lassus (1576).
            The pictorial and plastic arts of the Renaissance show a concern with, and a highly developed skill in, molding materials into a resemblance of an idealized "realism." Lassus's musical realism consists of its immediate response to the inflection and meaning of words. It persuades the listener as much by the directness and charm of its utterance as by the skillful manner in which its changing moods express each new idea. Even when dramatic, the music is highly concentrated. Most of the composer's over 500 motets last little more than two or three minutes. A Magnificat may be no more than seven or eight. All genres shows extraordinary detail, and the ideas are so precise that Alfred Einstein was moved to speak of the composer's "vocabulary" of motifs. Lassus's contemporaries also appreciated his skill in setting words. The German writer Joachim Burmeister cited motets by Lassus almost exclusively to illustrate his Musica poetica of 1606, the first handbook on musical rhetoric. This is no doubt because Lassus explored rhetorical possibilities further than any previous composer. For him, writing elegant, well-proportioned, or eloquent music was not enough; he extended the range of expression to satire and wit and to grief and mourning. Yet in whatever genre, Lassus's art excels, as Gustave Reese has said, in its plasticity of themes, expressiveness, and richness of harmonic color.
            Unlike his medieval forebears, Lassus saw himself as a princeps—not a "prince" of a geographical kingdom, to be sure, but rather the heir apparent to the kingdom of music. The printers of his music often refer to him in this way, calling him on the title pages of their publications "Princeps musicorum," "Prince des musiciens de nostre temps," or the "divin Orlande." To him, by God's will, had been given a gift of seemingly limitless dimensions: a boundless energy and imagination. Composing indefatigably, he produced, by the most recent reckoning, over 2,000 works, and his setting of any given text became the point of reference for all subsequent settings by other composers. He was honored by popes and kings, demanding and obtaining the recognition that was his due. In light of these facts, two questions assert themselves and require an answer. Why did the cosmopolitan and polyglot Lassus, equally at home in French, Italian, and Latin, spend his adult career in the peripheral, German-speaking Munich rather than in Paris or Rome? And why isn't he better known today?
            To answer the first question, we need only examine Lassus's working environment. The duke of Bavaria, Albrecht V of the Wittelsbach family, was passionate about music and willing to spend whatever funds were necessary to maintain one of the finest musical establishments of the day. Indeed, Abrecht was known as "the Generous." In Munich Lassus had a small orchestra of skilled instrumentalists who could accompany singers in music for court functions; and here also he had a choir of some 30 singers for sacred music. (It ranged in size at different times from seventeen to forty-four members). Both ensembles were "photographed" as book illuminations by the Bavarian court painter Hans Mielich around the year 1565, nine years after Lassus's arrival at the court. In their magnificent frames, these two paintings show musical ensembles worthy of royalty. Like Haydn at Esterháza, Lassus must have reveled in the musical opportunities his employment provided him.
            The answer to the second question is more involved. Though Lassus's fame today does not compare with his elevated position in the 16th century, he is now generally held in higher esteem than he was a generation ago. If the only intermittent interest shown to Lassus in the 18th and 19th centuries represents a swing away from the nearly god-like status he enjoyed in his lifetime, it is perhaps not unreasonable to view his and his music's ever-growing reputation in recent years as a sign that he may once again be enthroned in music's pantheon. There can be no question of Lassus's standing among his contemporaries. He was the most published composer history had yet known. Surely, his fame could be no accident, for the 16th century was a time of learned and knowledgeable enthusiasts, of amateurs and patrons who were themselves accomplished musicians, of connoisseurs who had unprecedented access to music by a wide range of composers. In the 19th century, Lassus's failure to capture the imagination of the post-Romantics who oversaw the revival of polyphony's "golden age" reflects primarily the tastes of the revivalists. Their hero was Palestrina, to whom they looked for uniformly refined utterance, for a quiet austerity befitting their ideal of a solemn Catholic liturgy. No less a figurehead of the 19th century than Richard Wagner prepared for publication an edition of Palestrina's eight-voice Stabat mater. Lassus and his music did not fit the mould.
            Who, then, was this Lassus whose reputation is in such need of revision? In an address delivered at the opening of the Lasso Exhibition mounted by the Arts and Sciences Faculty of the Catholic University of Louvain in 1982 in observance of the 450th anniversary of Lassus's birth—an address provocatively titled "Orlando di Lasso or: Inspired Madness: Humanistic Music In and Out of Season"—Horst Leuchtmann drew in words an imaginative sketch of the historical Lassus. In discussing the widely reproduced portrait in the Sybil Codex by the same Mielich who painted the "photographs" of the court and chapel musicians, Leuchtmann suggested that the portrait of the composer is Lassus's own design. He is shown in half-figure in a calculated imitation of Raphael's portrait of the pre-eminent courtier of the Renaissance, Baldassare Castiglione, author of the Book of the Courtier. Lassus at the remarkably early age of 21 had achieved the rank of organist and maestro di cappella in St. John Lateran, one of the greatest churches of Rome (ca. 1552-54). At the time of Mielich's painting less than a decade later, though serving merely as a second tenor in Albrecht V's choir, he was earning an unusually high wage and had achieved renown throughout Europe for his many publications; in 1563 he became maestro di cappella again. The inscription on the frame, "Orlandus de Lassus," betrays no indication that the subject is of lesser status than a nobleman. Leuchtmann notes that the rich apparel, gold rings, groomed appearance and casually hidden medallion on a silken ribbon must lead to the conclusion that he is a refined gentleman of the court.... Soon he will be raised to nobility by Emperor and Pope. Lasso is the Renaissance Composer absolute.
By 1575, the honors included the following: the bestowal on him of a patent of nobility by Emperor Maximilian II in 1570; invitations to the French royal court in 1571, '73, and '74; his appointment to the Order of the Golden Spur by Pope Gregory VIII in 1574; and the award of a silver organ as first prize for his motet Domine Jesu Christe at the motet contest in Evreux a year later. (In the 1583 motet contest in Evreux he won a silver organ for the second time for his St. Cecilia motet Cantantibus organis.)
            According to Lassus's friend Samuel van Quickelberg, a humanist poet at the Bavarian court, the composer was born at Mons in Hainaut (modern-day western Belgium). Quickelberg claims that as a child Lassus was thrice recruited because of his beautiful singing—the third time, in 1544, by Ferrante Gonzaga of Mantua, Viceroy of Sicily, whom the young singer consented to serve. Orlande de Lassus was not yet a teenager when he first entered the Gonzagas' scintillating intellectual orbit. As Leuchtmann points out, Ferrante's own aunt Elizabeth was one of the conversants in Castiglione's Courtier and, moreover, great-great aunt of Lassus's future employer Albrecht V. Castiglione himself had accompanied Ferrante to Spain in 1524. Another figure in the Courtier, Pietro Bembo, would also be a seminal influence on the composer. He was not only a poet but also a leading philosopher of 16th-century neoplatonism and a champion of the works of Petrarch. Still another influential figure was Ludovico Ariosto, whose Orlando Furioso so vividly captured the philosophical ideas of the day (and whose hero served as Lassus's namesake when he Italianized his own name).
            Upon first leaving Mons, Lassus traveled with Ferrante to Mantua and Palermo before settling in  Milan from 1547-49. After his voice changed, the 17-year-old musician left Ferrante's service and spent time in Naples working for Ferrante's brother-in-law, Giovan Battista d'Azzia, before moving to Rome in 1551. Donna G. Cardamone has pointed out that it is in Milan and Naples that Lassus would have developed his command of Italian dialects and participated in staged comedies. In 1554, after eleven years in Italy, the composer, now 22, traveled north upon hearing that his parents were ill, only to discover when he arrived in Mons that they had already passed away. Quickelberg reports that Lassus then went to England and Antwerp with the famous basso Giulio Cesare Brancaccio. While there is no other evidence for a trip across the English Channel, Lassus did reside in Antwerp from 1555 to 1556, teaching music to noblemen and publishing four volumes of music devoted entirely to his own compositions. At the end of 1556, now 24 years old, the composer accepted Albrecht's invitation to the Bavarian court. There he remained—except for journeys to the Netherlands, France, and Italy—until his death in 1594.
            Among the many impressive features of Lassus's œuvre is its variety of genres, styles, and moods. To explain the composer's enormous range of texts, from the bawdy to the satirical to the sacred to the sublime, Leuchtmann draws together the various strands of Lassus influence in a summary of the Bembo-Ariosto vision of the world: Man, standing between angels and beasts in the middle of the universe, can lean toward the senses or toward the understanding.... [Love], as belonging to life and therefore inspired, has, even in its most sensuous depravity, a share in God. The Devil and the damned also belong, like angels and saints, to divine Creation. It is a unified conception of the world that rules the era, and it imprints Lasso, too. Only thus is it understandable that Lasso sets to music both the holy word and the profane, that he sings of God and of the world, of saints and of the mighty, of heavenly love and sensuous, setting texts both pious and obscene.
            In assessing Lassus's temperament, Leuchtmann notes that the Italian cognomen is even more revealing than it seems at first glance. It of course evokes "Orlando Furioso"—"mad," "inspired" Orlando. But also "Lasso"—"tired" Orlando, indeed, "melancholy" Orlando. Nothing, of course, could be more ironic than for Lassus to call himself "tired," for he was inexhaustible, a veritable waterfall of music throughout his entire career. But "melancholy" resonated with neoplatonic overtones, for it indicated Saturn, symbolizing cognition and mental focus. Thus, the evocation of a "raging," "inspired" Orlando of a Saturnian temperament. Leuchtmann rightly emphasizes that it is just such qualities in Lassus's music that strike the listener: its lack of "quiet flow" and its "abrupt shifts of inspiration."
            Lassus appears to have written no instrumental music (just twelve untexted duets). As previously intimated, he was equally comfortable composing solemn Magnificats, grand motets, racy chansons, rustic lieder, or colorful madrigals. He is known to have participated in commedia dell'arte productions (he played Magnifico at a production mounted for the marriage of Albrecht's son and successor Wilhelm to Renée of Lorraine in 1568), and his music makes it clear that, like Mozart, his was a quicksilver personality, capable of capturing any human expression in a few deft musical phrases. Like Mozart, Lassus had a flawless technique that reached full maturity when he was in his twenties. By his first publications, Lassus had discovered how to utilize short motifs, rapidly changing root-position chords, and surprise harmonies to accommodate all languages and sentiments. In his voluminous outpouring of Masses, motets, Magnificats, chansons, madrigals, and lieder during the next 39 years, he never significantly altered the effective formulas of his earliest works. Like many of his contemporaries, Lassus from the beginning adopted the sixteenth-century musical language of the madrigal and chanson, where the pronunciation and the meaning of the words influences melodic shape and triggers colorful harmonic effects. Also in common with most sixteenth-century composers, he was at home writing imitative polyphony (in which the various voice-parts enter in a staggered sequence, each imitating the motif of the preceding voice), though he generally created textures more striking for their vertical than their horizontal impact. 
            To the performer, Lassus's music is most impressive for the quickness with which it can color a phrase, turning on a dime. Every note plays a role. By its very nature, music crafted in this way requires unusual specificity of intent on the part of the performer. In his Dialoghi (Venice, 2/1569), Massimo Troiano described Lassus's manner of leading his choir, citing especially the well-calculated tempos:  "[Lassus's] great skill, with all the consistency and ingenuity of his art, enabled him to lead the singers by setting a tempo so exact and well judged, that just as the sound of the trumpet inspires warriors to take courage, so the expert singers took strength and vigor from his direction, letting their voices flow with liveliness, sweetness, and sonority...." 
            It should not be overlooked by modern musicians preparing performances of Lassus's music that he spent his formative years in Italy, composing and performing with Italian musicians. Moreover, once his predecessor as maestro di cappella at the Bavarian court, Ludwig Daser, was pensioned in 1563 and Lassus took charge, he recruited primarily Italian musicians to the court. Thus, in matters of performance (perhaps even extending to the issue of the pronunciation of Latin) Lassus may have preferred "Italian" style—though the issue is complicated by the fact that Lassus also occasionally incorporated the "German dialect" of plainchant into his musical settings, showing that he was not indifferent to the environment in which he principally worked.
In the performances recorded here, we attempt to keep in mind the historical Lassus: born in French-speaking Hainaut, apprenticed in Italy, dominating musical life throughout Europe for 35 years from a musical oasis far from Paris and Rome. He remained a fresh voice in European music for nearly half a century. One explanation for that freshness can be found in his exploitation of surprise. With endless ingenuity, his music leads the listener's expectations in one direction, only to move suddenly in another. Similarly, his striking contrasts never lose their effectiveness. Wholly novel in 1556, still revolutionary nearly 40 years later, Lassus's brilliant music provided a springboard for ever more daring musical evocations of human emotions during the next two centuries.
[1] A longer version of this essay first appeared in the program booklet for the 1994 Festival Oude Muziek Utrecht.
O crux splendidior
Impulsus, eversus sum
Ecce Maria genuit
Ave verum corpus
Si ambulavero
Regina coeli
Tristis est anima mea
Timor et tremor
Cum essem parvulus
Surgens, Jesus
Descendit sicut pluvia
Magnificat super Ancor che col partire
Ut queant laxis
Creator omnium
Christus resurgens
II. Music for the Tudor Queens Olde Hall Recordings CD OHR 003
From the New York Times: Not many people get to make history, but anyone can have fun rewriting it. The history being rewritten now at Columbia University, in a series of concerts, is that of Mary I of England, long remembered by some as a Catholic hiccup in the inevitable arrival of Anglicanism and good sense. No, says George Steel, the organizer of these programs. And no, agrees Alexander Blachly, who on Saturday led his group Pomerium in a superb concert of English sacred polyphony at St. Paul's Chapel on the Columbia campus.
For them, Mary was a popular heroine and patron of the arts. She let English folk return to the religion they loved, and she encouraged composers to get back to their great flamboyant tradition.
There are just two things wrong with this picture. One is that Thomas Tallis, the pre-eminent composer of the period, had a long life and almost none of his music can be dated with certainty to the five years of Mary's reign. The other is that Tallis's single work undoubtedly written for Mary, his splendiferous "Puer Natus Est" Mass, suggests not so much a reawakened English medievalism as a grand swerve into the continental Renaissance.
No matter. What was important here was the magnificence of the music and of the singing. If Tallis did indeed write from 1553 to 1558, all the pieces of his that were presented on this occasion, he was a master of quite diverse styles simultaneously, ranging from the majestic chordal movement of the "Puer Natus Est" Mass, of which the "Gloria" and "Agnus Dei" were sung, to the labyrinth of the antiphon "Gaude Gloriosa Dei Mater."
This work—made of what Mr. Blachly, speaking beforehand, aptly called "ribbons of melody"—proved far more varied in texture, and only predictable in its harmonic direction at rare points of cadence. Different again were the other two Tallis items: the hymn "Salvator Mundi," keeping its beautiful plainsong melody prominent on top, and the responsory "Loquebantur Variis Linguis," where voices in imitation seemed to represent the apostles at Pentecost speaking in tongues.
Works by Tallis's contemporary Christopher Tye offered some severely strange harmonies ("Kyrie Orbis Factor") and radiant chords followed by teasing rhythmic details ("Sanctus" of the "Euge Bone" Mass). Also represented were two composers of the next generation, Robert White and Robert Parsons, both of them as ready as Tallis to join in with what was happening across the English Channel.
Everything sounded marvelous under the chapel's dome: sonorous with reverberation, but not to the detriment of contrapuntal clarity. It helped of course that the voices were so well focused, with sopranos of pure luster and long phrasing, and a strong group of men heard alone in a vigorous performance of White's "Regina Coeli."
Mary Tudor (reigned 1553-1558)
                  1    Te lucis ante terminum                      Thomas Tallis (1505-1585)      2:11
                  2    Salvator mundi                                                      Thomas Tallis      4:25
                  3    Gloria, Missa Puer natus est                                    Thomas Tallis      8:32
                  4    In manus tuas                             John Sheppard (ca. 1515-1558)      3:38 
                  5    Sanctus, Missa Puer natus est                                  Thomas Tallis      6:43
                  6    Regina coeli                                        Robert White (1538-1572)      4:01
                  7    Agnus Dei, Missa Puer natus est                              Thomas Tallis      7:24
Elizabeth I (reigned 1558-1603)
                  8    Christe qui lux es et dies              William Byrd (ca. 1539-1623)      4:11
                  9    In ieiunio et fletu                                                    Thomas Tallis      3:56
                  10  Derelinquit impius                                                 Thomas Tallis      3:49
                  11  O lux beata Trinitas                                                William Byrd      5:30
                  12  Laetentur coeli                                                        William Byrd      4:12
Reminiscences of the 16th Century:
Two Fantazias Texted
                  13  Fantazia à 4, No. 7, Z. 738                Henry Purcell (1659-1695)      6:45
                        (texted to John Donne's Holy Sonnet I)
                  14  Fantazia à 5, Upon One Note, Z. 745                  Henry Purcell      3:45
                        (texted to Richard Crashaw's Song)                 
Composer Info
Orlande de Lassus, Thomas Tallis (1505-1585), John Sheppard (ca. 1515-1558), Robert White (1538-1572), William Byrd (ca. 1539-1623), Henry Purcell (1659-1695)       
CD Info
CD OHR 001, CD OHR 003