Program: #21-18 Air Date: Apr 26, 2021
Country dances from England with the Musicians de Saint-Julien, plus ballads from the same time both in England and over on our shores with the Phoenix Ensemble.
I. "The Elfin Knight": Ballads and Dances (Ensemble Phoenix Munich/Joel Frederiksen). Harmonia Mundi CD HMC 901983.
Telling stories in song - this is the vocation of Joel Frederiksen, a deep bass with an exceptional timbre. Accompanying himself on the lute or surrounded by his own ensemble based in Munich, this extraordinary musician invites us to discover popular ballads belonging to both English and American traditions. He transcends his scrupulous musical and historical research to bring back to vivid life a whole forgotten world, sometimes redolent of the age of chivalry, sometimes firmly rooted in everyday reality. A spellbinding experience!
This innovative program, the CD of which was released by harmonia mundi in August of 2007, presents a combination of ballads in their original form and arrangements by major composers of the Renaissance including John Dowland and Thomas Ravenscroft. These arrangements have been further adapted and "re-arranged" by Joel Frederiksen to form an entirely new program. The focal point of this program is the oldest known source from 1610 of the Scottish ballad, The Elfin Knight, which becomes in its many variants the well-known ballad "Scarborough Fair". Three versions of Scarborough Fair are presented on this recording—one from London, one from Northumbria and the other from the Appalachian mountains of America! There are humorous ballads with erotic themes such as "Watkin's Ale" as well as songs of everlasting and sometimes tragic love, as in "Barbara Ellen". A song called "London's Lotterie" advertises for people to move from the Old World to the New, while "Lord Darly" tells the story of the fate of the second husband of Mary, Queen of Scots. A fresh look at the art of balladry and Renaissance music.
Performers: Timothy Leigh Evans - Tenor, Percussion / Domen Marincic - Viola da Gamba / Sven Schwannberger - Countertenor, Flute, Theorbo, Lute / Sascha Gotowtschikow - Percussion / Helmut Weigl - Colachon, Theorbo / Joel Frederiksen - Bass, Lute, Direction
| | |
| --- | --- |
| Whittingham Faire (The Elfin Knight) | 2:45 |
| Walsingham | 2:37 |
| Greensleeves | 3:26 |
| Go From My Window | 2:06 |
| Go From My Window | 1:27 |
| Lord Darly | 6:55 |
| Fortune, My Foe | 6:48 |
| My Lord Willoughby's Welcome Home | 1:28 |
| Farewell, Adieu That Courtly Life | 2:06 |
| Brave Lord Willoughby | 5:10 |
| Yonder Comes A Courteous Knight | 5:48 |
| La Bouree | 0:30 |
| Willie O'Winsbury | 5:44 |
| Gigue | 0:42 |
| The Lovers' Tasks (The Elfin Knight) | 1:02 |
| Farewell, Lovely Nancy | 2:59 |
| Watkin's Ale | 5:34 |
| London's Lotterie | 2:57 |
| Barbara Ellen | 7:25 |
| United And Corne Yairds | 2:12 |
| Ane Scottis Dance | 0:51 |
| London | 3:50 |
| Scarborough Faire (The Elfin Knight) | 4:15 |
II. The Queen's Delight: English Songs and Country Dances of the 17th & 18th Centuries (Les Musiciens de Saint-Julien/François Lazarevitch). Alpha CD 636.
This programme reflects the full flavour and richness of English music and the instrumental and vocal repertory it inspired in Europe in the seventeenth and eighteenth centuries. The rhythmic impulse of this repertory – sometimes making use of ostinato – culminates in the grounds, jigs, contredanses and so on that were all the rage at the time and led to the publication of John Playford's collection The English Dancing Master in 1651. Les Musiciens de Saint-Julien, showing their familiarity with early sources from England, Scotland and Ireland, also emphasise the melodic aspect of these dances, which in the course of time became sung airs – the soprano Fiona McGown and the baritone Enea Sorini complete a colourful instrumentarium. Finally, the light-hearted dimension of entertainment is present everywhere in this repertory, which was popular in the sense that it was universally practised at the time, achieving a fame that spread far beyond the British Isles.
Alpha Classics • Alpha 636 • ISBN 3 760014 196362 • 1 CD • 1 h 08
Bellamira, d'après Solomon Eccles (1618-82) – Greensleeves, d'après James Oswald (1710-69) (3:30)
Emperor Of The Moon – Ormond House (3:25)
Song: How Vile Are The Sordid Intrigues, Henry Purcell (2:58)
Sefauchi's Farewell, d'après Henry Purcell (5.09)
Song: Drive The Cold Winter Away (4:40)
John Come Kiss Me Now, par Thomas Baltzar (c.1630-63), Christopher Simpson (c.1605-69), Davis Mell (1604-62), Solomon Eccles (6:21)
Song: When Daphne From Fair Phoebus Did Fly (4:37)
Scots Rant – Argiers, variations d'après Jacob Van Eyck (1590,1657) (4:55)
Song: Mr Lane's Maggot (2:53)
The Lord Monk's March, Henry Purcell – Hey To The Camp, James Oswald (3:18)
Song: A Lad Of The Town, d'après Henry Purcell (3:36)
Song: Bacchus's Health, d'après l'air Paul's Steeple, variations éditée par John Playford et John Walsh (4:30)
III. Rose of Sharon: 100 Years of American Music (Ensemble Phoenix Munich/Joel Frederiksen). Harmonia Mundi CD HMC 902085.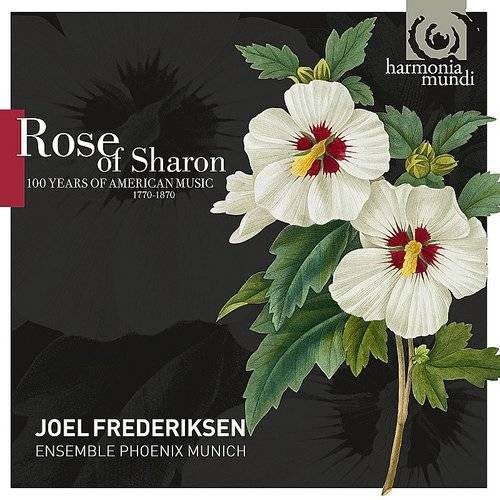 Billings, widely considered to be the "father of American choral music", dedicated himself to the betterment of the level of singing in the United States. Singing Schools spread all over New England and played an important role in the development of an independent music tradition in America.Hundreds of songs from the pen of Jeremiah Ingalls, Daniel Read and William Walker which were written in the early 19th century were published in the wonderful collections "The Sacred Harp" and "Southern Harmony". The music sounds archaic, often with the melody in the tenor voice, and they are notated in Shape Notes—a popular method used to learn sight-singing. The texts are personally interpreted bible stories.Some songs of the Shakers and spirituals round out the program such as "Simple Gifts" presented with the same simplicity that has brought Shaker furniture such renown: a capella and without ornament.
Performers: Joel Frederiksen – bass, guitar and musical direction / Michaela Riener – soprano Kamila Mazalová – Alt / Timothy Leigh Evans – tenor / Karen Walthinsen – violin / Andreas Haas – flute / Axel Wolf – guitar / Domen Marincic – cello
From Classics Today: When the end of 2011 comes, this masterpiece from Joel Frederiksen and his Ensemble Phoenix Munich will reside among the best of what undoubtedly will be a formidable mountain of first-rate vocal-music recording projects. I have to say that this kind of program was unexpected coming from this bass singer/lutenist/guitarist. What, other than something that inspired his interest during the time he spent studying and performing in the U.S. in the '90s, would have possessed this extraordinary artist to organize such a program around the "wide range of music composed between the War of Independence and the Civil War"? This is the sort of thing we used to hear from world-class American ensembles such as the Baltimore Consort, Joel Cohen and his Boston Camerata, and even in a couple of notable ventures, from Anonymous 4.
This trove features a varied selection of music–30 pieces in all–that's smartly presented to keep things interesting, mixing solo, duets, and various ensemble combinations both to show each song to optimal effect and to fully utilize these exceptional voices and instrumental players. However you characterize Frederiksen's voice–it's described in the notes as a "coloratura basso profundo" (now there's a unique category!)–you have to admit you've never heard any bass possessing quite this timbre, so agreeably warm, sensuous, expressive, and that also blends so well with its soprano, alto, and tenor ensemble partners.
We've heard much of this repertoire before–Shaker hymns, shape-note tunes, Civil War songs, anthems by the thoroughly unremarkable William Billings–but there are some unfamiliar gems here as well, and the performances are invariably infectious, tasteful, creatively arranged, and worthy of repeated listening. The liner notes by Frederiksen are detailed and informative, and include full texts in a separate booklet. This is a collection to treasure both for its historical content and for the sheer pleasure of the voices.
Frederiksen's opening unaccompanied rendition of the Shaker spiritual Lay me low is an irresistible call to this celebration of early American music, and the closing Hear, O Lord, when I cry, a 19th-century anthem by Philadelphia composer/Moravian Church organist Massah M. Warner for four a cappella voices, makes an equally compelling benediction. The spirit and tradition of this music is almost entirely lost now, but as one who grew up with first-hand experience of camp and revival meeting songs and hymns, and who was present for part of Joel Cohen's Shaker music recording project, I have to say that this current effort to bring this music to life has a genuine air of sincerity and reverence–and if nothing else, it's certainly enlivening and entertaining. Frederiksen is an amazing musician and a uniquely gifted singer, and for that reason alone you shouldn't miss this. 10 out of 10.
1. Lay Me Low
2. The Morning Trumpet
3. He Comes, The Hero Comes!
4. The President's March
5. The Death Of General Wolfe
6. Jefferson And Liberty (The Gobby O)
7. America
8. God Is The King
9. I Am The Rose Of Sharon
10. The Gentleman Soldier
11. Leander
12. Drumdelgie
13. Northfield
14. Captain Kidd
15. Wondrous Love
16. Come Life, Shaker Life
17. O Love, Sweet Love
18. Now, My Dear Companions
19. Who Will Bow And Bend Like A Willow
20. My Carnal Life
21. Stubborn Oak
22. Tis The Gift To Be Simple
23. The Army Of The Free
24. Maryland, My Maryland
25. Lorena
26. Dixie's Land
27. Dance Me A Jig
28. Hard Times Come Again No More
29. Sinner Man
30. Hear, O Lord, When I Cry
Composer Info
Solomon Eccles (1618-82), James Oswald (1710-69), Henry Purcel, Henry Lawes, Thomas Baltzar (c.1630-63), Christopher Simpson (c.1605-69), Davis Mell (1604-62), Jacob Van Eyck (1590,1657)l
CD Info
Harmonia Mundi CD HMC 901983, Alpha CD 636, Harmonia Mundi CD HMC 902085