Program: #19-18 Air Date: Apr 22, 2019
A Belgian ensemble sings Browne and Ashwell, the new Are Nova release celebrates Taverner and Fayrfax, and an American group gives us Elizabethan sacred and secular.
I. Taverner & Tudor Music II (Ars Nova Copenhagen/Paul Hillier). Ars Nova/Da Capo CD 8.226056.
This CD is the second recording from Ars Nova Records featuring a Mass by John Taverner and a selection of works by composers from the same era - the first CD featured his 'Western Wind' Mass. The main work here is Taverner's 'Gloria tibi Trinitas' Mass, one of the masterworks of Tudor church music, together with appropriate plainchants, hymn settings by
Robert
 White, William Byrd and Thomas Tallis, and 
Robert
 Fayrfax's brilliant 'Magnificat Regale' performed by Ars Nova Copenhagen conducted by Paul Hillier.
From MusicWeb International: This is the second of Ars Nova Copenhagen's Taverner discs. The first centred on Taverner's Western Wynde Mass (see review) and at least one commentator said that it was the version which succeeded best in dispelling his doubts about whether the mass ever quite transcends the four-square element in its construction. 
  
This new disc uses Taverner's Gloria Tibi Trinitas mass as its main work. Like the first disc, Paul Hillier intersperses the movements of the mass with other motets and plainchant to create a more
liturgical feel. They open the disc with Fayrfax's glorious Magnificat 'Regale' from the Eton Choir Book and continue with motets by White, Byrd and Tallis. 
  
The presence of the Fayrfax makes this disc something of a hymn to the great Tudor choir books. The Taverner mass is found in the Forrest-Heather part-books which were compiled for use at Cardinal College, where Taverner was choirmaster. His time there proved to be brief as the choral provision at the college was vastly reduced on Cardinal Wolsey's fall. 
  
The title of the Taverner mass comes from the plainchant 'Gloria tibi Trinitas' which is a Vespers antiphon for Trinity Sunday. Hilliard and Ars Nova Copenhagen include the plainchant propers for Trinity Sunday, thus allowing us to hear the plainchant which forms the cantus firmus of the mass. 
  
The choir of Cardinal College comprised 16 choristers and 12 clerkes; Ars Nova Copenhagen deploys some 15 to 17 singers, with women sopranos and altos. They make a goodly noise and the performances on this disc are notable for the excitement and vigour which the singers bring to this music. 
  
Fayrfax came from the previous generation to Taverner, and his elaborate 5-part Magnificat 'Regale' is filled with rhythmic energy and brilliantly elaborate contrapuntal parts. It makes an apt complement to Taverner's 6-part Missa Gloria Tibi Trinitas. The choir are similarly glorious in this music. In both works, the solo sections work very well, with the unnamed single voices providing fine contrast to the larger-scale full passages. The tessitura of the soprano part occasionally seems to give the singers pause. The top line of both works is high, in the typical early Tudor manner but generally the sopranos are ideally flexible and light. 
  
Hillier has obviously urged his singers on vigorously and there are one or two passages, particularly in the Magnificat, where you can feel the choir being goaded on by Hillier and just failing to follow him. This is a small point and does not greatly detract from the performance; frankly I am not sure I would have noticed but at the moment I am rehearsing the Magnificat with my own group so was paying particular heed to it. 
  


Robert

 White came from a later generation than Taverner. He seems to have had a fondness for the Vespers hymn Christe ui lux es et dies because he made four settings of it. Each alternates chant with a setting which is woven around the chant. Here Hillier and his group perform the final two, each a gentle and tiny masterpiece. Byrd made his own setting of the same words and this setting is also included on the disc. In it Byrd sets himself a technical challenge - and succeeds, of course. Each verse has the chant threaded through it, but in a steadily higher voice starting with bass in verse 1 and ending with soprano in verse 5. Part of the charm of Byrd's technical solution is that it is possible to appreciate the piece without ever knowing this. The group finishes with Tallis's Te lucis ante terminum - another masterly little work. 
  
The group is recorded in quite a generous acoustic, but the recording preserves the vigour and clarity of their singing and individual lines have both clarity and vitality. 
  
The CD booklet includes an informative article by Sally Dunkley together with full texts and translations. This is definitely a disc for those for whom many recordings of music from this period come into the perfect but cool category. Hillier and his singers, whilst retaining sufficient perfection, bring the elaborate music brilliantly to life. 
  
You might hear more polished and perfect performances than this one. But I don't think you will hear one which excites more, or one which better captures the rhythmic vitality of this brilliant but tricky music. 
 
Chant, Gregorian : Gratias tibi Deus, antiphon in mode 1 (Liber Usualis 907)
Fayrfax,
Robert
 : Magnificat ("Regale")
Chant, Gregorian : Benedicta sit sancta Trinitas, introit in mode 8 (Liber Usualis 909)
Taverner, John : Missa "Gloria tibi Trinitas"
White, 
Robert
 : Precamur, sancte Domino (3rd Setting)
Chant, Gregorian : Benedictus es, gradual in mode 5 (Liber Usualis 910)
White, 
Robert
 : Christe qui lux es
Chant, Gregorian : Gloria tibi Trinitas, antiphon in mode 1 (Liber Usualis 914)
Byrd, William : Christe qui lux es (a 5), motet for 5 voices (SATTB)
Chant, Gregorian : Jam sol recedit igneus, hymn in mode 8 (Liber Usualis 312)
Tallis, Thomas : Te lucis ante terminum
II. The Liberation of the Gothic: Florid polyphony by Thomas Ashwell and John Browne (Graindelavoix/Björn Schmelzer). Glossa CD GCD P32115.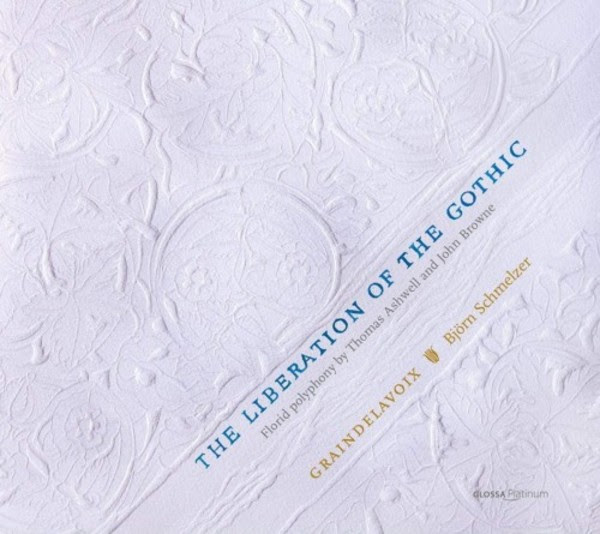 From MusicWeb International: Björn Schmelzer is clearly a polymath: an anthropologist, a musicologist and – on this evidence – a conductor blessed with unbridled curiosity and adventure. As director of the Antwerp-based group Graindelavoix, he has overseen a fascinating series of recordings on the Glossa label over the last dozen years, often triggered by his extra-musical leanings. The starting point for the present disc was a short documentary, made by the historian Paul Binski, about the decorative architecture that has survived in the remarkable 14th century Lady Chapel at Ely Cathedral in Cambridgeshire. Much of the ornate artwork created there, depicting the life and miracles of the Virgin Mary, was regarded as anathema during the Reformation and consequently destroyed. The exotic ornamentation of the architecture that surrounded and housed it survives, however, in particular the serpentine ogee arches which were quite unlike anything seen in England at the time they appeared in the early 1300s. Binski hypothesises that this style of architecture and the textures omnipresent in its background hint at the personification of the Virgin, and may have reflected a deliberate (or otherwise) attempt to project her corporeal femininity to pilgrims, forged as it was in the decorative style that perhaps foreshadows the dense, intricate polyphony that would be woven by English composers over the next 200 years. 
Some may find such links speculative at best and futile at worst. Regardless of this, it is surely gratifying that the wonderful music that emerged in England during this period is now being taken up by some brilliant choirs outside the UK. Scott Metcalfe's magnificent Blue Heron group from Boston, MA have recorded five volumes of material from the so-called Peterhouse Partbooks (four of them reviewed here, the fifth recently won the Gramophone's 2018 Early Music award). Now this excellent Antwerp-based group have recorded music from the Eton Choirbook by John Browne, and a large mass by the virtually forgotten Thomas Ashwell. In fact, these two works by Browne have been recorded before. Both were laid down by the Tallis Scholars for a terrific Gimell release in 2004 (review), while the Stabat Mater features on an Eton Choirbook recital by Tonus Peregrinus on Naxos (review). As for Ashwell, most sources state that manuscripts of his two complete masses survived the Reformation. One, the Missa Jesu Christe (for 6 voices) was recorded by Christ Church Cathedral Choir under Stephen Darlington for Metronome (review). The Missa Ave Maria featured on a 2008 Harmonia Mundi disc La Quinta Essentia along with masses by Palestrina and Lassus (HM 901922). It was performed by the Huelgas Ensemble under Paul Van Nevel. 
The accounts of the two Browne motets on this recording sound very different from those mentioned above. I do not think it is stretching the imagination to suggest that the innocent ear might struggle to recognise the music on this issue as English. One observation is that the idea of continental groups recording English polyphony is still relatively new, but Graindelavoix take this a stage further. In the Salve Regina their eight voices produce a gloriously full sound, apt for a piece which projects wave upon wave of melody. This is a spacious, lingering reading, noticeably slower than the Tallis Scholars' account. Much more apparent, however, is the ornate, quasi-improvisational decoration that Schmelzer coaxes from his singers, intervals are bent, stretched and turned into an almost tangible connecting fabric. Those listeners who are steeped in the English Cathedral tradition may find it disconcerting but I found these adornments to be far from vulgar; they certainly seem to add something to the music. The Tallis Scholars may project the essential clarity of Browne's flowing lines better, but both approaches convincingly draw out his seemingly infinite melodic gifts in their own ways. At times the tone of the middle voices tends toward a Gallic, rather nasal sound. I do not state this pejoratively, it is merely an observation. I do think the central section of this Salve Regina sounds a bit laboured compared to the Tallis Scholars' more propulsive, driven account. Notwithstanding this impression, Graindelavoix's sound is unquestionably beautiful, the recording is full and spacious. I commend it as a credible alternative to what might one expect from an English choir. 
Turning to the Stabat Mater, in comparison to the Tallis Scholars' efforts this performance certainly sounds more exotic, even perfumed, and I certainly found it seductive. Again, one unfamiliar with the work would struggle, I think, to place it as English late-Gothic. This account seems more expansive, enabling Schmelzer to create the space for some of Browne's extraordinary dissonances to register more emphatically. The style encountered in this choir's Salve Regina applies here too. As an approach it may seem provocative to some, but I find it most alluring, and by presenting the music in this way Schmelzer certainly adds credence to some of Paul Binski's theories, and specifically how they might apply to pre-Reformation English cathedral music. While I found it somewhat revelatory to hear Browne sung like this, the Tallis Scholars' reading is absolutely timeless and arguably speaks more directly (and chastely) to my English sensibilities. The Scholars are also superbly recorded in their usual Salle bolthole in deepest Norfolk. Anthony Pitts's Naxos recording with Tonus Peregrinus also features some fine singing in perhaps more intimate sound, but good though their performance is, it ultimately feels just a little earthbound compared to the two other accounts under consideration here. 
Little is known of Thomas Ashwell. Many texts seem to posit the idea that he was John Taverner's teacher, but my (admittedly limited) research on the matter seems only to point to the pair of them being at Tattershall College in Lincolnshire contemporaneously. Musically speaking we know that both of Ashwell's masses appear in the Forrest-Heyther partbooks used by Taverner during his time as Head of Music at Cardinal College, Oxford in 1526. The first layer of these contain just three masses: the two by Ashwell plus Taverner's own superb Missa Gloria Tibi Trinitas which shares many formal and stylistic traits with the Missa Ave Maria recorded here. Which of these came first continues to be a matter of conjecture. 
I had never heard either of Ashwell's masses before embarking on this review. Given Schmelzer's novel approach to Browne I thought it might be useful to hear van Nevel's Harmonia Mundi recording of the Missa Ave Maria for comparison purposes, so I streamed it. Hearing either account leaves one in little doubt that this four-movement work is very fine indeed. The booklet with the new disc includes a detailed, scholarly and utterly readable essay by Björn Schmelzer which contextualises all the pieces on the disc, and justifies his artistic decisions, but at its heart is a detailed and personal analysis of this Ashwell mass. 
The piece begins with the Gloria – Schmelzer reminds us that the Kyrie in a mass of this era was likely to have been presented simply as plainchant – and what we hear at its outset suggests something rather austere, before Graindelavoix's more decorative approach kicks in. At the phrase Qui tollis peccata mundi the melodic lines in the high voices are sustained. They emerge delightfully and canonically from each other. The sopranos in this choir sound beatifically ethereal, while the ambience and depth of the recording suggests a larger group than the eight voices of Graindelavoix. Any decoration here is also seemingly incorporated with greater subtlety than in the Browne works. In terms of pacing the Gloria is perhaps more measured and stately than one's actual perception. Indeed, Schmelzer takes ten minutes longer for the whole mass than Van Nevel does in his recording. 
The Credo seems to be centred on the mid-range voices. By now it struck this listener at least that where melody was of prime importance for Browne, colour and texture – the weave of the work – is Ashwell's main preoccupation. Notwithstanding Schmelzer's always tasteful interventions, the Ashwell emerges as a more unequivocally English work than did the Browne motets. This perception is echoed in the Huelgas Ensemble's leaner, swifter, more strait-laced reading. The Sanctus on the new disc is especially beautiful, the sustained lines of melody floated with light and air. Schmelzer's more measured pace enables the power of the choir to be withheld at points and more gradually released, which only intensifies the experience for the listener. 
Schmelzer justifies the especially slow pace of the Agnus Dei in order better to realise the flexible physical characteristics of the panel as an attempt in his words "to embody the liquid feeling associated with mysticism". I think he is successful; the sense of repose conveyed by the members of Graindelavoix is palpable and wonderfully sustained. If the Van Nevel performance is perhaps a little more sober (it is certainly more fleet of foot), I do think the beauties of this piece emerge far more colourfully in Schmelzer's reading. Other listeners may disagree; irrespective of this, Ashwell's Missa Ave Maria strikes me as a major find. The singing of Graindelavoix is as effortlessly accomplished as the recording is atmospheric. Schmelzer's engaging and learned essay completes a thoroughly thought-provoking, beautifully packaged release. 
JOHN BROWNE (fl.c. 1480 - 1505)
01 Salve Regina
THOMAS ASHWELL (c. 1478-c. 1527) 
Missa Ave Maria 
02 Gloria 
03 Credo 
04 Sanctus 
05 Agnus Dei
JOHN BROWNE
06 Stabat Mater
III. Renaissance Reborn: Choral Masterworks Given a New Life   (Via Veritate/Dennis Shrock). Gia CD 1036.
Renaissance Reborn was, first, the title of a lecture on performance practices given at the 2017 national conference of the American Choral Directors Association. Along with the subtitle "Breathing New Life into Renaissance Music," the lecture presented historically informed practices that dealt with the subjects of vocal and instrumental forces, sound and pitch, meter and tactus, tempo, phrasing, structure, music dicta and music recta, text underlay, ornamentation, and expression–all the practices supported by primary sources from the Renaissance era and all the music became like restored art works that revealed their original rich and bright colors.

The lecture led to the writing of the book Performing Renaissance Music, with expanded material and musical examples, and to the recording of this CD, which incorporates the historical practices. 

The repertoire is from the apex of the era (1538–1618); it includes common genres of the time (motet, mass, and madrigal) and the most esteemed composers from across Europe.
 
ARTIST
TIME
 

Musica, dei donum optimi

Orlando di Lasso
4:29
 
Ave Maria

Robert

 Parsons
5:03
 

Dixit Maria

Hans Leo Hassler
2:59
 

Missa super Dixit Maria (Kyrie & Gloria)

Hans Leo Hassler
5:56
 

Factum est silentium

Richard Dering
2:31
 

Tu es Petrus - Quodcumque ligaveris

Giovanni Pierluigi da Palestrina
5:27
 

Pseaume

Jan Pieterszoon Sweelinck
7:37
 

Italia mia

Philippe Verdelot
4:39
 

Ecco mormorar Ponde

Claudio Monteverdi
3:05
 

Moro, lasso

Carlo Gesualdo
4:12
 

Leggiadre ninfe

Luca Marenzio
2:26
 

Fair Phyllis

John Farmer
2:05
 

As Vesta was from Latmos hill descending

Thomas Weelkes
3:30
 

Weep, O Mine Eyes

John Bennet
3:01
 

Draw on, Sweet Night

John Wilbye
5:59
 

Now, O Now, I needs must part

John Dowland
3:35
Composer Info
John Taverner , Robert White, William Byrd , Thomas Tallis, Robert Fayrfax, JOHN BROWNE (fl.c. 1480 - 1505), THOMAS ASHWELL (c. 1478-c. 1527) , Orlando di Lasso, Robert Parsons, Hans Leo Hassler, Richard Dering, Giovanni Pierluigi da Palestrina, Jan Pieterszoon Sweelinck, Philippe Verdelot, Claudio Monteverdi, Carlo Gesualdo, Luca Marenzio, John Farmer, Thomas Weelkes, John Bennet, John Wilbye, John Dowland
CD Info
Ars Nova/Da Capo CD 8.226056, Glossa CD GCD P32115, Gia CD 1036