Program: #21-08 Air Date: Feb 15, 2021
A new recording of the much-discussed John Sheppard Media vita, Richard Egarr performing Sweelinck, and an Italian in Scotland.
I. Sweelinck: Fantasias, Toccatas, Variations (Richard Egarr). Linn CDCKD 589.
Following his acclaimed Linn debut, One Byrde in Hande, Richard Egarr turns to the music of Jan Pieterszoon Sweelinck for his new recording of fantasias, toccatas and variations. 
As well as being a notable composer Sweelinck was a skilled improviser and keyboard virtuoso whose knowledge of the stylistic innovations of his English contemporaries, such as Byrd and Morley, was evident in his work. Egarr performs on a harpsichord designed after Ruckers (1638); its strict ¼-comma meantone tuning highlights the amazing chromaticism present in Sweelinck's music. This is particularly evident in the famous Fantasia Crommatica, a highly improvisatory, boundary-pushing work that showcases many of Sweelinck's innovations in keyboard composition.
Within his lifetime Sweelinck was most celebrated for his variations on the popular tune Mein junges Leben hat ein Endt; Egarr relishes the intricate counterpoint which builds from the simple theme into a masterpiece of inexhaustible invention and limitless variety. A selection of fantasias and toccatas complete the programme in which Egarr's passion for the harpsichord and Sweelinck's music are enthusiastically conveyed.
From Music Web International: Richard Egarr's booklet essay for this CD has, in parts, a somewhat polemical quality to it; in its second sentence he declares that Sweelinck's keyboard music "is now mostly treated and delivered in a severe, dry and austere manner. Nothing about the musician, his music and his environment could be further from the truth". Later he tells the reader that "Sweelinck's music has suffered from many objective, colourless and academic performances and recordings in the name of 'authenticity'. The modern way of playing this music in a non-expressive and detached manner is totally contrary to its vibrant and exciting nature".
One doesn't know quite which players Egarr has in mind in these strictures – and, for understandable reasons, he doesn't name names. His judgement thus seems excessively sweeping. I have to say that when listening to Sweelinck played on the harpsichord, I have more often been moved to respect for his compositional skills than to 'excitement'. Indeed, I have generally found Sweelinck played on the right kind of organ more rewarding than the general run of performances on the harpsichord, but what Egarr says is certainly not completely valid. To take just two examples, on the only part (GLOSSA GCD 922419) of Glossa's 'Complete Keyboard Works' that I have heard, I found rather too many readings in which respect and a particular idea of authenticity rather limited the performer's investment of his own personality in each piece. On the other hand, the 9 CD set (NM Classics NMC 92119) doesn't, in very large part, seem to deserve Egarr's strictures, so I can see only a degree of truth in what Egarr says.
What I have found particularly disappointing over the years is the frequency with which historians of music and musicologists have tended to celebrate Sweelinck's influence – which was, of course, very considerable – rather than his works. Even Julie Anne Sadie in her 1990 Companion to Baroque Music (a well-informed and useful book of which I am rather fond) says, quite baldly, "[Sweelink's] greatness lay not so much in his music as in his influence".
But enough about Richard Egarr's essay – it would be more profitable now to turn to his playing. To refer, for one last time to his essay, he tells us there that he hopes "to persuade … the listener of the glorious nature of this rich and wonderful music"; and, on balance, it is fair to say that Egarr's performances on this disc do discover in Sweelinck a vibrancy and excitement which I haven't often heard before. Egarr's playing is built on a vigorous sense of rhythm.
Since this is not any kind of 'completist' venture - which can often make performers err on the side of 'reliability' and caution - Egarr has the freedom to limit himself to almost 80 minutes' worth of his favourite pieces by Sweelinck and there is no doubt that his love of this music is evident throughout. The opening track, the 'Praeludium Toccata' makes a fine calling card both for Sweelinck the composer and Egarr the harpsichordist. It opens with a sense of drama and there is a certain theatricality (in a good sense) to what follows, in which musical gestures are neither understated nor exaggerated. Other highlights include the 'Fantasia Crommatica'. Egarr's playing here is beautifully sustained and in places quite dazzling. The effect of this work, in particular, is enhanced by the adoption of "a low pitch in quarter-comma meantone" (in Egarr's words) on his harpsichord, which was made by Joel Katzman in 1991 after a Ruckers instrument of 1638. The variations on 'Mein junges Leben hat ein Endt' come off particularly well, being full of rich humanity. Egarr is well able to do justice both to the strict counterpoint of the 'Fantasia Crommatica' and to the greater freedom of the 'Echo Fantasia', though for all the quality of Egarr's performance, this is a piece which I am still inclined to think is better suited to the organ.
Egarr gives us a delightful account of the 'Paduana Lachrimae', which is more often referred to as the 'Pavana Lachrimae', Sweelinck's interesting variations on three short themes from Dowland's 'Flow My Teares' being engagingly characterised.
That word 'character' is perhaps what most distinguishes the very best performances of Sweelinck's keyboard works (including Egarr's) from the 'merely' good ones. Egarr's readings certainly have such 'character' – his insight and imagination find a distinctive truth, a range of structural wit and human emotion, in each piece, while still recognizing that Sweelinck was a master of the compositional techniques of his day.
Of the single disc harpsichord recitals of Sweelinck's music that I am familiar with, this is one of the very best. Since I like interpretations of the keyboard music of the baroque – or, as here, of the early or proto-baroque - to have a theatricality about them, I have derived a good deal of pleasure from this disc. For lovers of the Elizabethan school of keyboard music, the clear signs that Sweelinck was familiar with that music - doubtless through his friendship with John Bull and Peter Philips - will add a further layer of pleasure.
Glyn Pursglove
Praeludium Toccata (21) [6:07]
Phantasia à 4 (5) [13:44]
Paduana Lachrimae (66) [5:03]
Toccata Primi Toni (20) [4:51]
Fantasia Crommatica A4 (1) [8:09]
Toccata (30) [4:23]
Esce Mars (58) [5:05]
Toccata 2di Toni (24) [3:16]
Fantasia (3) [9:36]
Mein junges Leben hat ein Endt (60) [6:31]
Ut re mi fa sol la à 4 voci (6)  [9:24]
Richard Egarr (harpsichord)
II. John Sheppard: Media vita (Choir of New College, Oxford/Robert Quinney) Linn CD CKD 632.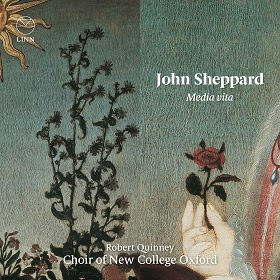 The Choir of New College Oxford, one of the most acclaimed British choral ensembles, makes its Linn debut with a recording of works by the English Renaissance composer John Sheppard.
New College Choir was already 150 years old when Sheppard arrived in Oxford intent on contributing to the wealth of choral polyphony that defined the era. Media vita is his most celebrated work, almost symphonic in its proportions, in which he combines and elevates conventional Tudor musical devices to striking effect. Sheppard's boundary-pushing polyphony requires the skill and precision of liturgical professionals, and in the hands of director Robert Quinney it is compelling.
The programme is completed by several motets in which Sheppard sets text from the Old Testament; we are delighted that four of these motets are premiere recordings: A solis ortus cardine, Inclina Domine, Iudica me Deus and Confitebor tibi. This is another distinctive and stylish performance from this acclaimed choir, which marks the first in a new series of recordings for Linn Records.
From Opera Today: Modern scholarship directed at the English Reformation composer John Sheppard (c.1515-58) has come a long way since Peter le Huray's research during the 1960s and David Wulstan's pioneering performances a decade later. A growing number of recordings over the last thirty years by specialist groups and a handful of cathedral choirs has gradually revived the fortunes of this still comparatively neglected composer whose career traversed successive reigns of four Tudor monarchs with their consequent religious and musical upheavals. Of seven Latin motets written during Mary Tudor's reign (1553-58) and presented here, four are premiere recordings.
Regardless of the fascinating historical arguments Robert Quinney makes for the original performances of these motets, the music divides into two distinct groups; motets based on plainchant – cantus firmus pieces – and those that are freely imitative. By far the most substantial work is the monumental Media vita, Sheppard's crowning achievement and one clearly demonstrating a mind attuned to musical architecture in its contrasting sonorities, cumulative drama and structural integrity. This performance (24 minutes plus) joins an already diverse group of recordings since the Tallis Scholars outlined its glories in 1989. Neither indulgent nor indecently hurried, Quinney opts for a spacious unfolding that comes midway between that of The Gabrieli Consort (Deutsche Grammophon, 2007), at just over nineteen minutes, and Westminster Cathedral Choir (Hyperion, 2017) at a little under 30 minutes. also allows for the work's expressive power to register fully; individual phrases are cherished, with extended paragraphs evolving with great solemnity as if the obsequies for Sheppard's fellow composer Nicholas Ludford (for which this work was supposedly conceived) were being faithfully reimagined. Both the recording venue (St Michael's Church, Summerton, Oxford) and Linn's engineers ensure clarity of sound; and the transparency of Media vita's six-part textures entrance the ear. It may be my fancy, but there's something affecting in the way the men's voices seem to darken their tone at 'Cast us not away in the time of old age' with just a hint of resignation in each entreaty. In general, the New College Choir respond to this meditation on death (so pertinent to the coronavirus pandemic) with full blooded commitment; boys' voices soaring into nave vaulting and all voices whole heartedly (no more so than exuberant tenors) urging a merciful God 'to deliver us not to death' in the third of the repeated 'Sancte fortis' pleas.
There's a similarly well-nourished tone to the five-part Confitebor tibi, a motet no less opulent in imitative detail than Media vita but rampant with false relations that will have you beating a path to Stainer & Bell for Magnus Williamson's edition. A fitting sense of jubilation here; choristers and men treasuring every sensuous vocal twist, and if its euphoria feels relentless, the text provides limited opportunities for a more yielding delivery. A pliant quality is also largely absent from the predominantly syllabic Sacris solemniis, where Sheppard's rich eight-part passages elicit a rather starch-laden last supper. The Christmas hymn A solis ortus cardine draws singing of blazing intensity, its nativity scene generously projected and evoking, for this listener, Michelangelo's muscular portrayal of the Holy Family (Doni Tondo). With the choir's 'up and at 'em' approach, this is no fragile new-born but a fully-fledged child in startlingly rude health.
The three psalm texts are similarly sung with full throated conviction and if the unvarying sonorities of Iudica me Deus (Psalm 43) nearly outstay their welcome, there's no gainsaying the text's powerful resonances, with its petitions for deliverance from an ungodly people, for a recently enthroned Catholic monarch. Appeals for clemency are expressed with forthright zeal in Inclina Domine (Psalm 86) and a comparable verve informs Deus misereatur (Psalm 67), its flowing contours (singularly apparent in this motet) perhaps taking inspiration from the Maundy Thursday practice of feet washing – a ceremony faithfully observed by Queen Mary – implicit in the opening plainsong text.
Robert Quinney and his New College Choir are to be applauded for these authoritative performances that take one further step in illuminating the work of a once overlooked composer brought here vividly to life.
David Truslove
A solis ortus cardine
Inclina Domine
Iudica me Deus
Deus misereatur
Confitebor tibi
Sacris solemniis
Media vita
III. Edinburgh 1742: Barsanti & Handel, Parte Seconda  (Ensemble Marsyas/Peter Whelan). Linn CD CKD 626.
Following the success of its 2017 recording Edinburgh 1742: Barsanti & Handel, Ensemble Marsyas returns to the music of the Italian composer Francesco Barsanti who made his home in eighteenth-century Scotland.
Having already explored Barsanti's Concerti grossi – Parte Prima, double horn concerto and his arrangements of Scottish tunes, fans will be pleased to be able to hear more music from this engaging composer. The new album will feature Barsanti's Concerti grossi – Parte Seconda, composed and published in Edinburgh in 1742, thus completing the Opus 3 collection. Another set from 'A Collection of Old Scots Tunes', featuring Elizabeth Kenny and the Maxwell Quartet's Colin Scobie, plus Handel's Overture to Atalanta, which was performed by the Edinburgh Musical Society, complete the programme.
Ensemble Marsyas' groundbreaking recording of the Parte Prima enjoyed a rapturous reception, gaining a 2018 ICMA nomination and Gramophone 'Editor's Choice' and MusicWeb International 'Recording of the Year 2017' accolades. Artistic Director Peter Whelan has once again created an album that provides a fascinating glimpse into eighteenth-century musical life in the Scottish capital.
From Early Music Review: This is the second of a pair of CDs evoking the lively world of the 18th-century Musical Society of Edinburgh and bringing us the balance of Barsanti's op 3 Concerti Grossi, those featuring solo trumpet and two oboes, as well as another four of his Old Scots Tunes and music by Handel. Barsanti's treatment of the wind instruments in these Concerti Grossi, published in Edinburgh in 1742 just before the Jacobite Uprising, sounds very classical in style, alternating them as a section augmented by timpani with the strings. Perhaps more innovative still and unexpected are the more structurally free slow movements. The four Old Scots Tunes are charmingly played by Colin Scobie – a member of the Maxwell and Fitzwilliam Quartets, in encore slots Colin frequently demonstrates his considerable traditional fiddle skills, and these are very much to the fore here as he is joined by Elizabeth Kenny on the Baroque Guitar for stirring accounts of 'Dumbarton's drums', 'Ettrick banks', 'The bush aboon Traquair' and 'Cornriggs are bonnie'. Handel's Overture to 'Atalanta' serves to illustrate a very different treatment of the trumpet and indeed a very different style of composition, notwithstanding that Handel and Barsanti were contemporaries and acquaintances. These works by Barsanti, in an edition from Prima la Musica, provide a valuable counterbalance to our sometimes Handel-dominated and London-centric view of the mid 18th century, and it would be interesting to hear accounts of his later publications, which include a set of six motets for five or six voices and continuo (1750) and his Trio Sonatas op 6 (1769). On first listening, I found the recorded sound a little cramped, but then the Musical Society concerts were presented in the 'upper room of St Mary's Chapel, Niddry Wynd' until 1763 when they moved into the superb surroundings of St Cecilia's Hall. At any rate, I soon adapted my ear, and the amount of detail captured in the recordings is indeed impressive.
D. James Ross
Barsanti: Concerto grosso in C major, Op. 3 Nos 6-8; 
Concerto grosso in D major, Op. 3 Nos 9 & 10; 
A Collection of Old Scots Tunes; 
Handel: Atalanta, HWV 35 – Overture
Composer Info
Jan Pieterszoon Sweelinck, John Sheppard, Francesco Barsanti, Handel
CD Info
Linn CDCKD 589, Linn CD CKD 632, Linn CD CKD 626