Program: #18-20 Air Date: May 07, 2018
The breathtaking series on the Carus label of the complete works of Heinrich Schütz concludes (as he did) with his Opus Ultimum, which he called his Swan Song.
NOTE: All of the music on this program comes from the extraordinary multi-disc series on the Carus label of the complete music of Heinrich Schütz. Aside from the newest disc in the collection featuring the composer's last work, we went back to an earlier recording of the 12 Sacred Songs.
I & III. Heinrich Schütz: Schwanengesang   (Dresden Chamber Choir/Hans-Christoph Rademann). Carus CD 83.275.
Heinrich Schütz composed his last work, a monumental setting of Psalm 119, in 1671 at the age of 86, complemented by a setting of Psalm 100, and a setting of the German Magnificat. This group of works, known as the "Schwanengesang", or "swansong", is a highly personal musical declaration, distinguished by its elegance and spiritual depth. As part of the Schütz Complete Recording, the Dresdner Kammerchor conducted by Hans-Christoph Rademann has again made a recording which sets new standards, presenting both the sung and the expressive elements of the composition in exemplary fashion. This recording of the fragmentary-surviving Schwanengesang is based on a new edition of the music by Werner Breig, published in November 2017 as part
of the Stuttgart Schütz Edition. In many passages it suggests other approaches to reconstruction from the version published in 1984, and so approaches the Schwanengesang in a completely different way.
Aleph Und Beth: Wohl Denen, Die Ohne Wandel Leben Swv 482
Gimel Und Daleth: Tue Wohl Deinem Knechte Swv 483
He Und Waw: Zeige Mir, Herr, Den Weg Deiner Recht Swv 484
Zajin Und Chet: Gedenke Deinem Knecht An Dein Wort Swv 485
Tet Und Jod: Du Tust Guts Deinem Knechte Swv 486
Kaph Und Lamed: Meine Seele Verlanget Nach Deinem Heil Swv 487
Mem Und Nun: Wie Habe Ich Dein Gesetze So Lieb Swv 488
Samech Und Ajin: Ich Hasse Die Flattergeister Swv 489
Pe Und Sade: Deine Zeugnisse Sind Wunderbarlich Swv 490
Qoph Und Resch: Ich Rufe Von Ganzem Herzen Swv 491
Schin Und Taw: Die Fürsten Verfolgen Mich Ohn Ursach Swv 492
Jauchzet Dem Herren, Alle Welt Swv 493 (Psalm 100)
Meine Seele Erhebt Den Herrn Swv 49$ (Deutsches Magnificat)    
II. Heinrich Schütz: Zwölf geistliche Gesänge (Dresden Chamber Choir/Hans-Christoph Rademann). Carus CD 83.239.      
Together with Carus-Verlag Stuttgart, under the direction of Hans-Christoph Rademann, the Dresdner Kammerchor will realize the first complete recording of the works of Heinrich Schütz by 2017. Part 4 of the project, the "12 geistliche Gesänge" will now be released. These twelve works were published in 1657 for practical use in churches, schools and at home. While some of the pieces, such as the well known "Benedicite vor dem Essen" (All our eyes do wait, O Lord, upon thee) are still sung for practical use by many choirs, other pieces of the cycle are completely unknown. At present, this recording is the only one which presents the "12 geistliche Gesänge" in a complete recording – the Dresdner Kammerchor and Hans-Christoph Rademann have focused attention on previously hidden aspects of Schütz's works, and in doing so have revealed valuable treasures. These motets are truly worth discovering and have earned a well deserved place in the concert halls, homes, and churches of today. A coproduction with MDR Figaro. Awarded the Pizzicato Supersonic Award.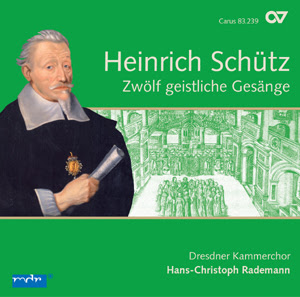 Composer Info
Heinrich Schütz
CD Info
Carus CD 83.275, Carus CD 83.239