Program: #21-06 Air Date: Feb 01, 2021
Picking up where we left off last February, we continue our look at the courtly love song from the time of Louis XIII.
I. Si vous vouliez un jour…airs sérieux et à boire, Vol. 2 (Les Arts Florissants/William Christie). HAF 8905306.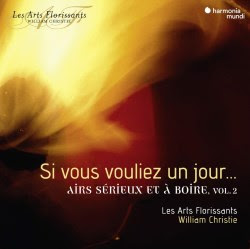 From Music Web International: Since their inception in 1979 William Christie and Les Arts Florissants have introduced us to some truly wonderful music, especially from the French baroque, with this CD being no different. This disc follows on from a wonderful disc which I remember buying when it came out in 2016, Bien que l'amour … Airs Serieux et a Boire (HAF 8905276), which I have enjoyed ever since. The mixture of more established names such as Lambert, Couperin and Charpentier being a real delight, especially when presented along with more unusual or even obscure composers such as Honoré d'Ambruys to produce a varied and enthralling programme made me long for more, and whilst there was no indication that there would be more, I am more than happy to see this second volume arrive.
Once again William Christie and Les Arts Florissants have chosen a varied program which continues their exploration of the vast repertoire of songs of lyrical and pastoral poetry, focusing on the masters of the genre, presenting the music of Marc-Antoine Charpentier and Michel Lambert with that of lesser-known composers Etienne Moulinié and Sébastien Le Camus, who whilst known to me, sadly do not feature on many discs in my collection, which on this evidence is a real shame as they don't just make up the numbers; their contribution is a vital part of this disc.
The best known of the composers presented here is Marc-Antoine Charpentier who is represented by six pieces opening with the 'Ouverture. Scènes 1 & 2' from Téméraire Alcidon; whilst this sets the scene well with some excellent instrumental work (something that is a feature throughout this disc) it is the contribution of the three solo male singers, Reinoud Van Mechelen, Cyril Auvity and Lisandro Abadie, that really makes this track stand out. There is some nicely considered interplay between the three which brings this lovely scene between the two shepherds and the god Pan to life. However, it is his 'Amor vince ogni cosa', that people will remember most, especially with its depiction of animal noises, a wolf and sheep, from the singers.
Michel Lambert is probably best remembered for his tender Leçons De Ténèbres and his Airs de Cour and was also represented on volume one. Whilst his music, other than the Leçons, is usually featured on compilation discs, there have been a few discs devoted to him and his music, including an earlier incarnation of Les Arts Florissants devoting a disc to his Airs de Cour (HMA 1901123) which was originally released in 1984 and still sounds as compelling as it did then. Here he gets seven tracks, with the beautiful lament 'J'aimerais mieux souffrir la mort' being a highlight, along with his 'Vos mépris chaque jour me causent mille alarmes', in which the tenor Cyril Auvity is the beautifully tender soloist.
I only have a single disc dedicated to the music of Etienne Moulinié, the wonderful Meslanges pour la chapelle d'un prince (HMC 902194), although his music does feature on a number of other discs that I have. His contribution here includes the feisty acapella 'Amis, enivrons-nous du vin d'Espagne en France', which although less than a minute long, makes a real impact, as does his tender bass aria 'Enfin la beauté que j'adore', in which Lisandro Abadie shines. His other featured track, 'Guillot est mon ami' is another characterful acapella piece, which ends with the singers in a fit of laughter.
Probably the least-known composer here is Sébastien Le Camus who was a musician in the service of Luis XIII, his music features on the disc Douce Félicité - Airs de cour (MF8027) along with that of Lambert, Lully and Sainte-Colombe. His music is earlier in feel and less adventurous than that of the other composers, although the soprano Emmanuelle de Negri makes a sparkling case for his music in 'Ah, que vous êtes heureux!', as does mezzo Anna Reinhold in the beautifully passionate 'Laissez durer la nuit, impatiente Aurore'.
This is a wonderfully engaging and interesting release, one which once again shows that Les Arts Florissants and William Christie remain masters of this repertoire. The singers and instrumentalists are excellent throughout, with their unfetted clean lines captured perfectly well by the engineers. Excellent notes and full texts in French, English and German are included, makr this along with the first volume, a most worthy addition to any collection of French baroque music.
Stuart Sillitoe
Marc-Antoine Charpentier (1643 - 1704): Petite Pastorale, Églogue de Bergers, H. 479:
1. Téméraire Alcidon (Lysandre) - Audacieux Lysandre (Alcidon) (09:41)
Etienne Moulinié (1599 - 1676): 
2. Airs à boire pour le retour de Monsieur: Amis, enivrons-nous du vin d'Espagne en France (00:50)
Michel Lambert (1610 - 1696): 
3. Airs à une, II, III et IV parties avec la basse-continue: Amour, je me suis plaint cent fois (03:00)
Marc-Antoine Charpentier: 
4. Amor vince ogni cosa, H. 492, Preludio & scena prima: All'armi, all'armi (Filli, Eurilla) (02:23)
Michel Lambert: 
5. Airs à une, II, III et IV parties avec la basse-continue: Vos yeux adorables (06:18)
Etienne Moulinié: 
6. Airs de cour & de différents auteurs: Enfin la beauté que j'adore (03:25)
Sébastien Le Camus (1610 - 1677): 
7. Airs, à deux et trois parties: Ah, que vous êtes heureux! (02:11)
Marc-Antoine Charpentier: 
8. Amor vince ogni cosa, H. 492, Scena seconda: Goderò, mi dice Amore (Linco) (04:51)
9. Tristes déserts, sombre retraite, H. 469 (03:25)
Michel Lambert: 
10. Airs à une, II, III et IV parties avec la basse-continue: J'aimerais mieux souffrir la mort (03:40)
Marc-Antoine Charpentier: 
11. Amor vince ogni cosa, H. 492, Scena terza: Andate, cercate (Filli) (03:29)
Michel Lambert: 
12. Airs à une, II, III et IV parties avec la basse-continue: Sans murmurer (04:10)
Sébastien Le Camus:
13. Airs, à deux et trois parties: Laissez durer la nuit, impatiente Aurore (03:15)
Michel Lambert: 
14. Airs à une, II, III et IV parties avec la basse-continue: Laissez-moi soupirer importune raison (05:12)
15. Airs à une, II, III et IV parties avec la basse-continue: Vous avez trop d'appas (04:10)
Etienne Moulinié: 
16. Guillot est mon ami (02:40)
Michel Lambert: 
17. Airs à une, II, III et IV parties avec la basse-continue: Vos mépris chaque jour me causent mille alarmes (03:47)
Marc-Antoine Charpentier: 
18. Amor vince ogni cosa, H. 492: Scene quarta & ultima (Soccorso, o Dei, soccorso (Eurilla) (06:58)
II. Le Parler et le Silence (The Attaignant Consort). Ramée CD RAM 1206.
Over a period of six years Ramée has released three discs with the Attaignant Consort, directed by Kate Clark, and with the latter as a soloist, in repertoire for transverse flute and for a consort of transverse flutes respectively. Together they offer a compelling survey of the technical development of the instrument and the repertoire which was played by the flute or by an ensemble of flutes from the 16th to the early 18th centuries. Obviously these aspects are closely connected: the repertoire developed in such a way that the instruments were adapted to its requirements. That was also the time composers started to indicate for which instruments their compositions were written. These were often more idiomatic than the music of previous eras. It should be noted that even when composers did specify the scoring it was often possible to turn to another instrument, as long as the parts were within its grasp. If a composer included, for instance, double stopping in a sonata for violin, a performance of the music as it was written was impossible on a wind instrument, unless the interpreter adapted it to the possibilities of his own instrument. This frequently happened as printed editions show. It is a further indication of the role of the interpreter: music was not expected to be played exactly as it was written down.
These discs shed light on several features of the music of the late renaissance and the early baroque. In the renaissance melody instruments were usually built in consorts: the instruments ranged from descant to bass, reflecting the various pitches of the human voice. This can be explained from the fact that before the late 16th century the amount of music specifically written for instruments was rather small, and (consorts of) instruments mostly played vocal music. Towards the end of the 16th century a specific genre came into existence: divisions in which a part of a polyphonic piece was embellished. It is interesting to note that the second and third disc both include pieces of the same kind, but played in different scorings. In 'Au Joly Bois' Kate Clark plays treble parts from polyphonic pieces with divisions, with Nigel North realising the remaining parts one the lute. In 'Le Parler et le Silence' the Attaignant Consort plays Palestrina's motet Pulchra es amica mea as arranged by Giovanni Bassano. Kate Clark plays again the embellished upper part, but here the remaining parts are performed on transverse flutes in lower pitches.
The 16th century also saw the emergence of music specifically written for a consort of instruments. Such consorts could comprise various instruments, such as viols or recorders - today the most common form for performances of consort music - or an ensemble of instruments from various families, the so-called broken consort. A consort of transverse flutes is rather rare these days - which makes the recordings of the Attaignant Consort all the more interesting - but was quite common in the renaissance. The existence of such consorts is documented for England, France and Germany in the first half of the 16th century.
An interesting aspect of performance practice is the connection between text and music in instrumental performances. The first disc ('Madame d'amours') includes the lyrics of the vocal pieces on the programme and that is not without a reason. Kate Clark writes: "There is evidence to suggest that professional musicians aimed to conjure up in their playing not only the sentiments of the text, but the inflections of the voice and even the pronunciation of the words as it would be present in a vocal performance; this was the ideal for which they strove". She then quotes several authors who gave instructions as how to do justice to the words in a performance with instruments like the flute. It needs to be added that most consort music was aimed at the market of skilled amateurs. Ms Clark mentions the development of printing as one of the factors which greatly stimulated the dissemination of consort music across the continent.
The first disc includes mostly music from the 16th century; the other two discs mark the transition from the renaissance to the baroque period. From the early decades of the 17th century on composers started to write music specifically for instruments, and often not - at least not explicitly - based on vocal models. It allowed them to explore the technical features of the instruments, and this resulted in many pieces being more idiomatic than before. However, as the programme on these discs show, instrumentalists still often played vocal music. The Attaignant Consort and Kate Clark perform, for instance, French airs de cour, originally scored for either an ensemble of voices or for solo voice and lute. The pieces by Jacques-Martin Hotteterre - flute versions of vocal pieces by the likes of Bacilly and Lambert - bear witness to the fact that this was common practice at the time. Both discs end with pieces for flute solo or for an ensemble of flutes which stylistically belong to the high baroque era. These require different instruments, which show greater differentiation in colour between the various registers and greater possibilities in dynamic shading, reflecting the baroque aesthetics which included contrasts between light and shadow, good and bad notes and the expression of affetti.
These three discs are extremely important as they shed light on a part of the history of the transverse flute which is not that well known. The genres which are included in the programmes of these discs are not unknown. However, it is most instructive to bring them together and present them in their historical context. Moreover, the consort of transverse flutes is still a little-known phenomenon, and Kate Clark and her colleagues convincingly demonstrate the attractiveness of this kind of ensemble. The performances are outstanding and imaginative. The artists are not afraid to bring in their own improvisatory skills, as for instance Kate Clark sometimes plays her own divisions or extends written-down divisions with some of her own.
This is music making at its very best and I strongly recommend these discs to anyone who likes to broaden his musical horizon.
Johan van Veen (© 2014) 
1. Pulchra Es Amica Mea (4.08)
2. Fantasia (2.05)
3. Canzon Decima (1.59)
4. Fantasie (2.25)
5. Canzon Settimadecima (3.19)
6. Fantasia Seconda (4.39)
7. L'enfant Amour (1.51)
8. Yeux Qui Guidez Mon Ame (3.07)
9. Psalm 9 (3.18)
10. My Choice Is Made (1.30)
11. La Tortorella (2.05)
12. Galliard (1.18)
13. Fantasia (1.24)
14. Fantasia (3.04)
15. Première Entrée (1.20)
16. Si Le Penser De Mon Ame (1.35)
17. Si C'est Un Crime Que L'aymer (1.14)
18. Esprits Qui Soupirez (1.14)
19. O Destin Par Trop Rigoureux (1.02)
20. Si Le Parler Et Le Silence (1.05)
21. Chaconne Des Harlequins De Mr Lully (2.58)
22. Ma Bergère (2.01)
23. Si C'est Un Crime Que L'aymer (2.12)
24. L'amour, Le Seul Amour (2.56)
25. Prelude (1.49)
26. Chaconne (1.53)
27. Fanfare (1.03)
28. L'amant Le Plus Fidelle (1.13)
29. Air Anglois (0.54)
30. Adagio (2.49)
31. Presto (1.53)
32. Adagio (1.42)
33. Allegro (1.32)
III. Les Plaisirs du Louvre (Ensemble Correspondances/Sebastian Daucé). Harmonia Mundi CD HMM 905320.
Before Versailles, the epicentre of power in the Kingdom of France was the Louvre, a genuine theatre of ceremonies where music was duty- bound to impress with its magnificence.
In the reign of Louis XIII, the air de cour and ballet mobilised the elite of composers such as Moulinié, Guédron and Chancy.
The most famous of them, Boesset, guided the polyphonic air inherited from the Renaissance towards a more intimate conception: before the sumptuous splendours to come in the shadow of the Sun King, it is a rich array of delicately chiselled miniatures that the combined talents of the Ensemble Correspondances give us the opportunity to hear today.
From Sebastian Daucé: In this first part of the Great Century, when the Précieuses ruled fashion and the arts, salons are at the center of the world: we receive, we talk, we discuss the scientific subjects of the moment, we recite composed verses. or improvised on the spot, we compare our points of view on the shows. And we continuously hear music there. This music is not only the act of duly paid histrions: the greatest aristocrats also indulge in it, at a time when singing and playing the lute are the signs of perfect education and refinement.
The first gentleman of France, Louis XIII himself, is a dancer as well as a musician, and even a composer. Music was certainly one of his main interests (perhaps beyond politics itself). Thus, the court of France and the bedroom of Louis XIII are the mirror of all this artistic life of the salons: around the king-musician, the musicians of the Chamber compose a fine team of individual talents who shine as much by their interpretations as by their compositions. If posterity has retained the names of Chambonnières, Antoine Boësset, Etienne Moulinié, or Louis Couperin, it is fascinating to think today that all these leading artists were able to work together on a daily basis!
Night, love, mystery, amorous pain stylized through pastoral loves constitute so many tasty ingredients of the poetics of the court air.
Among the great music masters of the French court in the 17th century, Antoine Boësset is probably the musical personality who aroused the most enthusiasm and passion: his tunes are printed in number, adapted (voice and lute or in polyphony) , some appear in the great royal ballets from the end of the 1610s until well after his death in 1643. There are also many spiritual parodies of his arias: faced with the public success of his beautiful melodies, the clergy, anxious to bring back the faithful to less profane passions, adapt the prosody to add new words. We often find the same images, the same evocations but the subject of adoration is no longer the young and fresh shepherdess but the Almighty Lord.
If the nocturnal theme is omnipresent in this program, it also reveals the reverse side of the great court ballets given for the Carnival each year: it is often these same arias and these same music that resonated at the end of winter at the court of Louvre, which are then found in the privacy of salons, and sometimes even oratories (with new words). It was then a question of more intimate ceremonies but whose intensity and passion remain a blazing fire that burns in the middle of every night.
1. Boesset: Ballet des Nymphes bocagères de la forêt sacrée - "Reine que je sers et que je connais" (Concert de Diane et ses Nymphes)
2. Boesset: "Bien loin profanes de ces lieux" (Concert des Nymphes des Bois)
3. Boesset: Je perds le repos et les sens
4. Guédron: La Dépouille d'Égypte - "Cesse mortel d'importuner" (Juste mespris de saincte Agnez)
5. Boesset: Ballet des Voleurs - "Astres pleins de malheurs" (Récit de la Nuit)
6. Moulinié: Ballet du Mariage de Pierre de Provence et de la belle Maguelonne - "Rompez les charmes du sommeil" (Air de la Ridicule)
7. Constantin: Ballet des Triomphes - Les Suisses
8. Constantin: Ballet des Triomphes - Les Suissesses
9. Boesset: Monarque triomphant (Au Roy) 1
10. LouisXIII: Ballet de la Merlaison - Les Gascons 1
11. Constantin: Ballet de la Merlaison - M. de Liancourt 1
12. Constantin: Ballet de l'Improviste - Vallets de la Faiste 1
13. Boesset: Ballet de la Félicité, sur le sujet de l'heureuse naissance de Monseigneur le Dauphin - "Je suis l'adorable équité"
14. Moulinié: Ballet du Monde renversé - "Il sort de nos corps emplumés" (Concert de différents oyseaux) 1
15. Boesset: Aime-moi, Cloris (Dialogue) 1
16. Moulinié: O doux Sommeil que tes songes aimables 1
17. Boesset: Fut-il jamais une rigueur pareille 1
18. Boesset: Que prétendez-vous mes désirs 1
19. Champion de Chambonnières: L'Entretien des Dieux 2
20. Guédron: La Dépouille d'Égypte - "Quels tourments rigoureux" (Le Purgatoire) 2
21. Boesset: Ne vante point, flambeau des cieux 2
22. Boesset: Ce roi vainqueur de nos malheurs (Pour le Roy) 2
23. Couperin: La Piémontoise 2
24. Boesset: Segua chi vuol iniquo Amore 2
25. Boesset: Conseille-moi mon cour (Qui vit jamais amant) 2
26. Boesset: Me veux-tu voir mourir 2
27. Chancy: Rares fleurs vivante peinture 2
28. Boesset: O mort l'objet de mes plaisirs
Composer Info
Marc-Antoine Charpentier (1643 - 1704), Etienne Moulinié (1599 - 1676), Michel Lambert (1610 - 1696), Sébastien Le Camus (1610 - 1677), Antoine Boësset, Guédron, Constantin, Louis XIII, Louis Couperin, Champion de Chambonnières, Chancy.
CD Info
HAF 8905306, Ramée CD RAM 1206, Harmonia Mundi CD HMM 905320