Program: #20-11 Air Date: Mar 02, 2020
Orazio Columbano, Stefano Bernardi, Amadeo Freddi.
I.  Columbano: Psalms for Six Voices (Cappella Musicale della Cattedrale di Vercelli/Denis Silano). Brilliant Classics CD 95839.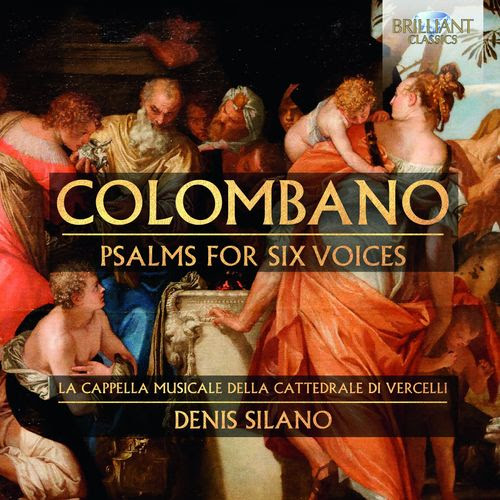 The conventual franciscan Orazio Colombano (c.1554 after 1595) hailed from Verona and came to the ancient city of Vercelli, in Piedmont, east of Turin, in 1579 to take up his first professional appointment as Moderator for Music at the Cathedral, a thriving cappella musicale under the House of Savoy, established in 1495 with a choir of six children, adult singers including a number of Flemish and French musicians, and organists, cornetto, sackbut, theorbo and string players. Colombano spent about two years there, during which he composed the Psalms for Six Voices (Harmonia super vespertinos omnium solemnitatum psalmos sex vocibus decantanda), his first work, which sets to music the Psalms of the Vespers liturgy for all obligatory feast days, as established at the Council of Trent, preceded by the introductory Deus in adjutorium and followed by the Magnificat. The style is largely antiphonal, with alternating choirs in dialogue, and this collection presents as a kind of compendium of the features of polyphonic psalms of the time: from homorhythm with rather strict syllabic declamation, to close imitative polyphony akin to Flemish models. This variety of approach gives insight into the structure of psalmodic recitation and its polyphonic treatment in the late 16th century. This world-premiere recording is based on the score edited by Denis Silano for the series Bibliotheca Musicalis Ecclesiae Vercellensis published by Vox Antiqua. Monsignor Silano leads the Cappella Musicale of Vercelli Cathedral, whose elite ensemble aims to revive the Vercelli Cathedrals 16th- and 17th-century heritage of manuscripts and printed music. These soloists, specialised in early music, perform in the Vercelli Cathedrals liturgical services.
From
 Music Web Internationa
l: I am always curious about discs devoted to composers I have never heard of. That seemed the case with the present disc, which includes psalm settings by a certain Orazio Colombano. Searching my archive I found out that I actually had heard one of this compositions, but then presented under his name in a somewhat different spelling. In 2015 Signum Classics released a recording of Italian madrigals by The King's Singers, and that includes a madrigal by Oratio Colombani (
review
). He turns out to be identical with the Orazio Colombano of the present disc.
Even so, he is largely an unknown quantity, and although he has an entry in New Grove, his whole career is described in just six lines. Apparently very little is known about him. He was from Verona and was a pupil of Costanzo Porta, presumably in Ravenna between 1567 and 1574. During his career he worked at several places as maestro di cappella, such as Milan, Brescia, Venice, Urbino and Padua. The present disc brings us to the early years of his career, when he worked in such a position in Vercelli, an Italian town in the northwest of the country, about halfway between Turin and Milan. In the mid-16th century its cathedral enjoyed the service of several prestigious musicians, some of which were also active at the Ducal chapel of Savoy. For services in the main church, children received a musical education at the Collegio del Innocenti, founded in 1495. They were joined by adult singers as well as instrumentalists. From 1579 to 1581 Colombano was maestro di cappella here.
This was the time he published his first collection of music, printed in Venice under the title of Harmonia super vespertinos omnium solemnitatem psalmos. That is the edition recorded here complete. It includes the Psalms of the Vespers liturgy for all obligatory feasts, as established at the Council of Trent, preceded by Deus in adiutorium meum intende and followed by the Magnificat.
As one may expect in a collection of sacred music from the 1570s, the music is written in the then common style, dominated by counterpoint. In his later compositions Colombano showed that he was open to new trends, and his latest works point in the direction of what was to come after the turn of the century. In this collection of 1579 we find traces of the latest trends as well, especially in regard to the connection between text and music. These psalms include several specimens of text expression. Laudate pueri (Psalm 112) is a good example for the way Colombano illustrates words like "high" and "low": "The Lord is high above all nations; and his glory above the heavens. Who is as the Lord our God, who dwelleth on high." Colombano also does not miss the opportunity to create a musical contrast in a phrase as "Raising up the needy from the earth, and lifting up the poor out of the dunghill". In Nisi Dominus the words "bread of sorrow" are set to descending figures. Lauda Jerusalem says that "his word runneth swiftly", and so does the music. References to joy and to songs of praise are expressed in a speeding up of tempo, such as at "let the saints rejoice" in Memento Domine David.
Colombano sometimes turns to homophony to emphasize elements in the text. Examples are "rogate [quae ad pacem sunt Hierusalem]" - pray ye (for the things that are for the peace of Jerusalem) - and "O Domine" (Credidi). Also notable is that Colombano frequently makes use of the technique of antiphonal writing: the scoring for six voices allows for a split of the ensemble into two opposing groups. In exitu Israel and Memento Domine David are among the most striking examples.
Denis Silano has been responsible for the modern edition of the collection, published by Vox Antiqua. It seems to me that it is well worth being investigated by choirs and vocal ensembles which look for something less obvious to perform. It is very fine music and seems not too complicated. The present disc offers an excellent opportunity to become acquainted with these Vesper Psalms. I had not heard this ensemble before; it makes an excellent impression here. The ensemble is immaculate and the elements of text expression are not overlooked.
Domine ad adiuvandum [1:51]
Dixit Dominus (Psalm 109) [4:03]
Laudate pueri (Psalm 112) [4:00]
Laetatus sum (Psalm 121) [4:45]
Nisi Dominus (Psalm 126) [4:01]
Lauda Jerusalem (Psalm 147) [4:49]
Confitebor tibi Domine (Psalm 110) [5:19]
Beatus vir (Psalm 111) [4:27]
In exitu Israel (Psalm 113) [7:43]
De profundis (Psalm 129) [5:07]
Memento Domine David (Psalm 131) [6:58]
Credidi (Psalm 115) [4:12]
In convertendo (Psalm 125) [3:41]
Domine probasti me (Psalm 129) [8:53]
Laudate Dominum (Psalm 116) [2:32]
Magnificat 8. toni [5:17]
II. Stefano Bernardi: Lux Aeterna—Ein Salzburger Requiem (Voces Suaves/Concerto Scirocco). Arcana CD A470.
After rediscovering the music of Giovanni Croce, maestro di cappella at St Mark's cathedral in Venice (A439), Ensembles Voces Suaves & Concerto Scirocco take us to Salzburg and put the spotlight on the Verona-born composer Stefano Bernardi, a contemporary of Monteverdi. Bernardi reached the peak of his career in Salzburg, when he was appointed the first
Kapellmeister of its newly constructed cathedral, a position he held from 1628 to 1634.
Bernardi contributed greatly to the integration of the Italian nuovo stile in Salzburg, especially of features such as polychorality and the stile concertato, and may therefore be seen as the musical forefather of later, more famous Salzburg musicians. The outstanding stature of his music is clearly evident from his majestic Requiem, the manuscript of which is still preserved in the Salzburg cathedral archives. Particularly impressive is the Sequentia, which forms the core of the work and opens with an elaborate Dies irae section, based on the famous chant melody. The Requiem, as well as a number of Motets by Bernardi, is recorded here for the very first time.
| | | |
| --- | --- | --- |
| | Missa Pro Defunctis Sex Vocum |   |
| 1 | I. Introitus | 5:13 |
| 2 | II. Kyrie Eleison | 2:52 |
| 3 | III. Sequentia | 15:51 |
| 4 | IV. Offertorium | 6:19 |
| 5 | V. Sanctus | 3:08 |
| 6 | VI. Agnus Dei | 2:09 |
| 7 | VII. Communio | 3:08 |
| 8 | VIII. Libera Me, Domine | 3:14 |
| 9 | Sinfonia Terza Concertata | 3:04 |
| 10 | Ad Te, Domine, Levavi Animan Meam | 2:47 |
| 11 | Sinfonia Quarta Concertata | 3:32 |
| 12 | Letanie A 4 Concertate | 8:51 |
| 13 | Sinfonia Seconda Concertata | 2:33 |
| 14 | De Profundis Clamavi A Te, Domine | 5:27 |
III. Amadio Freddi: Vespers (1616) (The Gonzaga Band/Jamie Savan). Resonus CD RES10245.
Following the international success of their first album on Resonus, Venice 1629, Jamie Savan with his acclaimed period group The Gonzaga Band continue their exploration of lesser-known music in the Venetian orbit. Here they uncover a forgotten masterpiece by Amadio Freddi, maestro di cappella of Treviso Cathedral during Monteverdi's tenure at St Mark's in Venice. Luminous vocal textures and sparkling instrumental writing, together with harmonic originality and melodic invention combine to reveal a fascinating composer with a unique voice, heard again for the first time in this world premiere recording. The Gonzaga Band was formed by cornettist Jamie Savan in 1997, with a mission to explore the intimate relationship between vocal and instrumental performance practice in the Early Modern period. The ensemble takes its name from the ducal family of Mantua: the Gonzagas were powerful and influential patrons of the arts in the late Renaissance, who employed Claudio Monteverdi as their maestro della musica at the turn of the seventeenth century. Monteverdi wrote some of his most innovative music for the Gonzagas: his third, fourth and fifth books of madrigals, the operas Orfeo and Arianna, and of course the Vespers of 1610.
From Early Music Review: This recording is another triumph for Jamie Savan and his Gonzaga Band. The research on Freddi and the way the performing edition for these elegant and tuneful movements – largely taken from Freddi's Messa, vespro et compieta (Venice: Amadino 1616) – is excellently presented in five dense pages of informed and practical scholarship of a high order, which informs the whole enterprise. This is a model of how scholarship and performance should complement one another
We are given details of the sources, editions, instruments, pitch and temperament used. Particularly interesting is the use of a digital Hauptwerk organ running samples from the Nachini organ in S. Maria d'Alleito at Isola in Slovenia and played by Steven Devine. In a recording that itself is digitally created, I can see nothing wrong with using such an instrument, though I wonder what it feels like to sing or play next to it where there is no wind reservoir 'breathing' with you. The only other instruments alongside the six voices are Jamie Savan (cornetto) and Oliver Webber (violin), who play Freddi's entwined and imitative writing in a way that not only imitates the florid vocal lines, but gives the impression of a very much larger instrumental ensemble. The richness of the overall texture created with such slender resources is one of the appealing things about this performance.
Just a violin and a cornetto with the organ was what Freddi had at his disposal when the forces at S. Antonio, Padua where he worked from 1592 to 1614, were reduced to keep the music establishment solvent. The combination appears again as the basic instrumental group hired in for the feast of the Assumption at S. Teonisto in Treviso, where he had moved in 1615, and is a combination that appears in places in the writing of Heinrich Schütz, for example.
The psalms Savan has chosen from the collection are those proper to a Vespers of the Blessed Virgin Mary, and as in the Monteverdi 1610 Vespers, he has interspersed the psalms with works for single voices, and a number of sonatas by Donati, Marini  and Castello together with some brief intonazioni by Giovanni and Andrea Gabrieli and a motet by Grandi. This is welcome, as fascinating though it is to hear the Freddi works, the voice and instrument combinations are limited and the textures and idioms feel much more samey than the widely varied styles of Monteverdi's work – but then Monteverdi was trying to display the maximum number of ways the plainsong could be treated, which was not part of Freddi's game plan. After repeated listenings, I found the music tuneful but not essentially memorable, though some of the instrumental sonatas and the solo motet by Grandi raised the game.
As before with the Gonzaga Band, Fay Newton's contributions steal the show. Hardly any other soprano has her wonderful voice: light, bright and flexible, yet capable of astonishing changes of colour and mood. This is not to say that the other voices are not excellent – they are equally well-matched. So this is another example of how to create a wonderful but largely unrecognised musical world, where voices and instruments combine to create big effects with minimal forces. In today's financially squeezed circumstances there is much to lean and admire. Plus ça change.
David Stancliffe
 Ignazio Donati (1570 - 1638): Domine ad adiuvandum  02:13
Amadio Freddi (1570 - 1634): Dixit Dominus05:20
Biagio Marini (1594 - 1663): Sinfonia: La Cornera  02:29
Giovanni Gabrieli (1557 - 1612): Intonazione del Secondo Tono  00:28
Amadio Freddi: Laudate Pueri  04:03
Alessandro Grandi (1586 - 1630): Tota pulchra es 04:39
Amadio Freddi: Laetatus sum  05:26
Dario Castello (1602 - 1631): Seconda Sonata  04:43
Giovanni Gabrieli: Intonazione del Ottavo Tono  00:34
Amadio Freddi: Nisi Dominus  04:12
Cognoscam te, Domine  02:57
Giovanni Gabrieli: Intonazione del Terzo et Quarto Tono  00:36
Amadio Freddi: Lauda Jerusalem  03:51
Biagio Marini: Sinfona: La Martinenga  02:24
Biagio Marini: Ave maris stella  03:36
Amadio Freddi: Salve Regina  02:46
Andrea Gabrieli (1533 - 1585): Intonazione del Sesto Tono  01:21
Amadio Freddi: Magnificat Sesto Tono  06:24
Composer Info
Orazio Colombano (c.1554 after 1595), Stefano Bernardi, Amadio Freddi (1570 - 1634), Ignazio Donati (1570 - 1638), Biagio Marini (1594 - 1663), Giovanni Gabrieli (1557 - 1612), Alessandro Grandi (1586 - 1630), Dario Castello (1602 - 1631), Andrea Gabrieli (1533 - 1585)
CD Info
Brilliant Classics CD 95839, Arcana CD A470, Resonus CD RES10245