Program: #20-17 Air Date: Apr 13, 2020
Motets of Melchior Vulpius, sacred concertos of Rosenmuller, and rare choral cantatas by Johann Samuel Welter.
I. Melchior Vulpius: 6 & 7 Voice Motets from the Cantiones Sacrae II (Capella Daleminzia/René Michael Röder). Querstand CD VKJK 1701.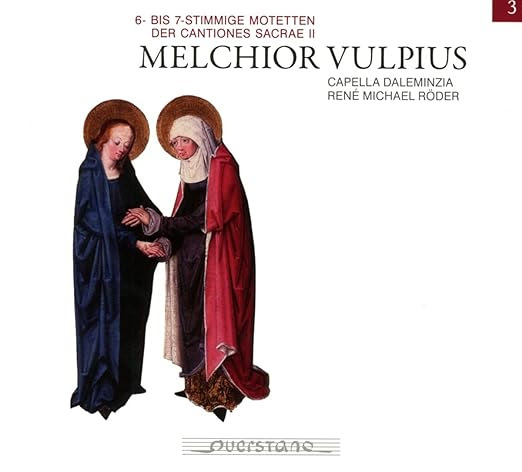 In 1596, the Wasungen-born Melchior Vulpius was called to Weimar as the cantor, music and Latin teacher at the municipal school and the St. Peter and Paul Parish Church (Stadtkirche). Thus he became the highest ranking Ernestine church musician and the expectations of him were equally high. Within some years, he created a considerable repertoire, which he published from 1602 onwards. He released a new collection almost every year until his early death in 1615 aged 45. Many of these collections found their way to the cantorial library in the little Saxon town of Waldheim where they were preserved until today. Since 2002, this musical heritage has been investigated and gradually made accessible to the public once more. Waldheim's cantor Rene Michael Roder and Capella Daleminzia directed by him now release a series with the complete works by Vulpius. This release is the second volume in the series, and contains the motets for eight to thirteen parts of the Cantiones Sacrae I, thus completing the recording of Vulpius' first published collection of works. The nine-part motet "Surrexit pastor bonus" for Easter Monday is the only one in this collection to be sung by four choirs and contains another special feature. While Choir 1 sings the Latin text, the Choirs 2, 3, and 4 contrast this with hymn in German language. Furthermore, the choirs should be placed in a quadrophonic manner if possible. 
1

6:55

 

5:33

 

2:45

 

4:56

 

6:24

 

3:29

 

4:32

 

4:32

 

1:32

 

5:43

 

3:27

 

3:34

 

Disk 2

4:22

 

4:10

 

4:11

 

2:21

 

5:25

 

5:40

 

2:04

 

4:23

 

2:17

 

3:07

 

4:08
 II. Rosenmüller: Sacred Concertos  (Wolf Matthias Friedrich, b./Abendmuiken Basel/Jörg-Andreas Bötticher, dir). Coviello CD COV 91927.
 He is certainly one of the composers who were much better known in their time than we think today: Johann Rosenmüller is even described on his epitaph in the Wolfenbüttel St. John's Church as "Amphion of his century" and "crown of music". At least in the music of the second half of the 17th century, he left deep marks on his main places of action, Leipzig and Venice. Especially his spiritual concerts for a voice and instruments were stylistic and combined German and Italian elements: the majority of the accompaniment of five string voices is required, which was more common in German-speaking countries; his tone language, which is characterized by a catchy-smooth melody, rich harmony, detailed interpretation of the text and high virtuosity, but works through and through Italian. The Basel evening music presents an impressive picture of European cultural diversity of the past.
| | | |
| --- | --- | --- |
| Ascendit invictissimus Salvator | By Johann Rosenmüller - Wolf Matthias Friedrich, Abendmusiken Basel & Jörg-Andreas Bötticher | 5:39 |
| Aude, quid times | By Johann Rosenmüller l - Wolf Matthias Friedrich, Abendmusiken Basel & Jörg-Andreas Bötticher | 6:57 |
| Sonate, da sonarsi con varij stromenti a trè sino a dodeci, Op. 2 | By Massimiliano Neri - Abendmusiken Basel & Jörg-Andreas Bötticher | 4:18 |
| Domine cor meum | By Johann Rosenmüller - Wolf Matthias Friedrich, Abendmusiken Basel & Jörg-Andreas Bötticher | 8:26 |
| Si Deus pro nobis | By Johann Rosenmüller - Wolf Matthias Friedrich, Abendmusiken Basel & Jörg-Andreas Bötticher | 7:30 |
| Domine, ne in furore | By Johann Rosenmüller - Wolf Matthias Friedrich, Abendmusiken Basel & Jörg-Andreas Bötticher | 12:06 |
| Salve Regina | By Johann Rosenmüller - Wolf Matthias Friedrich, Abendmusiken Basel & Jörg-Andreas Bötticher | 9:06 |
| Sonata à 3 | By Traditional - Abendmusiken Basel & Jörg-Andreas Bötticher | 6:40 |
| Magnificat | By Johann Rosenmüller - Wolf Matthias Friedrich, Abendmusiken Basel & Jörg-Andreas Bötticher | 9:06 |
III. Johann Samuel Welter: Gott sen uns gnädig  (Ecco La Musica/Heike Hummer & Matthias Spritz). Christophorus CD CHR 77440.
True treasures of unknown music can still be discovered: One of these is the composer Johann Samuel Welter, who was born in 1650 near Schwäbisch Hall (Württemberg) and, apart from a few years as an apprentice in Nuremberg, always remained faithful to his homeland. In the free imperial city of Schwäbisch Hall a free reformatoryspirit prevailed and Welter worked there for 45 years as organist at the main church of St. Michaeluntil his death in 1720. He was certainly offered positions in Berlin, Frankfurt or Augsburg and is said to have composed over 400 works but unfortunately only just under a dozen vocal works have survived.
Welter was well known for his sacred cantatas and highly respected far beyond the borders of his country. Today he must be regarded as the most important composer of choral cantatas between Praetorius and JS Bach.
The Ensemble ecco la musica presents with five first recordings the great quality of the composer and complements it with instrumental music by Schmelzer, Bertali, Nicolai and others from the Langenburg Archive in the direct vicinity of Welter.
From Amazon: Both composer Johann Samuel Welter (1650-1720) and early music ensemble Ecco la Musica were new to me until now. But, having listened to this disc a few times, I have to say that both are excellent. Welter was an organist of the German mid-baroque, based in Hall (nowadays known as Schwäbisch Hall), who also composed many sacred cantatas of which a handful have survived. Unfortunately his organ and other instrumental music have been lost.
This well-organised sequence shows Welter to be a composer of great ability and an engaging manner. The disc brings us five of his church cantatas, interspersed with instrumental works by Welter's approximate contemporaries Schmelzer, Bertali, Hainlein and Nicolai. All the works are beautifully played and sung by the musicians of 'ecco la musica' (it seems to be the current trend for early music groups to spell their ensemble names without capitals), directed by gambist Heike Hümmer and trombonist Matthias Sprinz. This is a skilful and stylish group of five voices and twelve players including strings, brass and continuo instruments.
The five vocal works include chorale cantatas and psalm settings, broadly in the mid-baroque tradition of the likes of Krieger, Schelle, Knüpfer or Kuhnau, and scored for four or five voices and a colourful range of instruments. 'Herr Jesu Christ du höchstes Guth' (track 2) is a fine chorale cantata, its successive verses taken by vocal ensemble or solo voices, and with instrumental accompaniment developing from one verse to another. 'Gott sey uns gnädig' (4) is a majestically-scored psalm setting, its choral passages carrying more than a hint of Heinrich Schütz's Psalmen Davids; its instrumental interludes are also beautifully written, as are the concerted vocal passages. The sunny 'Auff, auff ihr Gottes Haußgenossen' (6) is a three-voice cantata, this time more secular in style, with a cheerful melody and attractive ritornelli. Best of all, in my opinion, is the closing work 'Wenn wir in höchsten Nöthen sind', a really beautiful chorale cantata with especially lovely solo and concertato vocal, as well as instrumental, passages.
The programme is nicely arranged even though the five interspersed instrumental pieces are more varied in quality, with a couple of fairly dull pieces but a fine opening 'Sonata à 5 Battalia ex C' by Paul Hainlein, and an impressive Sonata 101 à 6' by Antonio Bertali (9); Johann Heinrich Schmelzer's 'Sonata à 3' (5) also has an expertly delivered solo trombone part.
Recorded sound is excellent, as is the booklet essay by co-director Heike Hümmer, and texts and translations are included. This is an enterprising recording, beautifully performed and introducing a most interesting and engaging mid-baroque composer, and it would surely be worthwhile to assemble a further volume if there's enough material available. Either way, this is sure to please enthusiasts of the German baroque
1. Paul Hainlein (1626-1686): Sonata à 5 Battallia ex C
5. Johann Heinrich Schmelzer: Sonata à 3
7. Anon.: Sonata à 2 Viole da gamba
9. Antonio Bertali (1605-1669): Sonata 101 à 6
Composer Info
Melchior Vulpius, Johann Rosenmüller, Massimiliano Neri, Johann Samuel Welter (1650-1720), Paul Hainlein (1626-1686), Johann Michael Nicolai (1629-1685), Johann Heinrich Schmelzer, Antonio Bertali (1605-1669)
CD Info
Querstand CD VKJK 1701, Coviello CD COV 91927, Christophorus CD CHR 77440