Program: #16-26 Air Date: Jun 20, 2016
New recordings dedicated to Schütz, Rosenmüller, and the Music Cabinet of the Cantor of the St. Thomas Church in Leipzig.
I. Armarium—Aus dem Notenschrank der Thomaner (Amarcord). Raum Klang CD RK ao 10114.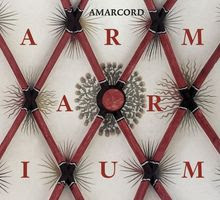 Biography
Founded in 1992 by erstwhile members of St Thomas's Boys Choir in Leipzig, amarcord has since become one of the world's leading vocal ensembles. amarcord's hallmarks include a unique tone, breathtaking homogeneity, musical authenticity, and a good dose of charm and humour. amarcord performs a vast and highly diverse repertoire of music, from medieval plainsong to madrigals and Renaissance masses, to compositions and cycles of works of the European Romantic period and the 20th century, a cappella folksong arrangements collected from all over the world, all the way to rock, pop, soul and jazz charts
amarcord has won prizes at many international competitions, such as Tolosa in Spain, Tampere in Finland and Pohlheim in Germany, as well as the 1st Choir Olympiad in the Austrian city of Linz. In 2002, the ensemble won the German Music Competition, having joined the ranks of the BA KJK (the cream of young musicians singled out by the German Music Council for special support) two years beforehand. In 2004, amarcord became the first group of singers to be awarded the Ensemble Prize at the Mecklenburg-West Pomerania Festival. Attending master classes with the King's Singers and the Hilliard Ensemble has given amarcord valuable stimulus over the years.
Alongside the Gewandhaus Orchestra and St Thomas's Boys Choir, amarcord is now one of the leading representatives of Leipzig's music scene in Germany and abroad. amarcord regularly appears at important music festivals, and its frequent concert tours have taken the group not only all over Europe but also to North America - where it was enthusiastically received in cities like San Francisco, Washington, New York, Atlanta, Houston or Salt Lake City -, Central America, Australia, Japan, Israel, The Middle East and Southeast Asia.
1. Sequentia de S. Thoma »Gaude felix India« Thomas-Graduale, Leipzig um 1300
2. Sethus Calvisius (1556 – 1615) Hymnus ante cibum »Deus sator mortalium« Florilegium selectissimum hymnorum, Leipzig 1606
3. Pandolfo Zallamella (1551 – um 1591) Ingrediente Domino Florilegium selectissimarum cantionum, Leipzig 1603
4.Sethus Calvisius Hymnus vespertinus »Inventor rutili« Florilegium selectissimum hymnorum, Leipzig 1606
5. Orlando di Lasso (1532 – 1594) Confitemini Domino F., Leipzig 1603
6.Sethus Calvisius Hymnus vespertinus »Te lucis ante terminum« Florilegium selectissimum hymnorum, Leipzig 1606
7.Johann Walter (1496 – 1570) Mitten wir im Leben sind Wittenberg 1537
8. Johann Hermann Schein (1586 – 1630) Von dem Leiden und Sterben Jesu Christi. Die sieben Wort »Da Jesus an dem Kreuze stund« Cantional, Leipzig 1627
9. Giovanni Battista Stefanini (1574 – 1630) Christus resurgens Florilegii Musici Portensis, Leipzig 1621
10.Sethus Calvisius Hymnus vespertinus »Ades Pater supreme« Florilegium selectissimum hymnorum, Leipzig 1606 01:46
11.Heinrich Schütz (1585 – 1672) Viel werden kommen, Dresden 1648
12.Sethus Calvisius Oratio Dominica »O Pater coelestis«, Leipzig 1606
13. Thomas Stoltzer (um 1475 – 1526) Magnificat sexti toni »Thomaskirche 49/50«, Leipzig um 1550
14.Sixt Dietrich (1492/94 – 1548) Heilig ist Gott der Vater Stimmbuchsammlung »Thomaskirche 49/50«, Leipzig um 1550
15. Sequentia de S. Thoma Canthuariensi »Spe mercedis et coronae« Thomas-Graduale, Leipzig um 1300
II. Heinrich Schütz—Symphonie Sacrae III (Dresden Chamber Choir & Baroque Orchestra/Hans-Christoph Rademann). Carus CD 83.258.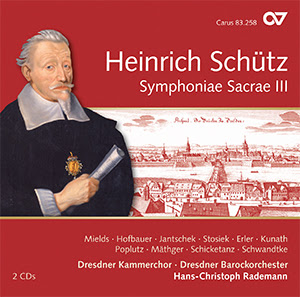 The twelfth part of the acclaimed complete recording of works by Heinrich Schütz contains the Symphoniae sacrae III. With this recording, the Dresdner Kammerchor under Hans-Christoph Rademann, supported by well-known soloists, has devoted itself to one of the pinnacles of German early Baroque music. No lesser person than Johannes Brahms presented "Saul, was verfolgst du mich?" to the discerning 19th century Viennese public, causing an outright musical sensation and impressively substantiating the modernity of Heinrich Schütz's oeuvre. Even today the Symphoniae sacrae III continue to remain a legacy whose music – with its abundance of musical ideas, tonal splendor, intricacy and sensuality – has the power to overwhelm, stir up emotions, cause reflection, astonish and comfort.
1
Der Herr Ist Mein Hirt Swv 398
2
Ich Hebe Meine Augen Auf Swv 399
3
Wo Der Herr Nicht Das Haus Bauet Swv 400
4
Mein Sohn, Warum Hast Du Uns Swv 401
5
O Herr Hilf, O Herr, Lass Wohl Gelingen Swv 402
6
Siehe, Es Erschien Der Engel Swv 403
7
Feget Den Alten Sauerteig Aus Swv 404
8
O Süßer Jesu Christ Swv 405
9
O Jesu Süß, Wer Dein Gedenkt Swv 406
10
Lasset Uns Doch Den Herren Swv 407
Disk 2 von 2
1
Es Ging Ein Sämann Aus Swv 408
2
Seid Barmherzig, Wie Auch Euer Vater Swv 409
3
Siehe, Dieser Ward Gesetzt Swv 410
4
Vater Unser, Der Du Bist Im Himmel Swv 411
5
Siehe, Wie Fein Und Lieblich Swv 412
6
Hütet Euch, Dass Eure Herzen Swv 413
7
Meister, Wir Wissen Swv 414
8
Saul, Saul, Was Verfolgst Du Mich Swv 415
9
Herr, Wie Lang Willst Du Mein Swv 416
10
Komm, Heiliger Geist, Herre Gott Swv 417
11
Nun Danket Alle Gott Swv 418
III. Rosenmüller—Marienvesper (Knabenchor Hannover/Johann Rosenmüller Ensemble/L'Arco Baroque Orchestra/Jörg Breiding). Rondeau CD ROP7012920.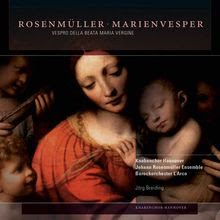 During the seventeenth century, there was no such thing as a middle-class concert scene in Italy, as we are familiar with today. If one wanted to hear festive music, one could only experience this on a regular basis in church services. Since the Catholic mass only offered, due to liturgical guidelines, limited possibilities for the performance of extensive musical works, the vespers during key Catholic celebrations in particular developed – especially on Marian feast days – into concert-like evening music. One of the greatest of its kind is the Vesper For The Blessed Virgin by Johann Rosenmüller (1617–1684), who grew up in Germany, but experienced the greatest part of his career as a composer in Italy. Eyewitness reports given by Venetian travellers of the seventeenth century who were able to attend such vespers, speak of impressive performances for which sometimes additional galleries had to be erected because the available organ gallery was not able to accommodate the huge number of musicians. Likewise, Rosenmüller's Vesper is cast with a large and excellent lineup: Directed by Jörg Breiding, the Hanover Boys' Choir, the Johann Rosenmüller Ensemble, and the Barockorchester L'Arco as well as renowned soloists came together in Hanover. Together they revived this monumental piece, which almost fell into oblivion for decades, after it was on everybody's lips in Germany and Italy for more than a hundred years.
Johann Rosenmüller: Ingressus
Ingressus
Johann Rosenmüller: Dixit Dominus
Antiphona I
Dixit Dominus
Antiphona I (Da capo)
Johann Rosenmüller: Laudate Pueri
Antiphona II
Laudate Pueri
Antiphona II (Da capo)
Johann Rosenmüller: Sonate à 2, 3, 4 è 5 stromenti da arco et altri
No. 12 à 5 in D Minor
Johann Rosenmüller: Laetatus sum
Antiphona III
Laetatus sum
Antiphona III (Da capo)
Johann Rosenmüller: Nisi Dominus
Antiphona IV
Nisi Dominus
Antiphona IV (Da capo)
Johann Rosenmüller: Sonate à 2, 3, 4 è 5 stromenti da arco et altri
No. 9 à 5 in D Major
Johann Rosenmüller: Lauda Jerusalem
Antiphona V
Lauda Jerusalem
Antiphona V (Da capo)
Johann Rosenmüller: Ave maris stella
Ave maris stella
Johann Rosenmüller: Magnificat
Antiphona VI
Magnificat
Composer Info
Sethus Calvisius (1556 – 1615) , Pandolfo Zallamella (1551 – um 1591), Orlando di Lasso (1532 – 1594), Johann Walter (1496 – 1570) , Johann Hermann Schein (1586 – 1630), Giovanni Battista Stefanini (1574 – 1630) , Heinrich Schütz (1585 – 1672), Thomas Stoltzer (um 1475 – 1526) , Sixt Dietrich (1492/94 – 1548), Johann Rosenmüller (1617–1684),
CD Info
CD RK ao 10114, Carus CD 83.258, CD ROP7012920