Program: #15-18 Air Date: Apr 27, 2015
An audio journey from Bavaria to the glorious and underrated Johann Hermann Schein to early Baroque Hapsburg composers.
Three from German-Speaking Lands
I. Musica Reservata: Secret Music for Albrecht V (Profeti della Quinta/dolce risonanza/Florian Weininger) Pan Classics CD PC 10323.
In its latest CD project, dolce risonanza joins forces with the vocal ensemble Profeti della Quinta to walk in the footsteps of Orlando di Lasso (1532–1594) and the Bavarian Hofkapelle in Munich. With Lasso as its maestro di capella it was one of the most outstanding musical institutions of its era. As the court music establishment of the art-loving Wittelsbach duke Albrecht V of Bavaria (1528–1579), it consisted of excellent singers from all over Europe and the finest Italian instrumental virtuosos. And it was for this distinguished ensemble that Orlando di Lasso composed his famous Psalmi penitentiali.
These expressive psalm settings were documented in a magnificent codex decorated with wonderful miniature illuminations by the Munich court painter Hans Mielich. Albrecht V forbade Lasso to publish these penitential psalms, keeping the valuable manuscript in his private library as MUSICA RESERVATA, granting only privileged guests the opportunity to set eyes upon it. Nonetheless, the fact that this "secret" music was not allowed to be published helped spread Lasso's fame during his own lifetime.
The latest musicological findings by trombonist Bernhard Rainer now permit the conclusion that the famous portrayal of the Munich Hofkapelle at the end of the codex represents an actual performance situation for Lasso's psalm compositions. Detailed research has also made it possible to prove which instruments were playing, by whom they were played and which vocal parts they doubled.
In order to accomplish a faithful performance according to Mielich's painting, dolce risonanza had historical string and wind instruments reconstructed specifically for this recording by leading instrument makers from the field of historically informed performance. So after around 450 years, it has once again become possible to experience this music in the original instrumentation of the Munich Hofkapelle under Orlando di Lasso.
Psalmi poenitentialis Nr. 1-7 (Bußpsalmen) (Auszug)
1 Domine ne in furore tuo arguas me - Miserere (Psalm 6)
2 Dic mihi quem portas à 8
Psalmi poenitentialis Nr. 1-7 (Bußpsalmen) (Auszug)
3 Domine exaudi orationem meam et clamor (Psalm 101)
4 Quo properas, facunde nepos Atlantis à 10
Psalmi poenitentialis Nr. 1-7 (Bußpsalmen) (Auszug)
5 Domine exaudi orationem meam auribus precipe (Psalm 142)
II. Johann Hermann Schein: Ich will schweigen (In Alto/Lambert Colson). Ramée CD RAM 1401.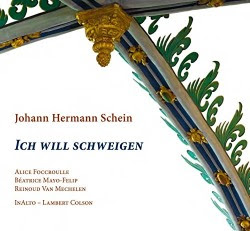 When Johann Hermann Schein takes up the position of Kantor in Saint-Thomas in Leipzig in 1616, he has to tackle a delicate problem: on the one hand he has to satisfy the liturgical needs of a parish that is quite a novice to the Lutheran practices and on the other he has to compose truly contemporary music, brimming with the novelties of the new style coming from Italy.
In 1618, inspired by the Concerti Ecclesiastici written by Lodovico Viadana, he publishes a collection with an evocative title: Opella Nova.
This motet collection explores the new possibilities offered by the basso continuo; it shows a real mastery in the use of the rhetorical figures and always has very specific instrumental settings, undoubtedly in order to create a different atmosphere for each text set to music.
Schein's Opella Nova is a very ambitious work of great expressive strength.
Most often Schein hired his musicians from those available amongst the Stadtpfeiffer and the Ratsmusiker, the guilds of players attached to the city of Leipzig since the 15th century.
The motets of that period very often require cornetti, trombones or dulcian.
To complement this musical portrait of Schein, one of the greatest German composers of the 17th century and one of the most gifted predecessors of J.S Bach in Leipzig, InAlto presents a whole journey to the sources of the German cantata and a testimony of the extraordinary tradition of these city musicians throughout the centuries.
Besides the music of Schein, InAlto performs music by Johann Christoph Pezel, Gottfried Reiche, Johann Schelle and J.S Bach.
Johann Hermann SCHEIN (1586-1630) Canzon a5 'Corollarium' (1615) [4:19]; Ich will schweigen [5:53]
Johann KRIEGER (1652-1735) Fantasia in d (1697) [1:50]
Johann Hermann SCHEIN Exaudiat te Dominus (1626) [8:16]; Suite VII (1617) [7:48]
Heinrich BACH (1615-1692) Erbarm dich mein, O Herre Gott [3:05]
Johann Hermann SCHEIN Erbarm dich mein, O Herre Gott (1618) [3:25]
Gottfried REICHE (1667-1734) Fuga XII à 4 (1696) [3:13]
Johann Hermann SCHEIN Herr Christ, der einig Gottes Sohn (1618) [1:58]
Johann SCHELLE (1648-1701) Nun komm, der Heiden Heiland [2:15]
Gottfried REICHE Sonatina à 4 (1696) [3:21]
Johann Hermann SCHEIN Mach dich auf, werde Licht (1626) [6:32]; Paduana à 4 (1617) [2:09]
Heinrich SCHEIDEMANN (1595-1663) In dich hab ich gehoffet, Herr [5:42]
Johann Sebastian BACH (1685-1750) Fuga sopra Durch Adams Fall ist ganz verderbt, BWV705
III. The Music of the Hapsburg Empire (Ars Antiqua Austria/Gunar Letzbor). Pan Classics CD PC 10311 [10 CD box]; 10325 [sampler—"Tu Felix Austria"]
For the Austrian baroque violinist Gunar Letzbor, the music of the Habsburg Empire is significantly different from that of the other European cultural centres in France, Italy and Germany. The Habsburg Imperial Court was a melting pot of many different cultures in which the zest for living of southerners, the melancholy of the Slavs, the formalistic traits of the French, the courtly ceremony of the Spanish and the original Alpine culture of the German-speaking region come together. In his concert project "Klang der Kulturen" (The Sound of the Cultures), together with his ensemble Ars Antiqua Austria, he has occupied himself over a period of ten years with the individual countries that formed the roots of and influences on the music of baroque Vienna, documenting them in the form of live recordings.
The result of this work is a box containing 10 CDs, each of which represents a country: the first six CDs are dedicated to the Habsburg patrimonial lands of Slovakia, Slovenia, Hungary, Poland, Bohemia and Moravia. Letzbor does not hesitate to immerse himself in the traditional folk music of these countries in order to document the major influences of this music on the art music that ultimately found its way to the Imperial Court in Vienna. The other four CDs document the influences of the most important European centres of Spain, Venice, Rome and Paris on Austrian composers. The result is a comprehensive compendium showing European baroque music from a point of view unusual for us today. This collection reveals many exciting new perspectives in over ten hours of musical works, most of which are recorded here for the first time.
Tu Felix Austria Track Listing:
H.I.F.Biber: Karneval in Kremsier
Balletti Lamentabili à 4, Sonata - Die Werber -
Nachtwächter
H.I.F.Biber: Violin Sonatas, 1681
Sonata 1, untiteled
Sonata 2, Finale
Sonata 6, Adagio - Gavotte
Sonata Representativa, Fresch - Die Wachtel
J.B.Hochreither: Requiem, 1712
Tuba mirum - Mors stupebit - Rex tremendae - Lacrimosa -
Recordare - Tu suscipe - Domine
G. Muffat: Armonico Tributo, 1682
Sonata 2, Grave - Sarabanda
Sonata 3, Gavotta
G. Muffat: Florilegium Primum, 1695
"Eusebia", Gigue
"Sperantis Gaudia", Gavotte
"Gratitudo", Menuet
"Sollicitudo", Allemande - Gavotte - Bourrée
J.J.Fux: Oratorium Germanicum, 1731
"Nicht verzoge meine Freindin" - "Dir zuliebe"
R. Weichlein: Encaenia Musices, 1695
Sonata 3, Bassagalia
Sonata 6, Adagio
F.J. Aumann: Requiem
Requiem aeternam
Anonymus
Toccata
G. Muffat: Missa in labore requies
Credo, Et in spiritum sanctum
Composer Info
Orlando di Lasso (1532–1594) , Johann Sebastian BACH (1685-1750), Heinrich SCHEIDEMANN (1595-1663), Johann SCHELLE (1648-1701), Gottfried REICHE (1667-1734), Heinrich BACH (1615-1692), Johann KRIEGER (1652-1735), Johann Hermann SCHEIN (1586-1630) , F.J. Aumann, R. Weichlein, J.J.Fux, G. Muffat, J.B.Hochreither, H.I.F. Biber,
CD Info
Pan Classics CD PC 10311, Pan Classics CD PC 10323, Ramée CD RAM 1401,