Program: #16-51 Air Date: Dec 12, 2016
Christmas music from the time of Martin Luther, and both the Lutheran and Catholic side of the German Baroque.
I. Euch ist ein Kindlein heut geborn—Luther's Weihnachtslieder (Veronika Winter, s./Ina Siedlaczek, s./Jan Kobow, t./ Hamburger Ratsmusik/Simone Eckert). Carus CD 83.390.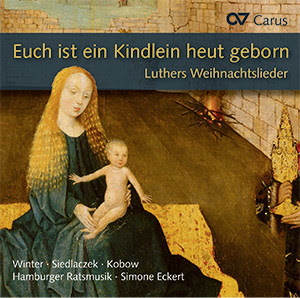 Vom Himmel hoch"" is one of the most famous songs by Martin Luther, which is still sung today at Christmas. The ensemble Hamburger Ratsmusik under Simone Eckert has recorded this and four other Luther songs for Advent and Christmas in arrangements by composers from the Reformation era. The arrangements of Heinrich Finck and Lucas Osiander to Praetorius captivate through their diversity in different instrumental and vocal combinations. The ensemble is supported by the two sopranos Veronika Winter and Ina Siedlaczek and the tenor Jan Kobow.
--Nun komm, der Heiden Heiland (settings by Finck, Stoltzer, Osiander, Walter, Praetorius, etc.)
--Bransle double (Praetorius)
--Gelobet seist du, Jesu Christ (settings by Resinarius, Gumpelzhaimer, Othmayr, Praetorius etc.)
--Christum wir sollen loben schon (settings by Walter, Osiander, Resinarius, Praetorius etc.)
--Vom Himmel kam der Engel Schar (Praetorius)
--Vom Himmel hoch, da komm ich her (settings by Hassler, Forster, Eccard, Praetorius etc.)
II. Magnum Mysterium (Duo Mignarda). Mignarda CD MP011.

At long last, we are able to share more of our favorite music for the Christmas season including four different settings of the Christmas responsory text, "O magnum mysterium".
This album was recorded over the period 2014-2016 in two of our favorite sacred spaces in Cleveland, Ohio: The Shrine Church of St. Stanislaus, and Immaculate Conception Church. "St. Stan's", a spectacular edifice tucked away in Cleveland's Slavic Village neighborhood, is well-known to musicians and local audiences for its stunning beauty and wonderful acoustics, which we demonstrated to good effect in "Adoro Te", Donna's 2014 solo release of Gregorian chant.
1.
O magnum mysterium, by Cristóbal de Morales (c. 1500 - 1553) 03:16
2.
Puer natus est nobis, by Cristóbal de Morales (c. 1500 – 1553) 02:43
3.
O Virgo Splendens (Llibre Vermell, 14th century) 02:24
4.
Stella Splendens (Llibre Vermell, 14th century) 03:16
5.
Verbum caro factum est (Bodleian Library MS., c. 1450) 01:49
6.
O magnum misterium, by William Byrd (1540-1623) 04:34
7.
Dump philli, (Marsh MS., c. 1580) 06:08
8.
In tua patientia (Gregorian chant) 00:58
9.
In tua patientia, by Adrian Willaert (c. 1490-1562) 03:22
10.
O magnum mysterium, by Adrian Willaert (c. 1490-1562) 05:15
11.
Mi ut re ut - Venise (Buxheimer Orgelbuch) 04:46
12.
Maria zart von edler art, by Arnolt Schlick (c.1455–1521) 04:51
13.
In dulci jubilo (14th c. German hymn, arr. Andrico/Stewart) 02:41
14.
O magnum mysterium, by Tomás Luis de Victoria (c. 1548 – 1611) 03:20
15.
Alma Redemptoris Mater (Gregorian chant) 02:25
16.
Alma Redemptoris Mater, by Tomás Luis de Victoria (c. 1548 – 1611) 05:22
III. Deutsche Geistliche Barockmusik—Weinachten [German Baroque Sacred Music: Christmas]—(Chamber Choir of Namur/Capella Sancti Michaelis/Ex Tempore/La Fenice/ Ricercar Consort/ Erik van Nevel/Philippe Pierlot/Denis Meunier/Jean Tubery etc.). Ricercar 349 (7 CD set).
This is the second set of LES PLEIADES, the intelligent collection of RICERCAR re-releases. Again devoted to the German Baroque religious repertoire, this release focuses on the Nativity repertoire, extending from the early 17th century to the generation of Johann Sebastian Bach who is represented here by a few very beautiful Christmas cantatas. Alongside Schutz;s Christmas Oratorio and lovely Yuletide cantatas by Bach's contemporary Christoph Graupner, we will find in this set the evocation of Nativity scenes, from the Annunciation up to the Presentation in the Temple, as well as the reconstruction of a Lutheran Christmas service. The compositions by Praetorius, Selle, Tunder, Lubeck, Buxtehude, Scheidt, Hammerschmidt, Schutz and Bruhns will tell you the Christmas story with tenderness and joy.
Es ist ein Ros entsprungen (1:29)
Präludium A-Dur (5:24)
Mach dich auf, werde Licht (5:18)
Magnificat tribus choribus (18:08)
Jauchzet dem Herrn (Motette) (5:58)
Chor: Die Nacht ist vergangen, der Tag aber herbei kommen (2:17)
Chor: Jauchzet ihr Himmel, erfreue dich Erde (2:19)
Nun komm der Heiden Heiland (3:40)
Nun lob, mein Seel, den Herren BuxWV 212 (Choralpartita) (5:15)
Magnificat anima mea (10:10)
Angelus ad pastores (7:03)
Jauchzet dem Herrn (Kantate) (15:31)
Rezitativ: Erwacht, ihr schläfrige Gemüter! (1:01)
Rezitativ: O Mensch, erstaunst du nicht? (0:46)
Ave Maria (6:50)
Kyrie (3:45)
Eingang (4:21)
Angelus ad pastores ait (5:00)
Chor: Ich freue mich in dir (4:06)
Arie: Angenehmster Tag der Gnaden (3:55)
Arie: Herz und Seele sind voll Wonne (4:19)
Nun komm der Heiden Heiland (2:24)
Gloria (5:58)
Intermedium 1: Der Engel zu den Hirten auf dem Felde (3:14)
Nun komm der Heiden Heiland (1:49)
Arie: Getrost es faßt ein heilger Leib (4:24)
Rezitativ: Gott lässt sein Licht, sein Heil (1:01)
Choral: Willkomm', o süßer Bräutigam (2:25)
Gegrüßet seist du, Maria (6:22)
In dulci jubilo (1:58)
Intermedium 2: Die Menge der Engel (2:01)
Gelobet seist du (1:47)
Rezitativ: Ein Adam mag sich voller Schrecken (1:01)
Arie - Chor: Rüste dich Seele! Mit Waffen des Glaubens stärke den Mut! (3:36)
Rezitativ: Wie gar unendlich groß (1:01)
Vom Himmel hoch BWV 606 (1:08)
Es begab sich aber (11:14)
Intermedium 3: Die Hirten auf dem Felde (4:13)
Uns ist ein Kind geboren (4:39)
Arie: Wie lieblich klingt es in die Ohren (7:53)
Rezitativ: Die Welt hält zwar den Kampf vor Spott (0:51)
Arie: Komm, mein Freund, mein Heil, mein König (5:49)
Fürchtet euch nicht (Motette) (2:25)
Gelobet seist du (1:52)
Intermedium 4: Die Weisen aus Morgenlande (2:26)
Maria, gegrüßest seist du (8:18)
Rezitativ: Wohlan, des Todes Furcht und Schmerz (0:50)
Choral: Die Welt hält zwar den Kampf (1:29)
Rezitativ: Ja, ja, Du kommst zu mir (0:39)
Ein Kind geborn zu Bethlehem (Puer natus in Bethlehem) (1:57)
Gelobet seist du (1:44)
Intermedium 5: Hohenpriester und Schriftgelehrte (2:44)
Christ unser Herr zum Jordan kam (4:47)
Choral: Wohlan, so will ich mich an dich (1:02)
Chor: Heulet, denn des Herrn Tag ist nahe (1:15)
Chor: Gott ist Gott und keiner mehr (1:07)
Ein kleines Kindelein (2:22)
Credo (8:10)
Intermedium 6: Herodes (1:52)
Ihr Hirten verlasset die finstere Nacht (5:52)
Chor: Sehet, welch eine Liebe (2:33)
Rezitativ: Du sichres Volk, lass deinen Spott (0:42)
Accompagnato: Sie eifern um Gott, aber mit Unverstand (1:01)
Das neugeborne Kindelein BuxWV 13 (Weihnachts-Kantate) (7:07)
Der Tag der ist so freudenreich (3:56)
Intermedium 7: Der Engel zu Joseph (7:00)
Lieber Herr Gott (3:37)
Choral: Das hat alles uns getan (0:40)
Arie: Erblasst nur, große Himmelslichter (2:55)
Rezitativ: Der Eifer wird gar leicht zur Sünde (1:23)
O Jesulein, mein Jesulein (2:13)
Sanctus (4:05)
Intermedium 8: Der Engel zu Joseph in Ägypten (3:34)
Herr, nun lässest du deinen Diener in Friede fahren (5:17)
Rezitativ: Geh, Welt! behalte nur das Deine (0:33)
Rezitativ: Des Richters große Majestät (0:58)
Arie: Die Wahrheit fördert ihre Sache (5:03)
Joseph, lieber Joseph (1:32)
Agnus Dei (3:47)
Beschluss (1:56)
Sei, lieber Tag, willkommen (4:58)
Choral: Was frag ich nach der Welt (0:51)
Arie: Elit nur fort, ihr Jammertage (5:51)
Rezitativ: Weh dem, der treuen Zeugen Eifer (0:51)
Willkommen süßer Bräutigam (7:20)
Wie schön leuchtet der Morgenstern BuxWV 223 (Choralfantasie) (6:47)
Hodie Christus natus est (5:19)
Arie: Was die Welt in sich hält (5:10)
Rezitativ: Mein Herz, ermüde nicht im Beten (0:36)
Arie: Alles will zu diesen Zeiten (5:48)
Freude, Freude, große Freude (3:52)
Wie bin ich doch so herzlich froh (2:44)
O Jesu nomen dulce (3:33)
Rezitativ: Der Himmel bleibet mir gewiß (1:07)
Choral: Wacht auf! Ruft uns die Stimme (3:02)
Choral: Ach Gott, vom Himmel sieh doch drein (2:02)
Wo ist der neugeborn König (4:25)
Das alte Jahr vergangen ist (4:04)
Nun komm der Heiden Heiland (10:03)
Arie: Von der Welt verlang ich nichts (5:35)
Chor: Wer da glaubet, dass Jesus sei der Christ (2:15)
Chor: Gott sei uns gnädig und segne uns (1:55)
Herr, nun lässest du deinen Diener in Friede fahren (2:41)
Choral: Gute Nacht, o Wesen (1:12)
Rezitativ: Dass Jesus der Messias sei (1:09)
Accompagnato: Das alte Jahr ist hin (1:18)
Das Wort ward Fleisch (3:11)
Chor: Christum wir sollen loben schon (2:49)
Arie: Wer Jesum kennt, wankt nicht im Glauben (7:40)
Chor: Jesu, ewger Hoherpriester (6:20)
Magnificat 2. Toni (6:53)
Arie: O du von Gott erhöhte Kreatur (5:13)
Rezitativ: Die Treue hat auch ihren Lohn (0:53)
Rezitativ: Sind viele deiner Huld nicht wert (0:51)
Rezitativ: Der Gnade unermeßlich's Wesen (1:03)
Arie: Mein Jesus ist mein Freund (3:00)
Chor: Öffne, Jesu, deine Hände (5:22)
Arie: Johannis freudenvolles Springen (7:49)
Choral: Kein' Engel, keine Freuden (2:31)
Accompagnato: Lass allen Reichtum deiner Schätze (1:41)
Rezitativ: Doch wie erblickt es dich in deiner Krippe (0:55)
Chor: Tut Buße und lasse sich ein jeglicher taufen (1:48)
Choral: Gott sei uns gnädig und barmherzig (2:20)
Choral: Lob, Ehr und Dank sei gesagt (1:06)
Rezitativ: Dies ist die Stimme, die dir schallt (0:45)
Choral: Merk auf, mein Herz, und sieh dorthin (0:55)
Arie: O teurer Rat, mein Herz erkennt den Segen (3:32)
Rezitativ: Bespiegle dich, du Christenschar (0:58)
Rezitativ: Ja wohl, es ist ganz ungemein (0:58)
Arie: Ach, lass dich sehn, du Licht der Heiden (5:39)
Arie: Gott ist groß in seinen Werken (3:56)
Rezitativ: Die Sünder, ach, erschrecken (1:05)
Rezitativ: Das große Element, das Wasser der Natur (0:58)
Arie: Jesus macht mir keinen Schrecken (5:04)
Choral: Lobe den Herren (0:57)
Rezitativ: Ach, werter Jesu, mein Verlangen (0:49)
Chor: Wie bald hast du gelitten (2:59)
Choral: Ach mein herzliebes Jesulein (0:57)
Chor: Lass mich dies wohl bedenken, du schönes Gotteskind (3:08)
Composer Info
Cristóbal de Morales (c. 1500 - 1553), William Byrd (1540-1623), Adrian Willaert (c. 1490-1562), Arnolt Schlick (c.1455–1521), Tomás Luis de Victoria (c. 1548 – 1611), Praetorius, Selle, Tunder, Lubeck, Buxtehude, Scheidt, Hammerschmidt, Schutz, Bruhns, Johann Sebastian Bach, Christoph Graupner
CD Info
Carus CD 83.390, Mignarda CD MP011, Ricercar 349