Program: #21-33 Air Date: Aug 09, 2021
Les Arts Florissants are back with Volume 3 of their "Airs sérieux et à boire" series; a remarkable tribute to the music inspired by the poetry by the Comtesse de la Suze; and a world-premiere recording of a ballet by Lully.
I. N'espérez pus, mes yeux: Airs sérieux et à boire, Vol. 3 (Les Arts Florissants/William Christie). Harmonia Mundi CD HAF 8905318.
With this third volume of Airs sérieux et à boire, the ensemble Les Arts Florissants return to this genre whose refinement had marked the French musical landscape for over a hundred years. 
By turns gallant, earthy, or spiritual, these vocal miniatures, prized at the French court, ushered in a ground-breaking style which opened the door to an endless variety of interpretations.
 'One can hardly find enough praise for the individuality of these inspired performers, for their skill to make the music animate the words ( . . . ) as they display a joyful unity of purpose. A unique event! ' (Opéra Magazine).
If one had to name one single repertoire that Les Arts Florissants had brought to light, it would be the French air de cour. The very first recordings made by the ensemble already testify to William Christie's love for this genre and to their vibrancy and brilliance.
Since 2015, a group of the most highly respected singers and instrumentalists on the current Baroque scene has undertaken to revisit this repertoire. The concerts of the first two series and the discs entitled "Bien que l'Amour" and "Si vous vouliez un jour"  (edited by Harmonia mundi) have been acclaimed across Europe and America. The adventure continues in 2020-2021 with a third volume conceived in the same vein, associating once again courtly arias and drinking songs by Étienne Moulinié and Pierre Guédron. 
From the intimacy of the salon to the belligerency of court banquets, these sumptuous vocal works are without doubt the finest models of artistic refinement that the Grand Siècle has left us.
"This is the year that William Christie's group Les Arts Florissants turns 40. Yet how can there be even a twinge of middle age about an ensemble that cheerfully imitate cows, sheep and birds, sing about sex and perform at one point squatting on the floor?" (The Times)
"William Christie and his ensemble masterfully recreate the musical atmosphere of the seventeenth century French court. (...) An extraordinary musical evening." (La Nueva España) 
Allons, allons gay gayment / Claude Le Jeune
Dialogue de la nuit et du soleil / Étienne Moulinié
Symphonie
O che gioia ne sento mio bene / Étienne Moulinié
Bien qu'un cruel martyr / Pierre Guédron
N'espérez plus mes yeux / Antoine Boesset
O doux sommeil / Étienne Moulinié
Dans le lit de la mort / Étienne Moulinié
Fantaisies sur une jeune fillette / Eustache Du Caurroy
Belle qui m'avez blessé / Pierre Guédron
Rendez-la moy cruelle / Claude Le Jeune
Suite instrumentale
Rossignol mon mignon / Claude Le Jeune
Quel espoir de guérir / Pierre Guédron
Prélude & allemande chromatique
Aux plaisirs aux délices bergères / Pierre Guédron
Souffrez, beaux yeux pleins de charme / Étienne Moulinié
Allemande & gigue
Lorsque j'étais petite garce / Pierre Guédron
Que dit-on au village / Pierre Guédron
Libertas & sarabande
Cessez mortels de soupirer / Pierre Guédron
Suzanne un jour / Claude Le Jeune
II. Ballet Royal de la Naissance de Vénus (Les Talens Lyriques/Christophe Rousset). Aparte CD AP255.
Written at the request of Louis XIV in honour of his sister-in-law, Henrietta of England, Le Ballet royal de la Naissance de Vénus was performed in 1665 with Henrietta herself as the goddess of love and youth. 
In twelve entrées, this grandiose spectacle combining dancing, music and poetry served the power of the king, while attesting to the magnificence of his court. Musically very inventive, it shows the culmination of the ballet genre,  on which Lully was to draw in creating the tragédie en musique. To complete the programme, excerpts from Le Ballet royal des Amours déguisés (Armida's famous lament "Ah! Rinaldo, è dove sei?"), Psyché, Le Bourgeois gentilhomme and Le Carnaval - from the latter a piece recycled from Les Noces de village, a burlesque aria sung by the boastful village schoolmaster Barbacola, a basso buffo role that Lully wrote for himself.     
From Planet Hugill: Whilst Jean-Baptiste Lully's name is forever associated with the development of French opera as tragédie lyrique from the 1670s, prior to this the composer cut his teeth writing ballets. He wrote around 25 such ballets for the French royal court, from 1654 to 1685, as well as developing the comédie-ballet with the playwright Molière. This is music which we often hear in extracted form, and there don't seem to be many of Lully's complete ballets on disc. But a new recording from 
Christophe Rousset
 and 
Les talens lyriques
 on the 
Aparté
 label enables us to hear Lully's complete 
Ballet royal de la Naissance de Vénus
, which premiered at the Palais Royal (the Louvre) in 1665.
French court ballet is a curious form. First developed in the mid-16th century, the works combined poetry, sung and acted music and dance, along with visual arts, sophisticated sets and costumes. Plots were intended as the glue which held these disparate elements together, but also were designed to showcase the glories of the court or the particular monarch's reign. There was a participatory element, many of the dancers were aristocrats at court of great technical ability, whilst there would also be larger-scale ensemble moments.
It was during the 13-hour (!) Ballet Royal de la Nuit, with music by music by Jean de Cambefort, Jean-Baptiste Boësset, Michel Lambert and others, that premiered in 1653 in Paris that the 14-year-old King Louis XIV (whose dancing of the role of Apollo cemented his epithet as the Sun King) came to regard a young Italian musician and dancer, Jean-Baptiste Lully. Within a month, Lully had been made royal composer for instrumental music.
Lully wrote music for everything, hastily assembled events and grands ballets designed to showcase the talents of the young court. And we should remember it was young. When Lully turned away from ballet toward opera in 1670 (and King Louis XIV gave up dancing), the king was still only 32. Over the space of 20 years he would take part in 25 court ballets in 70 roles, both comic and serious. The librettist for that ballet back in 1653 was the poet Isaac de Benserade (1613-1691) with whom Lully would collaborate on a whole series of ballets, including 
Ballet royal de la Naissance de Vénus, 
all clearly structured and themed. The instrumentalists would be based around a five-part string group with wind players taken from the King's various ensembles. The scores evidently rarely mention instrumentation, so modern interpreters have some latitude.
The vocal and choral music is interweaved with the dance, so that each group of dances is preceded by short vocal moments. This would be developed further by Lully in his operas, so that each act of the opera would often end in a grand danced and sung moment which was linked to the plot.
On this disc we hear the Ballet royal de la Naissance de Venus from 1665, which was one of the more important ballets from the 1660s and was a compliment to the king's sister-in-law, Madame (wife of his brother), Henriette, the youngest daughter of King Charles I of England (who was married to King Louis XIV's aunt). It was moderately successful, receiving nine performances. Madame (age 21) appeared in the first scene, being birthed as Venus whilst her husband, Philippe, Duc d'Orleans (age 25) was the Morning Star in the second scene, and the king (age 27) finally appeared as Alexander the Great in the final scene (with Madame as Roxana). In all there were 106 different roles performed by 96 individuals, 20 musicians and 14 singers! From the libretto we know the names of the musicians, how many there were and what instruments some of them played.
I can think of no better way of getting introduced to Lully's ballet music than via this compact yet imaginative work in this wonderfully engaging, stylish and characterful performance. Granted, it is tricky to imagine the sheer spectacle of the original, but there is plenty of interest and contrast in the music. 
As the ballet does not fill a full disc, we are also treated to a short sequence of music from Lully's other ballets, from the Ballet royal des Amour deguisés (from 1664), Psyché (his most developed comédie-ballet with Molière from 1671), Le Carnaval (from 1675) and Le Bourgeois gentilhomme (again with Molière from 1670).
Michel de Marolles said 1656 that the ballets featured 'that which is enjoyable, rare and marvellous' - precisely.
Jean-Baptiste Lully (1632-1687) - Ballet royal de la Naissance de Vénus
Jean-Baptiste Lully - music from Ballet royal des Amour déguisés, Psyché, Le Carnaval, Le Bourgeois gentilhomme

Deborah Cachet, Benedicte Tauran, Ambroisine Bre, Cyril Auvity, Samuel Namotte, Guillaume Andrieux, Philippe Estephe
Choeur de Chambre de Namur
Les Talens Lyriques
Christophe Rousset
Recorded at the Cite de la musique - Philharmonie de Paris, January 2021
III. Je m'abandonne à vous  Harmonia Mundi CD HMM 902674.75.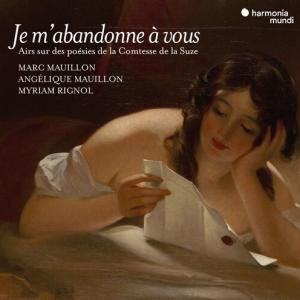 Marc Mauillon, baritone
Angélique Mauillon, harp
Myriam Rignol, viola da gamba 
With performers' increased focus on the music of the French Baroque, it's rare to find an album exploring a completely unknown repertory, but that's what's happening here, and although this is certainly a specialized release, it's of great interest to anyone. The main feature is that most of the music consists of settings of poetry by the titular Comtesse de la Suze, Henriette de Coligny. Although she chose to use it as a pen name, her Comtesse de la Suze title is more than a bit ironic, inasmuch as she obtained a kind of divorce from the Comte de la Suze at a time when such a thing was rarely done in France. The Count was her second husband; her first marriage, too, was unusual, for it was made in the name of love, and it is love that inspired Henriette as a poet, love as expressed in bold but inward strokes, with striking imagery that inspired a variety of composers. Many of the pieces, designated as chansons, come from several 17th century volumes called the Livre d'airs des différents auteurs, and the composers, except for a few who wrote the instrumental pieces, are all but unknown. Baritone Marc Mauillon contributes suitably quiet, gentle readings, and another major attraction is the variety of harps played in the continuo by his sister, Angélique Mauillon. Harmonia Mundi delivers excellent sound from a small concert space that is completely appropriate to the music; the atmosphere is intimate without being too close. One might have wished to know more about the circumstances in which this chamber music was performed, but it's highly listenable on its own terms, and for those interested in the history of literature by women, it's an absolute must.
CD 1:
Sébastien Le Camus - Je m'abandonne à vous, amoureux souvenir
Sébastien Le Camus - Ah ! fuyons ce dangereux séjour
Anonymous - Sans amour et sans tendresse
Sébastien Le Camus - Délices des Étés, frais et sombres Bocages
Sébastien Le Camus - Bois écartés, demeures sombres
François Campion - J'ai juré mille fois de ne jamais aimer
François Dufault - Suite en La Min: I. Allemande
François Dufault - Suite en La Min: II. Courante
François Dufault - Suite en La Min: III. Sarabande
François Dufault - Suite en La Min: IV. Gigue
Sébastien Le Camus - Laissez durer la nuit, impatiente Aurore
Le Sieur de Machy - Pieces de Violle: Prélude
Anonymous - Vous ne m'attirez point par vos attraits charmants
Sébastien Le Camus - Vous ne m'attirez point par vos attraits charmants
Sébastien Le Camus - Ah ! qui peut tranquillement attendre
Bertrand de Bacilly - Qu'il est propre à se faire aimer
Michel Lambert - J'ai juré mille fois de ne jamais aimer
Marin Marais - Pièces à une et à deux violes, Premier livre: Prélude en Sol
Sébastien Le Camus - Il n'est rien dans la vie
Sébastien Le Camus - Doux printemps
Henry Du Mont - Laisse-moi soupirer, importune raison
CD 2:
Michel Lambert - Laisse-moi soupirer, importune raison
Monsieur Royer - Étoiles d'une nuit plus belle que le jour
Sébastien Le Camus - Je sens au coeur un nouveau trouble
François Campion - Qu'il est propre à se faire aimer
Bertrand de Bacilly - Je fuyais sous ces verts ombrages
Michel Lambert - J'aime, je suis aimé
Monsieur de Sainte-Colombe - Chaconne en ré
Bertrand de Bacilly - J'ai voulu suivre une autre Loi
Sébastien Le Camus - Un Berger plus beau que le jour
Sébastien Le Camus - Forêts solitaires et sombres
Honoré d'Ambruis - Le doux silence de nos Bois
Bertrand de Bacilly - Dans ce bocage, où brille une jeune verdure
Honoré d'Ambruis, Robert Cambert - Sous ces ombrages verts, un Amant le plus tendre
Bertrand de Bacilly - Savourons à longs traits cet excellent Muscat
Le Sieur de Machy - Pieces de Violle: Gavotte
Bertrand de Bacilly - Étoiles d'une nuit plus belle que le jour
Jean-Benjamin de La Borde - Laissez durer la nuit, impatiente Aurore
Jean-Baptiste Weckerlin - Sans amour et sans tendresse (Conseil d'aimer)
Composer Info
Claude Le Jeune, Étienne Moulinié, Pierre Guédron, Antoine Boesset, Eustache Du Caurroy, Jean-Baptiste Lully (1632-1687), Sébastien Le Camus, François Campion, François Dufault, Le Sieur de Machy, Bertrand de Bacilly, Michel Lambert, Marin Marais, Henry Du Mont, Monsieur Royer, Monsieur de Sainte-Colombe, Honoré d'Ambruis, Jean-Benjamin de La Borde, Jean-Baptiste Weckerlin
CD Info
Harmonia Mundi CD HAF 8905318, Aparte CD AP255, Harmonia Mundi CD HMM 902674.75