Program: #18-46 Air Date: Nov 05, 2018
The medieval fiddle, lais and cantigas from France and Spain., and 13th and early 14th century music from the great cathedrals.
I. VocaMe: Cathedrals (VocaMe Ensemble). Christophorus CD CHR 77420.
Spreading throughout Europe from the 12th century onwards, the vast Gothic church spaces, like wonders of stone suffused with light, inspired the Ensemble VocaMe to produce this CD. Four female singers with an enchanting fusion in unison and large spectra in polyphonic singing, along with the tonal colours of multi-instrumentalist Michael Popp, represent the musical extension and interpretation of the church space. The program consists of sacred music that evolved up to the Gothic period. At its centre is the Tournai Fair held in the 14th century. It is regarded as the earliest testimony of a mass which was entirely set to music, as evidenced by medieval manuscripts. 
During the Gothic period, Paris and its cathedral were one of the most important cultural centres from whence the new Gothic spirit spread throughout Europe. The intellectual elite of this period gathered around its large cathedral and many new compositions of the 13th century emanated from this environment, the so-called 'Notre Dame School'. The compositions, like the Tournai Mass, are part of a high culture of music – music that could probably only be heard in the great cathedrals. 
VocaMe combines this with more folk-like or modest melodies from the Codex Calixtinus (book of Saint James) and the Las Huelgas Codex, among others. Thus, a Gothic soundscape emerges, ranging from simple monophony to the splendour of medieval polyphony. 
I. Tota pulchra es 
Anonym (trad. korsisch, Text altchristlich ca. 4. Jh.)    3:25 
II. Ave gloriosa 
Anonym (Cividale 14. Jh.)    2:24 
(Le polifonie primitive di cividale, Cod. LVI) 
III. Sol sub nube latuit 
Gautier de Châtillon (Notre-Dame-Schule, 13. Jh.)    4:03 
Conductus zu Weihnachten (Florence Manuscript) 
IV. Kyrie 
Messe de Tournai (14. Jh.)    2:05 
V . O Maria, ste lla maris 
Adam de Saint-Victor (1112-1146)    4:08 
VI. Benedicamus 
Anonym (Codex Las Huelgas, 13. Jh. /    3:43 Codex Calixtinus, 12. Jh.) 
VII. Baculi sollemnia 
Anonym (Notre-Dame-Schule, 13. Jh.)    1:19 
Conductus zum Fest der Beschneidung Christi (Manuscript F) 
VIII. Gloria 
Messe de Tournai (14. Jh.)    4:26 
IX. Cuncti potens 
Tuotilo von St. Gallen (9. Jh.)    3:05 
X. Deus Pacis 
Anonym (Notre-Dame-Schule, 13. Jh.)    2:29 
Conductus Segensspruch (Manuscript F) 
XI. Sanctus 
Messe de Tournai (14. Jh.)    1:24 
XII. Salve mater salvatoris 
Gace Brulé / Adam de Saint-Victor (Text)    4:05 
XIII. Orbis factor 
Anonym (Graduale der Aliénor de Bretagne, 13. Jh.)    5:02 
XIV. Benedictus 
Messe de Tournai (13./14. Jh.)    1:32 
XV. Audi pontus 
Anonym (Codex Las Huelgas, 13. Jh.)    2:50 
XVI. Agn us Dei 
Messe de Tournai (14. Jh.)    1:57 
XVII. Congaudeant catholici 
Anonym (Codex Calixtinus, 12. Jh.)    5:31 
XVIII. Circa mundi vesperam 
Anonym (Notre-Dame-Schule, 13. Jh.)    1:39 
Conductus zur Karwoche (Florence Manuscript) 
XIX. Ite missa est 
Messe de Tournai (14. Jh.)    2:13   
II. Music for the Medieval & Renaissance Fiddle (Dietmar Berger, fiddles). Urania CD LDV 14037.
Dietmar Berger was born in Cologne. He studied cello at the music colleges in Aachen with Klaus Heitz, in Düsseldorf with Claus Reichardt and in Leipzig where he was a student of Roland Baldini and the gamba player Siegfried Pank. After having finished his studies, he was a member of the orchestra of the Landesbühnen Sachsen in Dresden from 1993 - 2000. He now lives in Cologne and plays cello as well as viola da gamba in renowned ensembles such as the Delos Trio Köln (with Gudrun Höbold, violin and Hubert Käppel, guitar) both in Germany and abroad; he appears as a soloist on numerous television productions and recordings. His compositions and arrangements have been published by Friedrich Hofmeister Musikverlag, Leipzig and by Verlag Dohr, Cologne. On this release, he takes the listener on a journey to Medieval Europe as he performs music for the Medieval and Renaissance fiddle. Works by Vincenzo Galilei, John Dowland, Thoinot Arbeau, and others are included.
--Neidhardt von Reuenthal: Meienzit
+Guiraut Riquier: Chanson
+Alfonso X: A Madre de Jhesu Cristo aus "Cantigas de S. Maria"
+Pierre Attaignant: Tourdillon
+Vincenzo Galilei: Saltarello
+Francis Cutting: Packington's Pound
+John Dowland: Captaine Digorie Piper his Galiard
+Thoinot Arbeau: Bransle des Chevaux
+Pierre Phalese: Hungaresca
+Anonymus: Roben is to the Greense-Woode gon
+Troubadour-Gesang: A vist lo lop
+Meistersingerlied (Mainz): Maria zart
+Glogauer Liederbuch: All fol
+Traditional: Platerspiel
+Lied aus dem Bergischen Land: O Maria, noch so schoen, als die Sonn'
+Manuscript aus Florenz (14. Jahrhundert): Estampie La manfredina; Estampie La rotta della manfredina     
III. Mya Senhor Velida: Medieval Lais and Cantigas from France and Spain (Maladança/Francisco Luengo). Brilliant Classics CD 95689.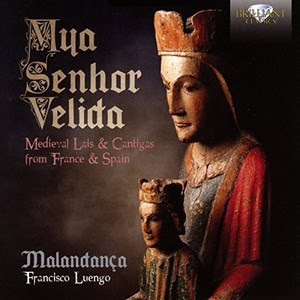 These medieval cantigas and lais troubadour compositions from Galicia and France, respectively display an innovation of the 12th and 13th centuries: themes of courtly love and Marian devotion combined, at once carnal and mystical, encompassing both the profane and the divine. The two lais on this recording are found in a manuscript songbook known as the Noailles Chansonnier from c.1300. In the anonymous Plainte de la Vierge au pied de la croix the Virgin Mary speaks in first person in a figurative lament at the foot of the cross. The Lai de Notre Dame, attributed to 13th-century troubadour Ernoul Le Vieux or Le Vielle, begins with the authors promise to keep faith with the Virgin Mary and serve no other woman, a pledge quite reminiscent of those of Alfonso X of Castile in his Cantigas de Santa Maria, one of the largest collections of monophonic songs from the Middle Ages. The Cantigas, attributed to King Alfonso X (12211284), were written in early-Medieval Galician-Portuguese, fashionable as a lyrical language in Castile at the time. In Santa Maria loei, e loo e loarei, the king thanks the Virgin Mary for her kindness and protection. Nenbressete, Madre de Deus deals with Marys role as mediator in medieval eyes, her primary function. It was composed as a contrafactum on Recordare, translating the antiphon into Galician-Portuguese and expanding it with new musical and poetic concepts. Virgen Madre groriosa, a contrafactum on the estampie Reis Glorios by French troubadour Giraut de Bornelh, binds this album together, demonstrating the relationship between the Galician-Portuguese and French lyrics. To the members of Malandança, medieval music is a field in which both performance and scholarship are unavoidable and interdependent subjects. Research conducted by Francisco Luengo and others into sculptures depicting medieval instruments has opened up a world of sounds, ideas, images and voices from the distant Middle Ages.                
From Early Music Review: Singer Maria Giménez is accompanied by a consort of medieval instruments derived from sculptures including the organistrum, five-stringed vyola, vyolón, citole, Romanesque harp and skin-faced medieval lute (all beautifully illustrated in the programme booklet). Daringly the performers open with a 16-minute account of the Plainte de la Vierge au pied de la croix, and, as it turns out, the compelling singing and creative use of the instrumental accompaniment more than hold the attention. Xurxo Varela provides a wonderfully contrasting male voice for the Recordare for the Feast of Mary Mediatrix, but it is Maria Giménez who chiefly holds our attention for what turns out to be a riveting sequence of medieval Marian music. The narcotic effect of drones and Giménez's engaging narrative style lead us through a couple of lengthy but compelling items, concluding with one of Alfonso X's Cantigas de Santa Maria, Virgen Madre groriosa. This is a very atmospheric and informative CD, presenting music which can be challenging to the modern listener, but which they perform so persuasively that we are drawn in.
Composer Info
Neidhardt von Reuenthal, Alfonso X, Pierre Attaignant, Vincenzo Galilei, Francis Cutting, John Dowland, Thoinot Arbeau, Pierre Phalese, Troubadour-Gesang, Meistersingerlied (Mainz), Glogauer Liederbuch
CD Info
CD CHR 77420, CD LDV 14037, Brilliant Classics CD 95689